In Search of Purpose #20 - An Evening with Professor Tommy Koh
Sales Have Ended
Registrations are closed
I'm sorry, the event is fully subscribed. Please follow Central Singapore CDC's Facebook page for updates on upcoming talks.
Sales Have Ended
Registrations are closed
I'm sorry, the event is fully subscribed. Please follow Central Singapore CDC's Facebook page for updates on upcoming talks.
Description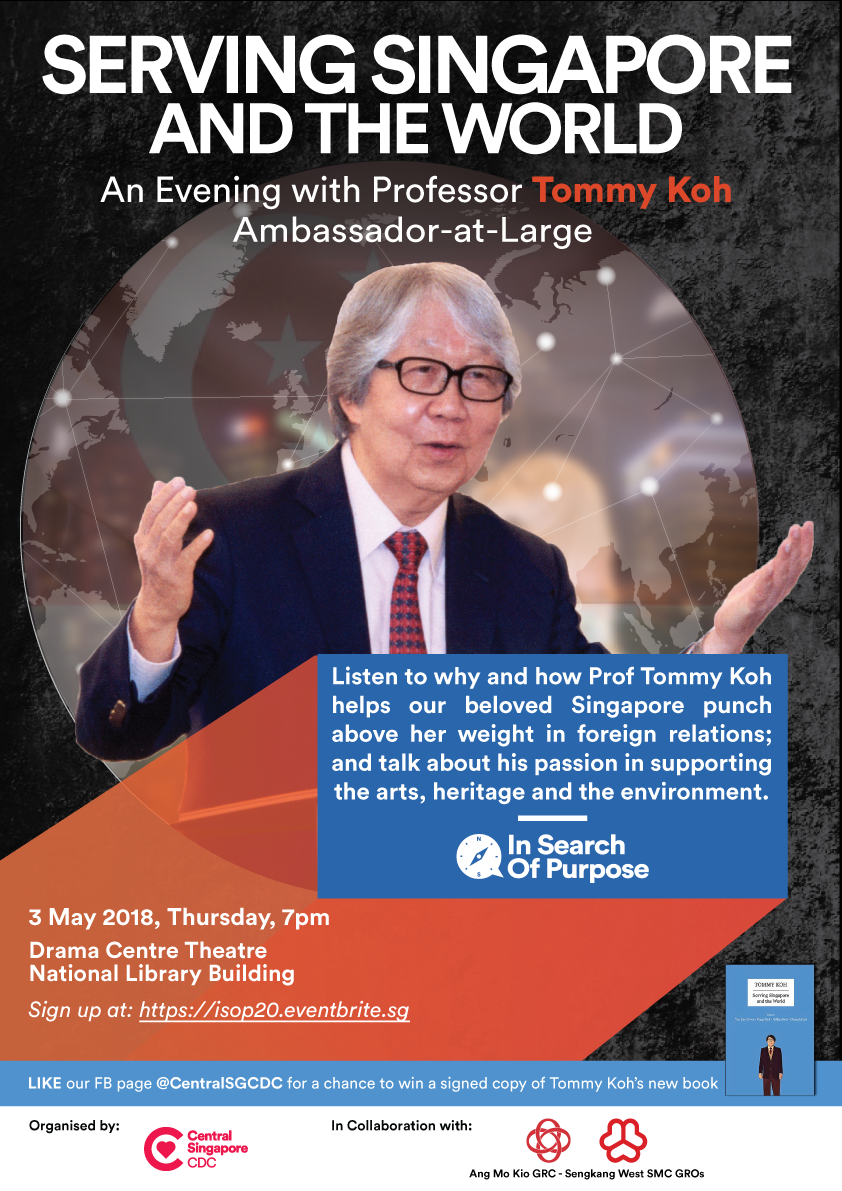 About the Speaker - Professor Tommy Koh
Professor Tommy Koh is currently Ambassador-At-Large at the Ministry of Foreign Affairs; Special Adviser to the Institute of Policy Studies; and Chairman of the Governing Board of the Centre for International Law at the National University of Singapore (NUS). He is the Chairman of the International Advisory Panel of the Asia Research Institute (NUS) and Chairman of the Advisory Committee of the Master's Degree on Environmental Management (NUS). He is also the Co-chairman of the Asian Development Bank's Advisory Committee on Water and Sanitation. He is Rector of the Tembusu College, at NUS, and Chairman of the Board of Directors of the SymAsia Foundation of Credit Suisse.

He had served as Dean of the Faculty of Law of NUS, Singapore's Permanent Representative to the United Nations in New York, Ambassador to the United States of America, High Commissioner to Canada and Ambassador to Mexico. He was President of the Third UN Conference on the Law of the Sea and the Chairman of the Preparatory Committee for and the Main Committee of the UN Conference on Environment and Development. He was the founding Chairman of the National Arts Council, founding Executive Director of the Asia-Europe Foundation and former Chairman of the National Heritage Board. He was also Singapore's Chief Negotiator for the US-Singapore Free Trade Agreement. He acted as Singapore's Agent in two legal disputes with Malaysia. He has chaired two dispute panels for the WTO. He is the Co‑Chairman of the China‑Singapore Forum, the Japan-Singapore Symposium and the India-Singapore Strategic Dialogue.

In 2006, Prof Koh received the Champion of the Earth Award from UNEP and the inaugural President's Award for the Environment from Singapore. He was conferred with honorary doctoral degrees in law by Yale and Monash Universities. Harvard University conferred on him the Great Negotiator Award in 2014.
About the "In Search of Purpose" Talk Series
In Jan 2015, Central Singapore Community Development Council (CDC) launched the In Search of Purpose Talk Series (ISOP), a TED-style inspirational talk series that seeks to help adults and youth discover their bigger role in society. Speakers, either local or overseas, are invited to share their personal stories and experiences about various topics that we hope will encourage the audience members to give back and be part of a more caring community in Singapore. The bimonthly talk is hosted by Ms Denise Phua, Mayor of Central Singapore District.
Speakers featured in previous ISOP talks include:
Mr Lim Siong Guan, Group President of GIC
Ms Ann Medlock and Mr John Graham, Founders of Giraffe Heroes Project
Mr Benny Se Teo, CEO and Founder of Eighteen Chefs
Mr Kenny Low, Founder of City College and O School
Ms Eunice Olsen, Founder of WomenTalkTV
Dr Tan Lai Yong, Lecturer and Director for Outreach and Community Engagement at NUS College of Alice & Peter Tan
Mr Louis Ng, Executive Director and Founder of Animal Concerns Research and Education Society (ACRES)
Ms Chia Yong Yong and Ms Leslie Chia, Special Needs advocates
Dr Goh Wei Leong, Chairman and Co-Founder of HealthServe
Ms Kuik Shiao-Yin, Director and Co-Founder of The Thought Collective
Ms Belinda Lee, Goodwill Ambassador for World Vision Singapore
Mr Bob Lee, Renowned Photographer
Mr Jack Sim, Founder of the World Toilet Organisation
Mr Adrian Tan and Ms Tan Shook Wah, Founder of Ad Planet and the Dare to Dream Scholarship respectively
Mr Liak Teng Lit, COO of Perennial Real Estate Holdings and Former Chairman of the Public Hygiene Council
Mr Ravi Manas, Founder of Children of Mother Earth
Mr Philip Yeo, Chairman of SPRING Singapore
Mr Ho Kwon Ping, Founder of Banyan Tree Holdings
Mr Eugene Heng, Founder and CEO of Waterways Watch Society
Our previous ISOP sessions are available on our Youtube page here.
If you have any enquiries regarding this talk, drop Qamar an email at Qamar_Firdaus@pa.gov.sg.
If you have any speaker or a particular topic that you will love to hear in our future talks, drop us an email at PA_CentralSingapore@pa.gov.sg.


#InSearchofPurpose #ISOP #CentralSGCDC