In Search of Purpose #22 - From Rebel to Role Model: A Conversation with David Hoe

Saturday, 26 January 2019 from 10:00 to 12:00 (Singapore Standard Time Singapore Time)
Event Details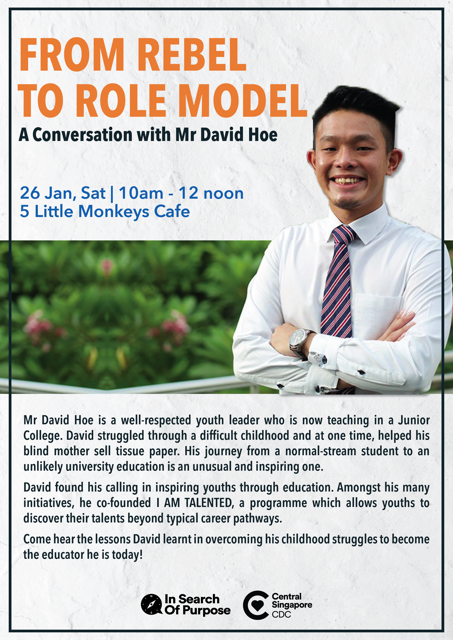 About the Speaker - Mr David Hoe
David Hoe is currently a teacher at Eunoia Junior College and Director of I Am Talented.
David graduated with a Bachelor of Social Sciences (Honours) in Economics at the National University of Singapore in 2015. He completed the Chua Thian Poh Community Leadership Programme, and the University Town Residential Programme at Tembusu College. He was also a recipient of the inaugural Faculty of Arts and Social Sciences Leadership Award (Individual). He had the privilege of participating in two overseas educational programmes at Harvard University and Tecnológico de Monterrey in Mexico. During his Postgraduate Diploma in Education studies in 2016, he was one of two in the Economics cohort to receive a distinction grade for teaching practice.
Prior to joining Eunoia Junior College, David had a number of teaching opportunities in various schools, teaching Economics at GCE 'A' Level and International Baccalaureate standards. Furthermore, he enjoyed local and overseas internships in finance and consultancy sectors. All these experiences were instrumental in helping him hone his teaching pedagogies and live out one of his core beliefs in teaching Economics: to help students develop a love for learning Economics, through helping them see its relevance in the real world.
David firmly believes that education plays an important role in giving students the tools to better understand the world. With that knowledge, one finds one's place in the society and discovers how one can improve the lives of others. One of his responsibilities as an Economics teacher is to offer students economic lenses in viewing the world. However, beyond pursuing academic excellence, they should be able to find their voice and place in making a positive impact in the community.
David carries his passion for empowering youth beyond the classroom, having founded a few social empowerment programmes such as I Am Talented and Collaborate. In a similar vein, he trekked 250km across the Gobi Desert to raise funds for The Straits Times School Pocket Money Fund. 250km may sound extreme, but he has an affinity for long-distance running, backpacking and extreme sports like skydiving, travelling and nature.

About the "In Search of Purpose" Talk Series 
In Jan 2015, Central Singapore Community Development Council (CDC) launched the In Search of Purpose Talk Series (ISOP), a TED-style inspirational talk series that seeks to help adults and youth discover their bigger role in society. Speakers, either local or overseas, are invited to share their personal stories and experiences about various topics that we hope will encourage the audience members to give back and be part of a more caring community in Singapore. The bimonthly talk is hosted by Ms Denise Phua, Mayor of Central Singapore District. 
Speakers featured in previous ISOP talks include:
1. Mr Lim Siong Guan, Group President of GIC
2. Ms Ann Medlock and Mr John Graham, Founders of Giraffe Heroes Project
3. Mr Benny Se Teo, CEO and Founder of Eighteen Chefs
4. Mr Kenny Low, Founder of City College and O School
5. Ms Eunice Olsen, Founder of WomenTalkTV
6. Dr Tan Lai Yong, Lecturer and Director for Outreach and Community Engagement at NUS College of Alice & Peter Tan 
7. Mr Louis Ng, Executive Director and Founder of Animal Concerns Research and Education Society (ACRES)
8. Ms Chia Yong Yong and Ms Leslie Chia, Special Needs advocates
9. Dr Goh Wei Leong, Chairman and Co-Founder of HealthServe
10. Ms Kuik Shiao-Yin, Director and Co-Founder of The Thought Collective
11. Ms Belinda Lee, Goodwill Ambassador for World Vision Singapore
12. Mr Bob Lee, Renowned Photographer
13. Mr Jack Sim, Founder of the World Toilet Organisation
14. Mr Adrian Tan and Ms Tan Shook Wah, Founder of Ad Planet and the Dare to Dream Scholarship respectively
15. Mr Liak Teng Lit, COO of Perennial Real Estate Holdings and Former Chairman of the Public Hygiene Council
16. Mr Ravi Manas, Founder of Children of Mother Earth
17. Mr Philip Yeo, Chairman of SPRING Singapore
18. Mr Ho Kwon Ping, Founder of Banyan Tree Holdings
19. Mr Eugene Heng, Founder and CEO of Waterways Watch Society
20. Professor Tommy Koh, Ambassador-at-Large
21. Mr Quek Ling Kiong, Award-Winning Musician and Orchestra Conductor
Our previous ISOP sessions are available on our Youtube page here. 
#InSearchofPurpose #ISOP #CentralSGCDC 
When & Where

5 Little Monkeys Cafe
20 Kallang Avenue
#11-00 Pico Creative Centre
Singapore, Singapore 339411
Singapore

Saturday, 26 January 2019 from 10:00 to 12:00 (Singapore Standard Time Singapore Time)
Add to my calendar
Organiser
Central Singapore Community Development Council (CDC) serves close to 1 million residents living in the Central Singapore area and envisions itself as a do-good district. The CDC reaches out to four key communities (children, youth, adults, and seniors), and four key causes (arts and culture, environment, healthy lifestyle, and special needs). 
Aside from meeting ground needs through localised initiatives, the CDC also value-adds to the community as a whole – developing district-level initiatives and creating sustainable programmes, as well as supporting meaningful community projects. Working with a variety of partners such as schools, voluntary welfare organisations and the grassroots, the CDC brings together various community resources for a more holistic approach to community building.