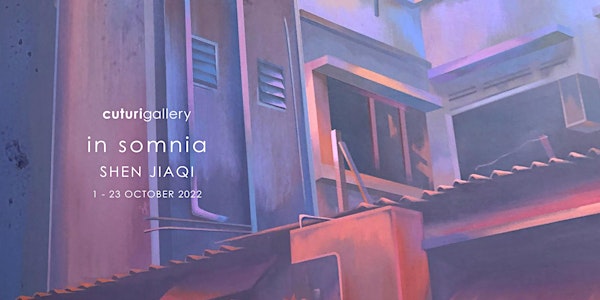 in somnia: Shen Jiaqi Solo Exhibition
Shen Jiaqi investigates collective subconsciousness of yearning experienced by city-dwellers for sanctuaries within urban landscapes.
When and where
Location
Cuturi Gallery 61 Aliwal Street Singapore, --- None --- 199937 Singapore
About this event
Cuturi Gallery is delighted to present in somnia by Shen Jiaqi (b. 1989, Singapore). This marks Shen's second solo show with Cuturi Gallery exhibiting a fresh body of works investigating the collective subconsciousness of yearning experienced by city-dwelling individuals for sanctuaries that suggest comfort and privacy within existing urban landscapes. Shen's practice works between the mediums of painting, light and object installations to prompt the audiences with materials and hues that are reminiscent of a state of transience between memory and current reality, while evoking interpretations towards familiar spatial presences.
Colours and activity representing conditions of insomnia and restlessness experienced by city-dwelling individuals point towards tensions within a city that is both asleep and awake, while surfaces in the urban landscape bear witness to the stories otherwise lost to the undulating flow of time and development.
Shen Jiaqi obtained her Master's in Fine Arts at LASALLE College of the Arts in 2022 and her works have been part of several public showcases and shows including Plural Art Mag's Our Heartlands, National Gallery's benefit Past.Future.Present., and most recently, "Towards Sojourn", a unique outer coating for McLaren GT in collaboration with Louis Vuitton's Art of Living savoir faire event. Ever-Were, her third solo exhibition was held at Cuturi Gallery in 2021. For her work, Shen received a Highly Commended award in the 2021 UOB Painting of the Year, Emerging Artist category. She has also recently received the Winston Oh Travelogue award in 2022.
in somnia will be on view at Cuturi Gallery from 1 to 23 October 2022.