Inclusive Healthcare Symposium 2020
About this Event
In Singapore, persons with Intellectual and Developmental Disabilities (IDD) have similar issues as those in the international community. Aside from physical health issues, persons with IDD are also at risk of developing co-morbid issues in areas such as mental health, behaviours of concern, dementia, communication and activities of daily living. There are also macro and micro level barriers they and their families face in receiving optimal healthcare.
MINDS leads a Healthcare Workgroup with a group of practitioners from the health, medical and academic sectors, to discuss important policy and practice issues in healthcare management for persons with IDD in Singapore.
Highlights of the symposium include presentation by local and international experts in the field of IDD healthcare policy. The symposium also will include roundtable discussions to deliberate on a proposed model for effective healthcare management of persons with IDD and their families in Singapore.
This model will help to address the concerns surrounding the care of persons with IDD, their caregivers and families; who are often unable to represent their child/sibling/ward's health concerns due to a lack of understanding of how healthcare delivery systems work. Additionally they do not know how and in what circumstances to access institutional and community healthcare systems and support.
We are inviting you to be a part of this inaugural symposium to learn from an esteemed panel of international speakers, connect with peers and explore collaborations and to contribute in roundtable discussions.
*Childminding services will be available at the symposium. Please indicate if you require this service when registering for an e-ticket.
Who should attend?
√ Health and medical practitioners
√ Caregivers of Persons with IDD
√ Government agencies / policy makers
√ Management staff from SSAs
Highlights of Symposium:
Development of a local model for healthcare management for persons with IDD
International & Local Experts speaking on key policies on IDD healthcare management
Integrating policies and practice
Position Paper on IDD healthcare in Singapore
Roundtable Discussions
Roundtable Topics
1) Discussing the current gaps and challenges for persons with IDD, caregivers and medical practitioners in Singapore
2) Developing a model for effective healthcare for persons with IDDs in Singapore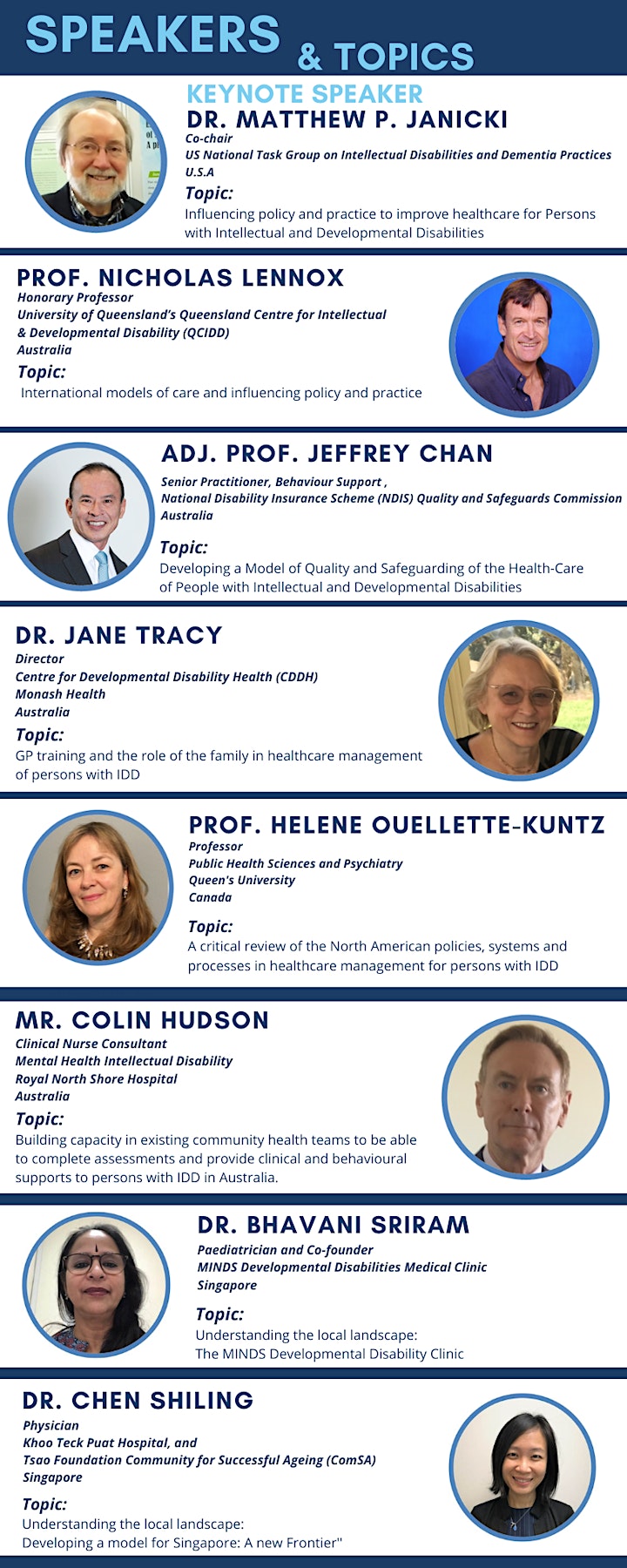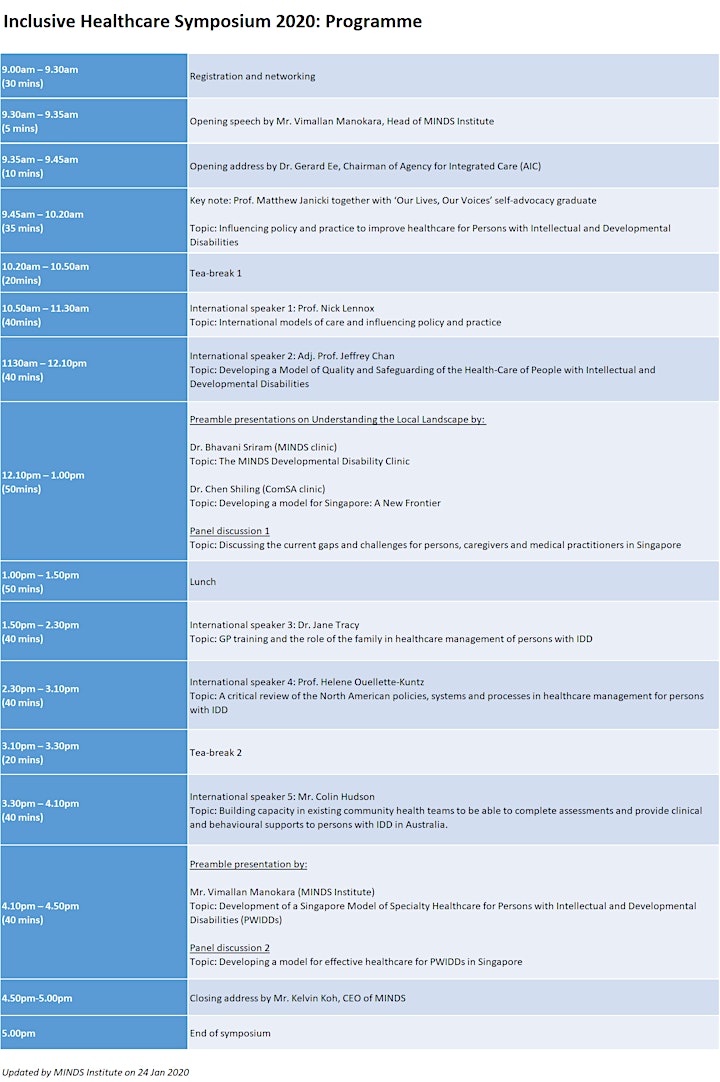 Updates
Follow MINDS Facebook page @weloveminds for more updates on this symposium.
Have any questions?
Contact Hidayah Hosni at miidd@minds.org.sg or tel: 6479 5655 ext.273
*This symposium is currently pending for CME accreditation for Medical Professionals.