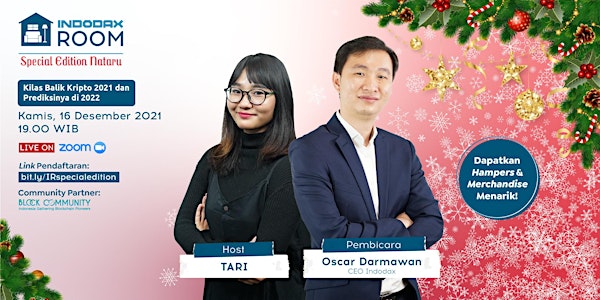 Indodax Room Special Edition
Indodax Room Special Edition Nataru: 'Kilas Balik Kripto 2021 dan Prediksinya di 2022'
About this event
🎶 "…It's the most wonderful time of the year…" 🎵
Halo, member Indodax!
Akhirnya kita sampai di penghujung tahun 2021, yang artinya Indodax Room: Special Edition Nataru juga kembali hadir untuk menemani akhir tahun kalian bersama the one and only, CEO Indodax, Oscar Darmawan, dan host kesayangan kita semua, Tari!
Pada Indodax Room kali ini, kita akan berbincang seputar kilas balik kripto selama tahun 2021 dan prediksinya di tahun 2022. Gimana? Udah gak sabar, kan?
So, jangan lewatkan Indodax Room: Special Edition Nataru pada Kamis, 16 Desember 2021 pukul 19.00 WIB ya! Ada hadiah hampers dan merchandise menarik dari Indodax bagi kamu yang beruntung, lho!
Indodax Room adalah mini talkshow yang membahas seputar trading dan aset kripto di mana kamu bisa bertanya kepada pembicara atau narasumber yang hadir secara LIVE.
Daftarkan dirimu sekarang!