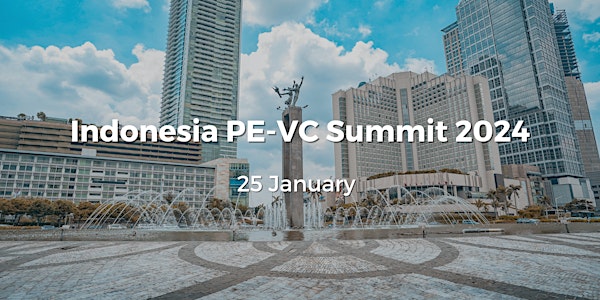 Indonesia PE-VC Summit 2024
Our Indonesia PE-VC Summit by DealStreetAsia brings together leading names in the PE, VC & Startup worlds focused in SE Asia, India & China.
Date and time
Thursday, January 25, 2024 · 8:30am - 6:30pm WIB
Location
To Be Confirmed TBC Jakarta, TBC Indonesia
About this event
For more info and latest updates on the summit, please click here to the OFFICIAL INDONESIA PE-VC SUMMIT EVENT PAGE
__________________________________
WHY ATTEND?
The Indonesia PE-VC Summit is curated by the editorial team at DealStreetAsia, a Singapore-headquartered, subscription-driven media company. We have covered all deals across Asia including private equity, venture capital M&As, listings and the business of startups, breaking some of the biggest stories in the region.
We bring to the event the rigour that has powered our editorial coverage.
At the PE-VC Summit, delegates can expect true perspective and insight with no blatant company pitches or spin, and the chance to network with an audience of leaders – over 80% of our delegates in previous summits have held senior management roles.
__________________________________
PAST SESSION TOPICS & SPEAKERS
Southeast Asia's tech sector enters golden age with accelerated digital adoption (With Jenny Lee, GGV Capital)
The importance of leveraging huge ecosystems to build a payments leader (With Jaygan Fu Ponnudurai, OVO | Victor Lesmana, Bukalapak)
Introducing the Warung Tech Index (With Howard Gani, Mitra Bukalapak | Khailee Ng, 500 Global)
Indonesia key to generating alpha for VCs in SE Asia (With Adrian Li, AC Ventures | Jefrey Joe, Alpha JWC Ventures)
How tech investments can blend social impact and financial returns (With Dondi Hananto, Patamar Capital, | Tanah Sullivan, GoTo | John Colombo, Clime Capital)
Multi stage investment approach and leveraging networks to pick winners (With Donal Wihardja, MDI Ventures)
Value creation through value-addition and 'consumers-first' investment strategy (With Sunata Tjiterosampurno, Northstar Group)
__________________________________
IMPORTANT NOTES
Only participants with valid summit tickets will be allowed into the venue. Summit tickets will be checked and verified at the entrance. We accept both printed & digital tickets.
By registering for this event, you consent to your details being shared with DealStreetAsia and the relevant parties for the purpose of event marketing and to enable all networking functionalities.
Summit dates may be subject to change.
Summit ticket prices are in USD ($).
Make sure you subscribe to our newsletter, follow us on LinkedIn, Facebook and Instagram to get the latest updates.
About the organizer
About DealStreetAsia
DealStreetAsia™ is a Singapore-headquartered, subscription-driven media company, covering all deals – private equity, venture capital M&As, listings and the business of startups across Asia.
We provide deals data, intelligence, and perspective on some of Asia's most opaque markets to international and regional investors. We also track startups that are disrupting the status quo and playing an important role in the evolution of one of the fastest-growing regions of the world.
DealStreetAsia Events
DealStreetAsia hosts the region's largest sector-agnostic summit for PE/VC executives, startup & unicorn founders, and all stakeholders in the ecosystem.
Starting in 2016, the flagship PE-VC summit in Singapore has brought in over 3,500 attendees from 40 plus countries, a large proportion of whom hold senior management roles.
In 2019, acknowledging the role of Indonesia as the fastest growing region within Southeast Asia, DealStreetAsia took the PE-VC summit to Jakarta.