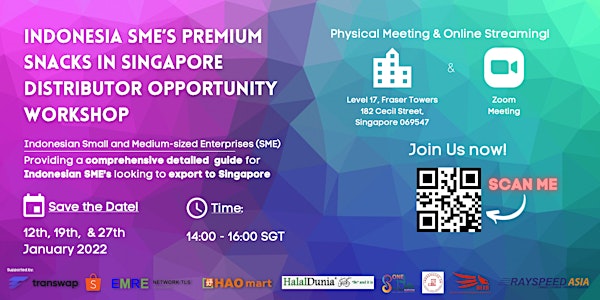 Indonesia SME's premium snacks in Singapore Distributor
Event Information
Location
Frasers Tower
182 Cecil Street
Singapore, 069547
Singapore
Please read the information below before purchasing, thank you!
About this event
Indonesia SME's Premium Snacks in Singapore Distributor Opportunity Workshop. This event have limited seats and here you will gain alot of information and insights!
Time: 14.00 - 16.00 SGT or 13.00 - 15.00 WIB
!! NOTE : 1 TICKET FOR 1 TIME ATTENDANCE !! (if you want to attend all dates, please purchase each date tickets)
Requirements for attendees who attend physical event (limited for 8 packs only): Must be fully vaccinated
12th January, 19th January, & 27th January 2022 -> 182 Cecil St, Fraser Towers, #17-00, Singapore 069547
You can attend online too!
Date and time
Location
Frasers Tower
182 Cecil Street
Singapore, 069547
Singapore