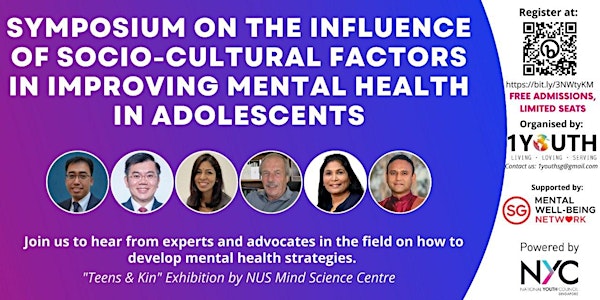 Influence of Socio-Cultural Factors in Improving Mental Health in Teens
The symposium will deliberate on mental health influences by socio-cultural factors and support measures for mental health and well-being.
When and where
Location
NTUC Centre 1 Marina Boulevard Level 7, Room 701 Singapore, 018989 Singapore
About this event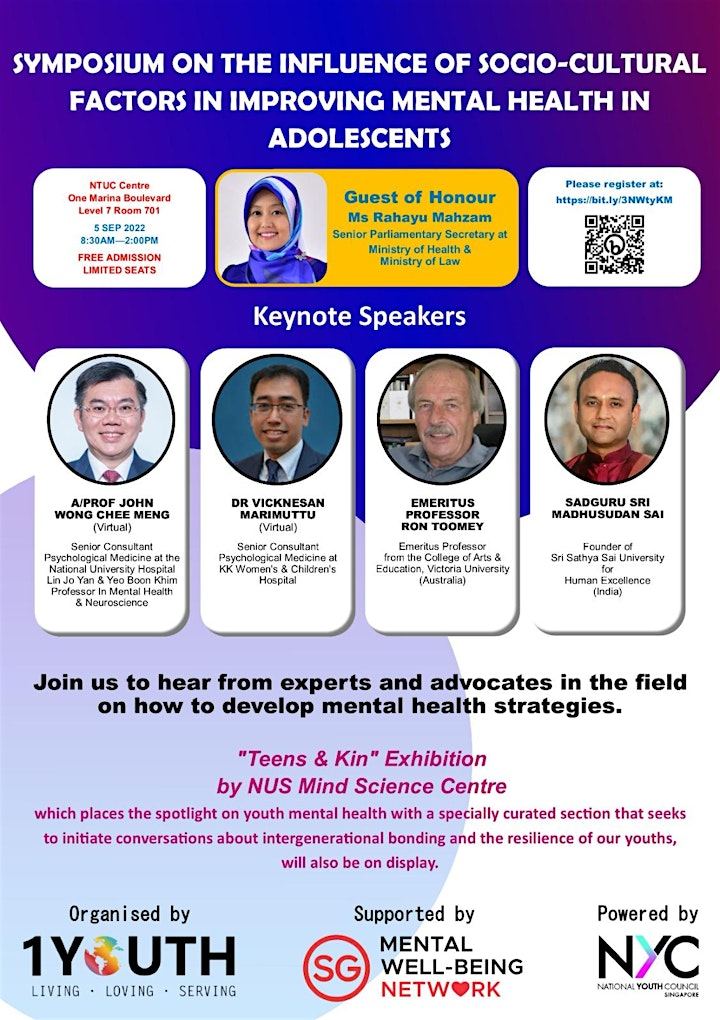 The Scientific Brief on Mental Health and COVID-19 highlighted that as the COVID- 19 pandemic hit the world, it left a mark on the mental health of many people, particularly youngsters. Much before the pandemic, mental health amongst teens was already an issue, and many factors created by the pandemic accentuated its impact. The sudden and prolonged social isolation, the transition to home-based learning, the accompanied stress, the constant feasting on social media to fill in the void of social isolation and many other factors can be attributed to the ongoing pandemic.
Key Discussion Areas:
How do socio-cultural factors influence the mental health of teens?
What are the value systems which have been forgotten?
How can we understand and support teens to improve their mental health?
About the speakers
A/Prof John Wong Chee Meng is a Senior Consultant Psychiatrist at the Department of Psychological Medicine at the National Univeristy Hospital (NUH) in Singapore. He has also been appointed as the Director of NUS Mind Science Center, which focus on building cognitive and emotional resilience across age continuum in the community, through comunity-based program and technology innovation.
Dr Vicknesan Marimuttu is a Senior Consultant and the Head of the Child & Adolescent Mental Wellness Service at the Department of Psychological Medicine, KK Women and Children's Hospital in Singapore.
Dr Ron Toomey is an Emeritus Professor from the College of Arts & Education in Victoria University, Melbourne (Australia). He is currently working with colleagues from Western Washington University on a study examining the capacity of Values-based Education to contribute to the wellbeing of Youth at Risk.
Sadguru Sri Madhusudan Sai is the founder of Sri Sathya Sai University for Human Excellence in India. Through his guidance, 5,000 rural children are being empowered with values-based integral education through 27 values-based educational campuses in South India, including a higher education wing - Sri Sathya Sai Univeristy for Human Excellence.
Ms Haanusia Prithivi Raj is a Registered Clinical Psychologist at Annabelle Psychology, and is also a Registered Clinical Supervisor (SRP) in Singapore. With more than 10 years of continuous practice, she has vast experiences working with young children, adolescents, and also adults with psychiatric problems.
Mdm Tamil Selvi is a trained teacher and mentor for youth at risk with special needs. She is the Subject Head (Student Leadership) & Discipline Mentor at Grace Orchard School in Singapore. In addition, she volunteers at the Singapore Disability Sports Council.