Info-Session: IHL-SPED-F&B Social Challenge 2018

Monday, 30 July 2018 at 00:00

-

Wednesday, 17 October 2018 at 12:00 (CDT)
Event Details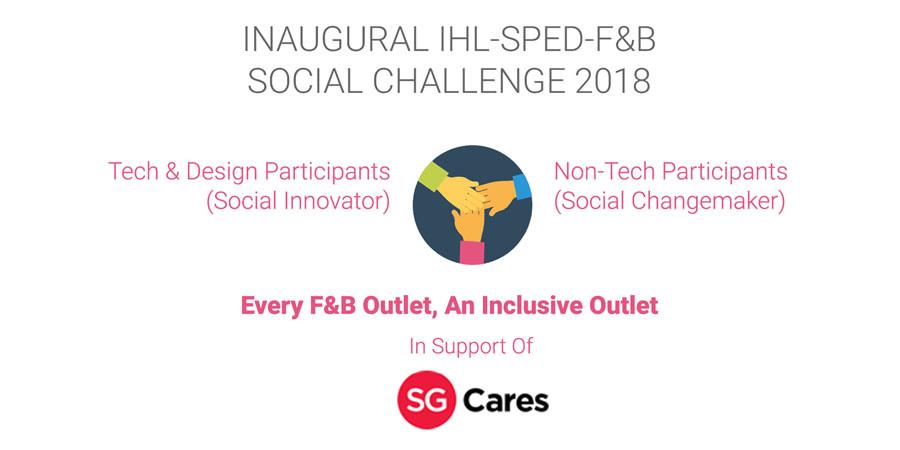 Register now to receive details of the problem statement so that you can have a headstart! Venue, Date and Time of Info-sessions will be arranged after you have registered interest to participate/find out more.
Because We Care For Those In Need! During this info-session, we will be sharing about the challenges faced by persons with disabilities during work integration in the F&B sector as well as ineffiecienies in current donation methods in the face of rising social cost and ageing population. We are reaching out to youths like you, techies and non-techies alike, to colletctively make a difference by helping to solve these two(2) pressing national social challenges: 
1) Enable employment for Persons with Disabilities in the F&B sector: By ideating and co-creating an inclusive merchant app (android) that can be used in both Special Education (SPED) Schools and in the F&B sector.
Note: Youths will be paired with persons with diabilities to solicit feedback on their solutions
2) Automate donations in every day life: By founding a national PayEatFwd(DeliveryForGood) 'aka' hitch delivery movement ground-up with founding youth members like yourselves
Note: Youths will be paired with community partners to solicit feedback on their campaigns
Do Well By Doing Good Too! Besides doing good, we also recognise the need to create freelance / portfolio / networking opportunities for you. Hence, it is for this reason that we have also invited the F&B sector to be event partners so that all participating youths will have opportunities to network and collaborate with F&B Sector, Community Partners, and fellow participants. To put into perspective the urgency of the above social challenges, to date 80% of SPED/Disability sector organisations are taking part as event partners to work with youths like yourselves. Giving.sg, Singapore's national donations platform with more than 460 non-profits is also a co-organiser of this social challenge. ActiveSG SportCares is also looking to engage youths like you to reach out to their beneficiaries.
Participants will receive a certificate endorsed with SG Cares logo post event. 
We look forward to your warm participation.  
Tentative Off-Campus Info-session Schedule (On-Campus Schedule to be confirmed separately).
Note: You only need to attend one info-session of your choice.
| | | |
| --- | --- | --- |
| Sat | Time | Info-Session Venue |
| 11-Aug-18 | 1 to 2pm | Dignity Kitchen |
| 18-Aug-18 | 11 to 12pm | APSN CFA Mystical Café |
| 25-Aug-18 | 11 to 12pm | Metta Welfare Café |
| 1-Sep-18 | 11 to 12pm | Foreword Coffee @ Ng Teng Fong CHI |
| 8-Sep-18 | 11 to 12pm | Rainbow Centre Seeds Café |
| 15-Sep-18 | 11 to 12pm | Dignity Kitchen |
| 22-Sep-18 | 11 to 12pm | APSN CFA Mystical Café |
| 29-Sep-18 | 11 to 12pm | Metta Welfare Café |
| 6-Oct-18 | 11 to 12pm | Foreword Coffee @ Ng Teng Fong CHI |
| | | |
| --- | --- | --- |
| Wed | Time | Info-Session Venue |
| 22-Aug-18 | 6 to 7pm | *SCAPE Hubquarters (Lvl 4) |
| 29-Aug-18 | 6 to 7pm | *SCAPE Hubquarters (Lvl 4) |
| 5-Sep-18 | 6 to 7pm | *SCAPE Hubquarters (Lvl 4) |
| 12-Sep-18 | 6 to 7pm | *SCAPE Hubquarters (Lvl 4) |
| 19-Sep-18 | 6 to 7pm | *SCAPE Hubquarters (Lvl 4) |
| 26-Sep-18 | 6 to 7pm | *SCAPE Hubquarters (Lvl 4) |
| 3-Oct-18 | 6 to 7pm | *SCAPE Hubquarters (Lvl 4) |
| 10-Oct-18 | 6 to 7pm | *SCAPE Hubquarters (Lvl 4) |
| 17-Oct-18 | 6 to 7pm | *SCAPE Hubquarters (Lvl 4) |
When & Where

All Institutes of Higher Learning (IHL), Youth & Community Organisations


Singapore

Monday, 30 July 2018 at 00:00

-

Wednesday, 17 October 2018 at 12:00 (CDT)
Add to my calendar