Description
Welcome! Infocomm Investments invites you to celebrate our first anniversary of Building Amazing Startups (Here!). Come on down to BASH where there will be events all afternoon for you to meet our partners and participate in discussions with the best in the business. Of course, no celebration is complete without a night of drinks and music among friends and that's how we'll end the day.
Hit the register button to see all the events we have lined up for the day. Slots are limited for workshops and discussions, so register now!
Registration for the Pioneers Singapore event can be found on our partner's page, here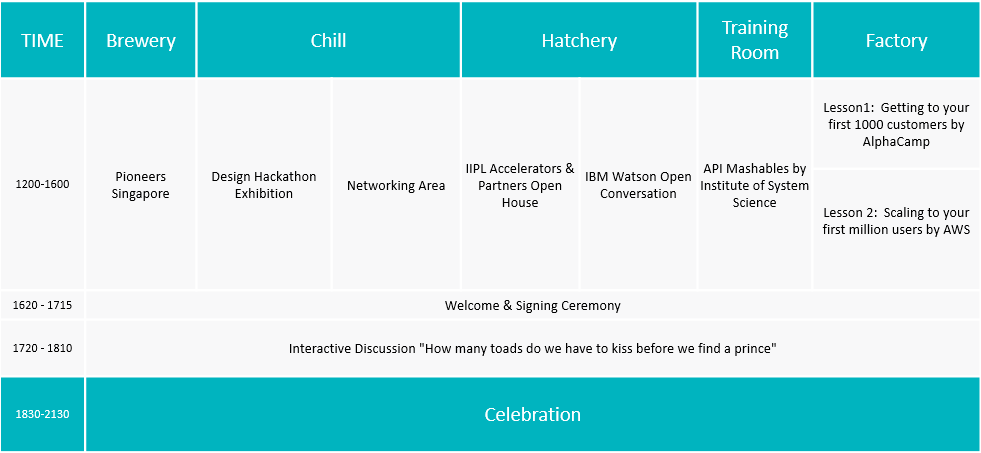 ---
IIPL Accelerators & Partners Open House: Come explore the space that has become the epicentre of Singapore's startup ecosystem! As an ecosystem builder, Infocomm Investors has made many friends and partners. Our accelerator partners will each have their own booth and you will have the opportunity to interact with them.
Our Partners - MuruD, Startupbootcamp Fintech, Singapore Press Holdings (SPH) Plug n Play, Rockstart, The Finlab (UOB), Tagpass, Tagpass Cisco, Global Startup Exchange
---
Design Hackathon Exhibition: Designathon 2016 was a 36-hour design challenge for designers, hardware and software developers as well as health and eldercare providers to design solutions and create new products to improve the lives of the elderly in Singapore. Held at the National Design Centre on 9 and 10 January 2016, designers worked along the theme of "Living Beautifully: Designing for our Golden Years." You will have the chance to interact with the designers as they showcase their products.
---
Finale - Interactive Discussion: "How many toads do we have to kiss before finding a prince?"
1715 - 1800 | Join the conversation as influential members of Singapore's startup ecosystem discuss the difficulties of finding the diamonds in the startup rough.
Speakers : Anita Huang (Taiwan Startup Stadium), Steve Leonard (IDA), James Tan (Quest Ventures)
Moderator: Victor Tan (Infocomm Investments)