Description
1-day course, 10am to 6pm. Small Class Training, max. 6 pax.
This workshop is SkillsFuture Approved & Claimable.
P.S. Infographic examples you will be able to design by the end of the workshop are attached at the bottom of the course content below.


Benefits of Infographics Marketing (Video by The Good Designers)
Workshop Objectives:
• Learn how to use infographics in your marketing collaterals
• Learn a FREE to use web-based design software to design infographics
• Share with participants image, icons and colour resources
• Consultation with participants on their marketing and social media collaterals

By the end of the course, you will learn how to design STUNNING infographic content for your Marketing, Social Media and Digital Marketing Campaigns.
Who should attend:
• Sales & Marketing Professionals who would like to stand out in this over crowded market
• Digital Marketing Professionals, Marketing Consultants
• Adult Educators who would like to use infographics in their teaching materials
• Business Owners who would like to communicate better with their potential customers and buyers



Overview of workshop topics:
1. Introduction to the workshop's objective:
- Theory on Visual Content Marketing
- Case Study and Statistics on engagement for infographics
- Learn about Ads and Graphics that work on Social Media

2. Hands-on activity: Creating a Social Media Post
- Learn about colour palettes, and what makes a social media post increase in engagements
- Learn how to create an Infographic Social Media Post step by step with Trainer

3. Hands-on activity: Creating an infographic
- Best practices when creating an infographic
- Learn how to create an infographic step by step with Trainer
- Design tips for your infographic, and how you can improve on your infographic by choosing the right fonts and colour
- Copywriting : Learn how to write better copy (Features VS Benefits)

4. Hands-on activity: Creating a corporate slide deck
- Tips and tricks to better presentation
- Demo by trainer of how to create typical corporate slide deck template layouts: 6 to 7 types.
- Class Activity: Design your corporate slide deck presentation
- Consultation with Trainer on your corporate slide deck design and layouts

5. Hands-on activity: Creating your very own infographic content or marketing collateral.
- Class Activity: Design your own infographic
- Consultation, and Q&A
This is a Certificate Workshop:
Receive a Certificate of Completion upon successfully completing the workshop.

SkillsFuture Course Code: CRS-N-0042070
What you'll need to bring to class:
• Laptop & Charger
• Mouse & Mouse Pad
Singaporeans above 25 years old, workshop is SkillsFuture Approved & Claimable
No cash required. If you would like to use SkillsFuture Credits for this workshop, please email us at skillsfuture@thegooddesigners.com, we will get in touch with you on how to register with our unpaid invoice on SkillsFuture Portal with a step-by-step PDF guide.
About the Trainer
Charmaine is the Creative Director of Sky Digital Agency and The Good Designers.
She has been conducting training since 2015, equipping her clients in Facebook Marketing, Search Engine Optimization (SEO) & Search Engine Marketing (SEM). Till date, she has conducted more than 1,000 training hours.

Charmaine makes learning interactive, practical and fun. She enjoys breaking down complex topics to help participants gain better understanding on Facebook Marketing, SEO & SEM, Infographics Design and more!
She strongly believes that the training industry needs more courses and training with smaller group of participants that allows them a more conducive environment to learn, ask questions, and have more 1-to-1 time with the trainer.
Charmaine is passionate about training, and helping others through training. She strongly believes in paying it forward to the community will her knowledge and skill sets. Aside training the public and corporates, she also trains youth-at-risks (in collaboration with MSF) under The Good Designers.

Other SkillsFuture Approved Courses under The Good Designers
✓ Infographics Marketing (1-day)
✓ Design Better Ads for Facebook and Instagram (1-day)
✓ Adobe Photoshop (2-day)
✓ Coding HTML and CSS with Sublime Text (1-day)
✓ Video Content Marketing (1-day or 2-day)
✓ [NEW - Coming in Jan 2018] Email Marketing with MailerLite (1-day)

Visit our website www.thegooddesigners.com to find out more about The Good Designers
SkillsFuture Approved courses available in our Digital Marketing Peatix Group

Connect with The Good Designers:
Our Workshop Reviews on Facebook: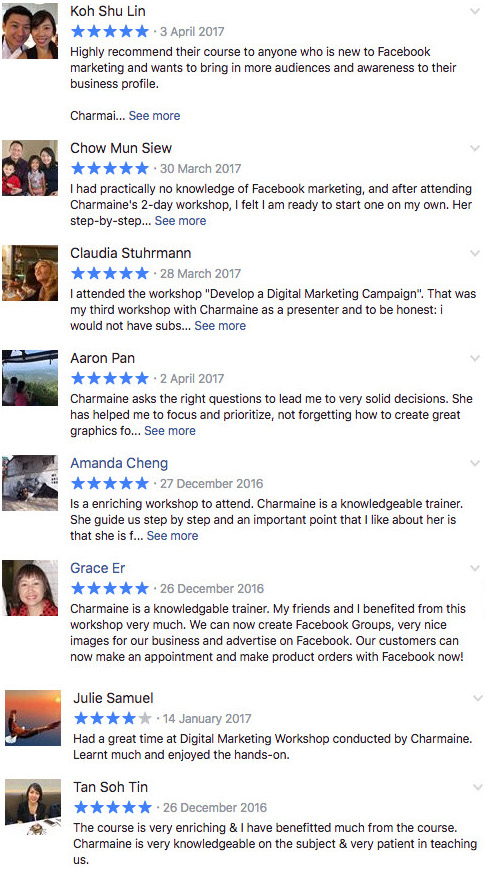 More workshop reviews are available on our Facebook Page

FAQs
1. Who can i contact should i have questions?
You may e-mail us at eventbrite@thegooddesigners.com

2. Is there a minimum class size to proceed?
Yes. We require a minimum class size of 3 people to proceed with the class.
In the event that there is insufficient participants, The Good Designers reserves the right to reschedule the class. Under such circumstances, we will inform you no later than 3 days before the event.
3. Where is the venue of the workshop?
6 Raffles Quay, #15-00, Singapore 048580

Nearest MRT: Raffles MRT, take exit "i" to Ascott at Raffles Place, 6 Raffles Quay is right after Ascott at Raffles Place.

4. I'm driving, where can I park?
There is parking space at the building 6 Raffles Quay itself at $2.50 per 30 min block.
For weekend classes, we recommend our participants to park at SGX Centre, at $3 per entry.
Charmaine conducting a 3 hour workshop with 40 training educators at Life Long Learning Centre under Institute of Adult Learning (IAL), on Ways to Effectively Retain Learning Through Better Visual Presentations.
Corporate Training with 15 Staff of Singapore University of Technology and Design.
Full Day Workshop Training: Infographics & Visual Content Marketing

Don't you just love the pantry. Makes learning more fun when you have different hot drinks to keep you awake! We mean... to help you focus!
Here are some social media and long-form infographics portfolio sample that you will be able to design by the end of the class.