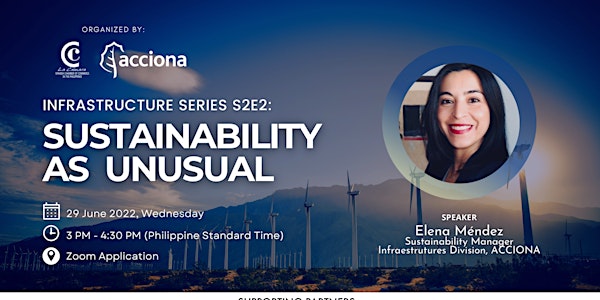 Infrastructure Series: Sustainability as Unusual
Hosted by La Camara Philippines
About this event
Business as Unusual. This is ACCIONA's way. We are a purpose-driven company who believes that there is a different way of doing business – where each project designed and implemented promotes sustainable development from all three perspectives: environmental, economic, and social.
Today we want to help transform the meaning of Sustainability as traditionally understood. For ACCIONA is a combination of four major impact lines: putting special focus on developing the social dimension as people are our main competitive advantage; seeking to generate a positive impact on climate, biodiversity, circularity, and water resources; authentic, consistent, and transparent leadership promoting the need to act through cleaner, more inclusive development models; and creating a sustainable advantage in each project by integrating all the team's capabilities for the benefit of the stakeholders.
In its entirety, we go beyond sustainability in the traditional sense by focusing on being REGENERATIVE. The goal is to design infrastructure to ensure people's well-being and the conservation of the planet. Sustainability as Unusual.
About the Speaker:
Elena Méndez, Sustainability Manager Infrastructures Division
Geographer: specialized in spatial planning and the environment, she is in charge of the Infrastructure Sustainability Office, leading the implementation of the corporate sustainability strategy in Acciona's Construction, Water and Concessions businesses.
Senior consultant: has developed her career focused on the sustainability and compatibility of human activities with social progress and environmental protection. She has relevant experience at the service of the Public Administration. Highlights her participation in projects financed by the European Union of the Technological Innovation Department of ACCIONA Infrastructure, focused on the development, business model and exploitation of energy efficiency technologies and Smart Cities.