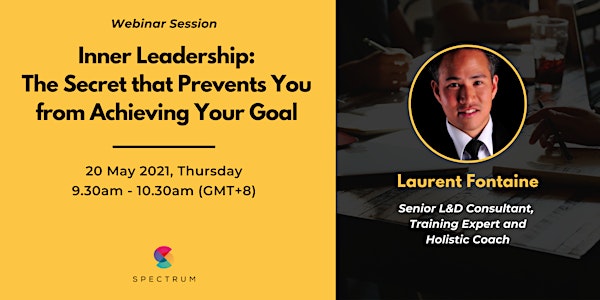 Inner Leadership: The Secret that Prevents You from Achieving Your Goal
Join our breakfast webinar to learn how the conscious & subconscious minds can help you navigate your way to achieving your goals & dreams.
About this event
Do you know that there is a better and faster way to super learning? The subconscious mind is powerful and fast - it can process 40 million bits of data every second from the environment but it is habitual, it can only replay what it learns. The conscious mind, on the other hand, is slow but is the centre of our 'will power'. How do we learn how to program our minds to strengthen our will power and be better leaders?
Join us at this breakfast webinar with Laurent Fontaine, a Holistic Coach and Training Expert specialised in behavioural skills, who will talk about the importance of finding our inner leadership to face the challenges of today's world. He will also present case studies on leadership and teach us a core technique to reprogram ourselves for success.
About the Speaker
Laurent Fontaine, Senior L&D Consultant, Training Expert and Holistic Coach (specialised in behavioural skills)
A passionate coach, facilitator and trainer, Laurent brings together a rich multi-cultural and diverse international business background. He has lived in France (home country), Germany, UK, USA, Singapore, even on the Seven Seas and has traveled extensively worldwide. Resident in Singapore since 2013, he has over 20 years of business experience, with a focus on people's learning and development for the last 16 years, both externally and internally.
He has always been passionate about personal development and about serving others. His life purpose is to help people become the best version of themselves, at work and in their personal life. To do so, he loves taking individuals and teams on a journey of self-discovery to identify the deep needs and root causes behind a challenge, an obstacle or a gap. Then he will design a customized intervention and facilitate, train and/or coach depending on what is required.
Laurent's expertise is in behavioural skills, from leadership, management, customer relationships, communication, public speaking, sales, coaching, mentoring, train the trainer, team building to personal work around finding one's purpose, inspiring others, uncovering one's belief system and setting up empowering beliefs. He loves the energy and the sparks that come from the group or from the deep rapport built with the coachee.
Some of his corporate clients were: BNP Paribas, Societe Generale, SNCF (transportation), Essilor, Accor, Booking.com and Experian. 11 years working externally as a Senior L&D Consultant, Trainer and Coach have taught him to work under pressure and the importance to adapt each intervention to the corporate culture of the client. The 5 years working internally as Regional Head of L&D, APAC have helped him developed his learning culture change management skills and a holistic approach of Learning and Development.