Innovative and sustainable tools in Design for cultural heritage
About this Event
Contemporary design makes more and more use of new technologies such as digitization, augmented reality, artificial intelligence, virtual assistants and always with greater attention to sustainability. New innovative applications developed by architects and designers, in particular for the best use of cultural, museum and urban heritages, will be presented and discussed.
Program
Dr. Nicola Bianchi (Italian Embassy to Singapore) - Introduction
Prof. Mauro Ceconello (Politecnico di Milano, Italy) - Design and Italian Culture. A sustainable approach through technology
Prof. Laura Miotto (Nanyang Technology University, Singapore) - Designing Cultural Exhibitions in Singapore: between digital and sensory
Prof. Immanuel Koh (Singapore University for Technology and Design, Singapore) - Artificial Intelligence & Generative Design for Sustainability
NOTE: FINAL LINK TO THE EVENT WILL BE SENT TO REGISTERED ATTENDEES SHORTLY BEFORE THE WEBINAR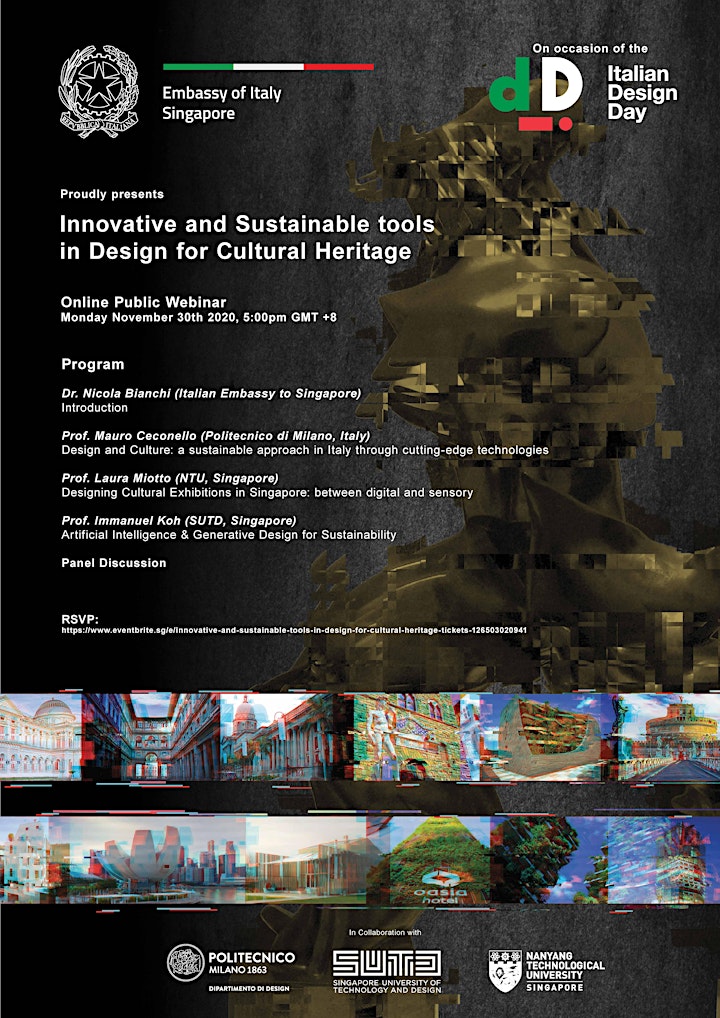 Abstracts and Short Bios
Design and Culture: a sustainable approach in Italy through cutting-edge technology - Prof. Mauro Ceconello (Politecnico di Milano, Italy)
mauro.ceconello@polimi.it
Abstract: Technology is constantly evolving and creates innovative experiences in the cultural sector as today, content reaches us everywhere. Museums, cultural and research institutions have not missed the chance to experiment with this opportunity and Design could play an important role to provide content to an ever-growing audience, identifying strategies and means to communicate cultural messages and generating engaging edutainment experiences.
Short Bio: Mauro Ceconello, Associate Professor in Design and Architectural Technology, focused his research activity on interaction design to enhance cultural heritage. He's scientific coordinator of research projects concerning digital technologies and interaction tools for product design. His latest research interest is AI and virtual assistants in the domestic settings. He is President of the School of Design Joint Committee and Head of DILABB in Politecnico di Milano.
Designing Cultural Exhibitions in Singapore with digital technologies - Prof. Laura Miotto (Nanyang Technology University, Singapore)
laura.miotto@ntu.edu.sg
Abstract: Design and Culture intertwine in many ways and Museums have become a special place of experimentation for it. The design of their exhibitions evolved tremendously in the last decades using innovative storytelling techniques and a wide range of digital technologies to engage the visitors and provide meaningful experiences in relation to cultural, historical and natural heritage. The talk focuses on the context of Singapore, giving insights on design trends and the wayexperts and designers of the cultural industry collaborate toward innovation and sustainability in this field.
Short Bio: Laura Miotto, Associate Professor at the School of Art, Design and Media and Co Director of the Master in Museum Studies and Curatorial Practices. With 20 years of experience in the design field, both as a creative director and an architectural designer, Miotto has worked on permanent and temporary exhibitions, focusing on heritage interpretation and sensorial design strategies in the context of museums. Among her projects the Living Galleries at the National Museum of Singapore and the LKC Natural History Museum explore local cultures and environments in a phase of transformation. In 2010 she received the President Design Award (Singapore) for the exhibition Quest for Immortality: The World of Ancient Egypt.
Artificial Intelligence Generative Design for Sustainability – Prof. Immanuel Koh (Architecture and Sustainable Design Faculty – SUTD, Singapore)
immanuel_koh@sutd.edu.sg
Abstract: Generative Design has emerged as a key design paradigm today, incorporating artificial intelligence to produce design solutions that are not only sustainable in production, but also in process. While much hype surrounds the idea of producing more with less materials, costs and environmental impact; for the designer, it is about conceiving more novel design variations with less cognitive load and iteration time. Through a series of design research projects, the talk will focus on how machine learning has played a transformative role in the fields of predictive urbanism, generative architecture and museum experience augmentation.
Short Bio: Immanuel Koh, Assistant Professor in both Architecture & Sustainable Design and Design & Artificial Intelligence at the Singapore University of Technology and Design (SUTD) . He teaches and conducts research on the creative use of deep learning for architectural and urban designs as well as heads the Artificial Architecture research laboratory at SUTD. Prior to joining SUTD, he was based at École polytechnique fédérale de Lausanne (EPFL) in Switzerland, doing transdisciplinary research work between the School of Computer Sciences and the Institute of Architecture. Since graduating from the Architectural Association (AA) London, he has taught at the AA, Royal College of Art (London), Tsinghua University (Beijing), Strelka (Moscow), Angewandte (Vienna), DIA (Bauhaus Dessau), Harvard GSD, UCL Bartlett and many others. Immanuel has also practiced as an architect at Zaha Hadid Architects (London), as a programmer at ARUP with Relational Urbanism (London), and as a creative coder at Convergeo (Lausanne) and anOtherArchitect (Berlin).