Join an be a part of our Insect Protein Christmas Cook Off Special!
About this event
We are searching for 16 participants to be a part of our Insect Protein Christmas Cook Off Special! The event will be held in December at SLICE and each participant will be tasked to cook a dish that reminds them of home with our key ingredient cricket powder.
Events timeline:
Cricket Powder foundation session - Learn about the qualities of cricket powder and how to incorporate that into your food.
Pairing up - Participants will be split into pairs through speed dating style to get to know each other and select their cook off partner
Developing recipe - Participants will decide among their pairs the recipe and menu to cook/bake in the time leading up to our cook off
Christmas Cook Off - You have 1.5h to finish cooking/baking, followed by sharing of your story and dish in an informal, convivial christmas party setting. We will have some time to document our stories and recipe that will become our digital cook book.
The Insect Protein Pals digital cook book will be published on the websites of INSEP, SLICE and AIFS.
Do note that the event will be video documented and participants would be interviewed to share about their experiences. These visual audio materials will be used for publicity and our Sustenarts exhibition during Singapore Art Week in Janaury 2022.
By booking a ticket you consent to the photo and video documentation, participation in interviews and the publication of your recipe online.
Please only order a ticket when you confirm attendance.
Address of event: Launchpad@JID, 2 Cleantech Loop, Singapore 637144 Play Spaces SLICE (#01-01)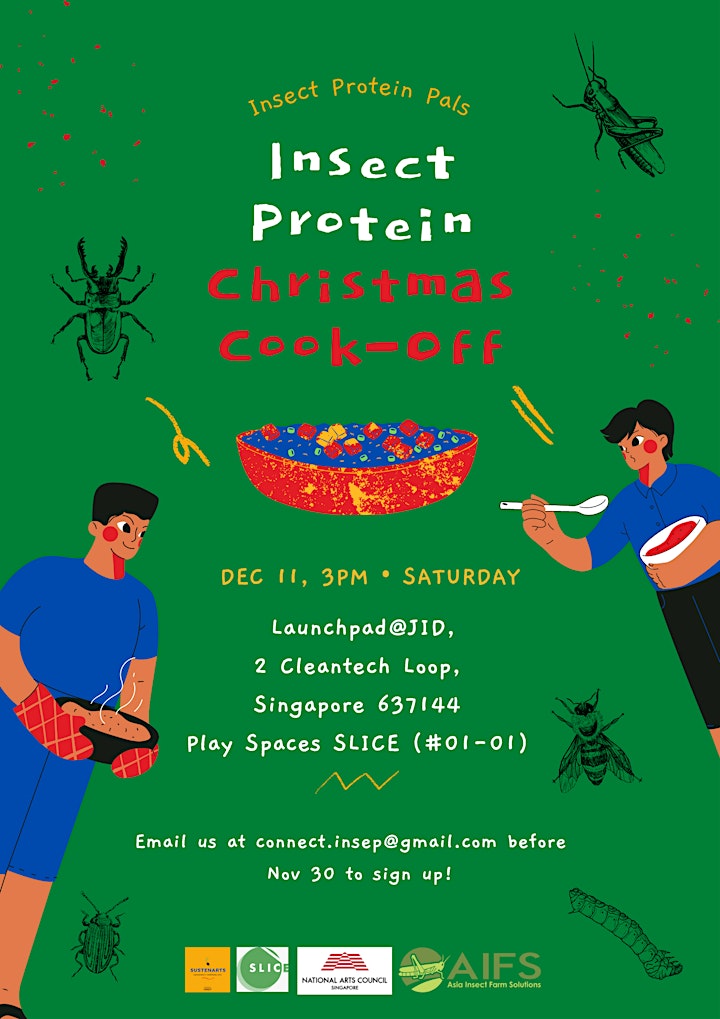 Organiser of Insect Protein Christmas Cook Off
Fié Neo is an interdisciplinary artist making films, performances and participatory arts. Her participatory art interventions feature unusual wearable art in public spaces, good conversations with strangers and occasional security attempting to chase her away (because hey, public spaces aren't that public anymore). She is spending a year in Marseille, France to understand other parts of the social sector through the eyes of NGOs and social enterprises. Her research centres around the future of sustainable jobs and how to harness the power of collectivity to create these jobs through interdisciplinary collaboration.