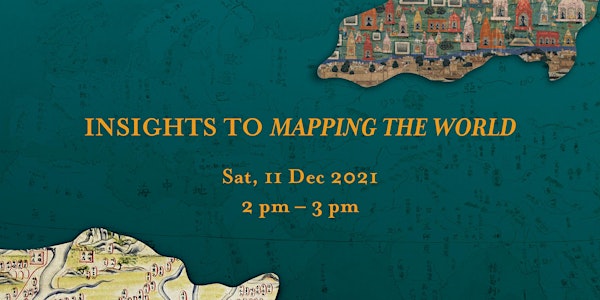 Insights to Mapping the World | Mapping the World Exhibition
Insights to Mapping the World
About this event
This is a hybrid event. The session will be streamed live via ZOOM from The POD, Level 16, National Library Building.
The prevailing Vaccination-Differentiated Safe Management Measures apply to audience attending the session onsite.
________________________________________________________________________________
This talk presents the curators' insights behind the exhibition Mapping the World: Perspectives from Asian Cartography and its accompanying publication. Using cartographic and iconographic masterpieces, the curators will take us on a journey through an extraordinary history of the world centred on Asia that point to the fertile exchanges between the various Asian regions, as well as between Asia and the rest of the world from the 15th to the 20th centuries. 
About the Speakers:
Prof Pierre Singaravélou is Professor of History at King's College London and at the University of Paris 1 Panthéon-Sorbonne.
Dr Fabrice Argounès is Assistant Professor in History of Geography at the University of Rouen-Normandy and a researcher at the Centre for the History of Contemporary Asia in Paris.
Held in conjunction with the National Library's exhibition, Mapping the World: Perspectives from Asian Cartography.
11 Dec 2021 – 8 May 2022
Gallery, Level 10, National Library Building
About the Exhibition
Showcasing rare historical maps, Mapping the World: Perspectives from Asian Cartography brings together different mapping traditions and worldviews, political and cultural spheres of influence, and the exchange of cartographic knowledge between civilisations across the world.
The exhibition, held in partnership with the Embassy of France in Singapore, features over 60 treasures from overseas institutions and private collections such as the Bibliothèque nationale de France, Musée Guimet and École Française D'Extreme-Orient in France, as well as the MacLean Collection, Illinois, United States and the Yokohama City University, Japan. It also highlights rare maps from the National Library, Singapore as well as local institutions such as the Asian Civilisations Museum and the Indian Heritage Centre.
This exhibition opens up a fascinating and illuminating window into how civilisations see themselves and the world across time and space.
This exhibition is held in partnership with the Embassy of France in Singapore, in association with vOilah! France Singapore Festival and supported by Temasek Holdings and Tikehau Capital.
Organizer of Insights to Mapping the World | Mapping the World Exhibition
The National Library Board (NLB) manages a network of 27 public libraries, the National Library and the National Archives of Singapore. NLB promotes reading, learning and information literacy by providing a trusted, accessible and globally-connected library and information service through the National Library and a comprehensive network of Public Libraries.