Description
For participants to get the most out of the training, the classes are currently capped at Max. 8 Participants.
80% hands-on training and activities, 20% theory.
Time: 10am to 6pm
Training Venue: 6 Raffles Quay, #15-00, Singapore 048580
Course Fee: $420/pax (SkillsFuture Credit Eligible)
Course Code on SkillsFuture Directory: CRS-N-0043408
As seats are limited, we recommend for participants to register 3 to 7 days in advance.
To pay for the course with your SkillsFuture Credits, email us at: skillsfuture@skycrm.asia


Why is Sky Digital Agency Content Marketing Course different?
• 80% hands-on activity Content Marketing Bootcamp course focusing on Content Marketing Sales Funnels with ebook giveaways and nurturing customers with Email Marketing.
• Our course requires participants to brainstorm, and develop actual content during the hands-on practice activities
• Create a PDF ebook with Microsoft PowerPoint for Content Marketing and Lead Generation Purpose
• Learn a 7 step Content Development Framework for greater success with Content Marketing
• In the long run, you would like to depend more on organic traffic rather than paid advertisement channels
Participants will be equip with the concept of content marketing strategy with actual case study, where they will learn what an ideal Content Marketing Strategy online will involve.
Participants will learn ways to create contents (i.e. E-catalogue or a FREE ebook with Microsoft PowerPoint) that will generate leads for them from their website and social media accounts organically and through paid advertising
Participants will brainstorm and map our their Content Marketing Strategy
Write effective headlines, craft and design an ebook content with infographics in 3 hours
Using the FREE ebook give away content, participants will learn to host the ebook on Google Drive or Dropbox to help generate leads from their website and social media accounts
Learn how to use MailChimp to generate an email lead collection automated marketing funnel with your FREE ebook giveaway content for your website and social media accounts


What to expect during the workshop?

- The course is a hands-on workshop to share content marketing strategies, and help participants to be more strategic in their Internet and Social Media Ad Campaigns, particularly on Facebook and Instagram.
- This course will help educators, startups, and technology companies understand and curate a more holistic digital marketing strategy that suits their marketing needs and objectives.
- This is also a hands-on workshop to equip non-designers with simple, effective tools and FREE resources to design and curate a beautiful ebook content of 4~8 pages. Ebooks are the most trending lead generation content online these days!

- With the ebook, we will use MailChimp Forms to help us collect leads and provide the FREE ebook download URL to potential customers who wanted to download a FREE e-catalogue or FREE ebook content.
Trainers, Adult Educators, Life Coach, Corporate Coaches, and Tuition Teachers who would like to learn how they can generate more leads with their online and social media marketing efforts.
1. Introduction to Content Marketing Strategies with Brainstorming
• Introduction & Learning Outcomes
• Content Marketing Definition
• Examples of Content Marketing / Development
2. What can good content do for your business?
• More effective and impactful branding
• Drive organic traffic and reduce reliance on paid channels
• Building deeper, long-term relationships with customers
• Lead generation
3. Mapping out your Customer / Buyer's Journey with your brand or Company.
• Explore and map out what matters most to your buyers?
• Learn about a Buyer's Journey on the internet
• Brainstorm about your Buyer's Journey, and how should you leverage on Content Marketing for your business?
• Consultation with the Trainer (5~10 min per pax

4. Writing Activity for your ebook content (4~8 of A5 page content)
• Based on buyer's journey
• The key elements to a good content
• Principles and key fundamentals
• Guidelines for your Free ebook content (Microsoft PowerPoint)
• Graphics & Icon Resources to beautify your ebook contents
• Design and Export your ebook from Microsoft PowerPoint

5. Sign up & Create a MailChimp Account
Learn how to use MailChimp for email lead collection on your website and social media accounts as you giveaway your FREE ebook.
Setup MailChimp Forms with your company email.
Note: @gmail.com, @yahoo.com, @hotmail.com, @icloud.com etc are not recommended for MailChimp account setup
Grab MailChimp Forms link, and shorten with bit.ly to track link performance
6. Final Consultation and Q&A
(a) Consultation with Trainer (max. 5~10 min per participant)
(b) Final Q&A with Trainer
By the end of the course, you will have a better understanding of content development, it's framework, to apply in your work and Business.

This workshop will also help you learn about content development, and how you can kickstart your content marketing strategy for your work and business.
What you will need to bring to class:
• Laptop, charger
• Mouse, mouse pad
This is a Certificate Workshop.
Receive a Certificate of Completion upon completion of the workshop from Sky Digital Agency.
As seats are limited due to small class size, we recommend for participants to register early.
Ticket options:
(a) EventBrite (please use EventBrite receipt to claim from your company if you're company sponsored, especially if you're an overseas participant, you will have to purchase tickets from online platforms Peatix/EventBrite)
(b) SkillsFuture Credits :
Email us
(c) For Corporates, you can
email us
to arrange for payment. Payment needs to be received 10 working days prior to course start date, otherwise, employees will need to pay first and claim from company if the timeline will not be in time for finance department to process payment.
This workshop is SkillsFuture Credit Eligible.
Who can apply? - Singaporeans aged 25 years and above.
As of Jan 2016, every Singaporean (25 years old and above) has $500 SkillsFuture Credits. No cash is required, if you have sufficient SkillsFuture Credits,
Course code on SkillsFuture Directory: CRS-N-0043408
Email us at skillsfuture@skycrm.asia for payment instructions to pay us directly with your SkillsFuture Credits.

Details we will need for SkillsFuture Credit participants:
1. Name as in NRIC:
2. NRIC:
3. Mobile:
4. Email:
5. Home Address:


- - - - - - - - - - - - - - - - - - - - - - - - - - - - - - - - - - - - - - - - - -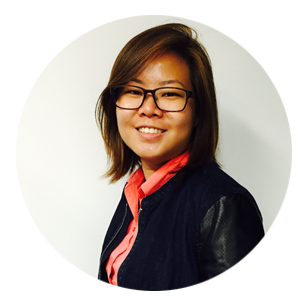 Charmaine is the Creative Director of Sky Digital Agency and The Good Designers.
She has been conducting training since 2015, equipping her clients in Facebook Marketing, Search Engine Optimization (SEO) & Email Marketing, and other key digital marketing topics. Till date, she has conducted more than 1,500 hours training.

Charmaine makes learning interactive, practical and fun. She enjoys breaking down complex topics to help participants gain better understanding on Facebook Marketing, SEO & SEM, Infographics Design and more!
She strongly believes that the training industry needs more courses and training with smaller group of participants that allows them a more conducive environment to learn, ask questions, and have more 1-to-1 time with the trainer.

Follow @skydigitalagency on Instagram
Follow @thegooddesigners on Instagram

Other SkillsFuture Credit Eligible Courses under Sky Digital Agency
✓ MailChimp Email Marketing for Beginners
✓ Instagram Marketing for Beginners
✓ SEO Internet Marketing for Beginners
✓ Integrated Content Marketing Strategy Course (New!)
✓ Facebook Marketing Masterclass and Chatbots (2 days) - (Launching in Feb 2019, NEW!)
✓ Find Success in Social Media Marketing and Communication - (New!)
✓ Integrated Facebook Marketing for Business and E-commerce Owners (2 days)
✓ Integrated MailChimp Email Marketing for Business and E-commerce Owners (2 days)
✓ Integrated Digital Marketing Strategy for Beginners (New!)
✓ LinkedIn Marketing and SlideShares Content Strategy (New!)

Enquire with us at workshops@skycrm.asia

Connect with us on:
Facebook | Instagram | YouTube | Website


- - - - - - - - - - - - - - - - - - - - - - - - - - - - - - - - - - - - - - - - - -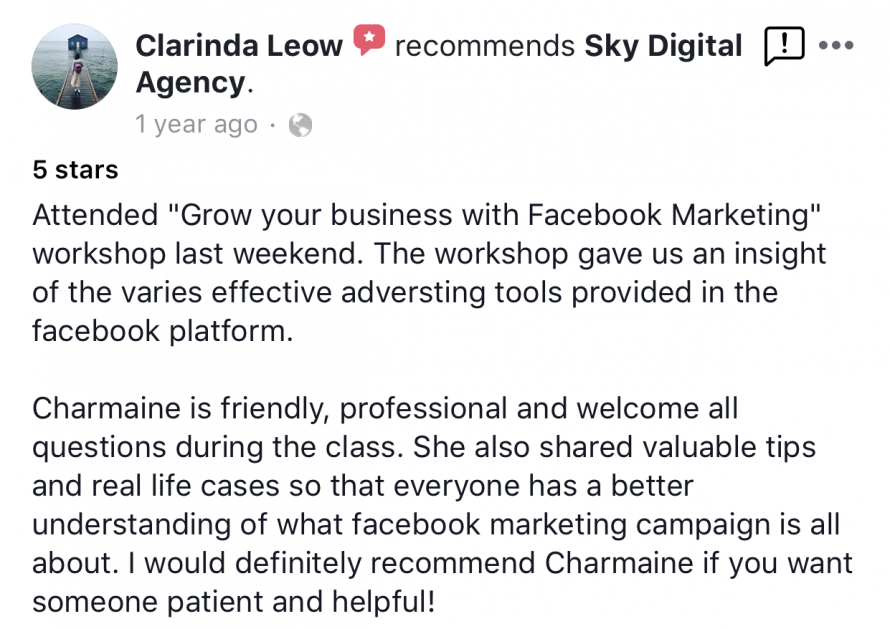 - - - - - - - - - - - - - - - - - - - - - - - - - - - - - - - - - - - - - - - - - -

FAQs
1. Who can i contact should i have questions?
You may e-mail us at workshops@skycrm.asia


2. Is there a minimum class size to proceed?
Yes. We require a minimum class size of 3 people to proceed with the class.
In the event that there are insufficient participants, we reserve the right to reschedule the class. Under such circumstances, we will inform you no later than 3 working days before the event.
3. Where is the venue of the workshop?
6 Raffles Quay, #15-00, Singapore 048580
Nearest MRT: Raffles Place, take exit "i". The building 6 Raffles Quay is just beside Ascott at Raffles Place.
Our office is beside Hong Leong Building, 3 mins walk from Download Line, Downtown Station, exit A.

4. I'm driving, where can I park?
There is parking space at the building 6 Raffles Quay itself at $2.50 per 30 min block.
Alternatively, you can park at Telok Ayer's Public Car Park.

For weekend classes, we recommend our participants to park at SGX Centre, at $3 per entry.
For Corporate Training Enquiries, please email us at trainings@skycrm.asia on your requirements, and we will be in touch with you within 2 working days.