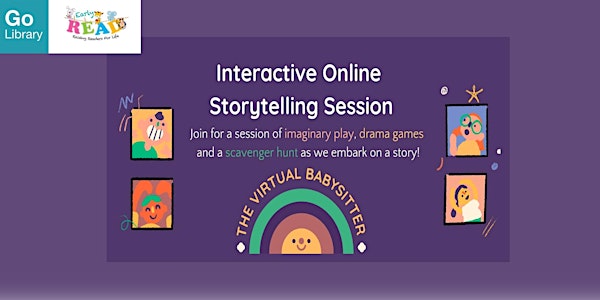 Interactive Online Storytelling Session : Kuda the Seahorse
Kuda is a curious little seahorse who is always looking to go on an adventure
About this event
Kuda is a curious little seahorse who is always looking to go on an adventure. When the wise old sea snail tells her about the magic pearl, Kuda is itching to see it for herself. However, the journey there is not going to be easy... what could Kuda possibly encounter?
During this 30 minute session, your child will be immersed in the story of Kuda the seahorse and follow her on her journey. There will be elements of drama and imaginary play. A scavenger hunt will also be involved where parents will help to hide printables around the house and your child will find them throughout the session. What are you waiting for? See you there!
Download the printables here:https://go.gov.sg/printables-kudatheseahorse
Please print, cut out and hide each of the clues in the respective hiding places. If you do not have a printer, feel free to draw out the clues instead.(printing does not have to be in colour)
Instructions:
1. Seahorse - Hide in the fridge.
2. Shell - Hide under child's pillow.
3. Sea snail - hide in child's school bag.
4. Clownfish - hide in child's shoes.
5. Eel- Hide in bathroom.
6. Flower- hide in child's clothes cupboard.
About the Speaker:
The Virtual Babysitter provides interactive sessions for children that keep them entertained and engaged remotely.Selma Alkaff is the founder of TheVirtualBabysitter. She graduated with a BA degree in Acting from Royal Central  School of Speech and Drama in 2019. She has many years of experience with babysitting, teaching and kids party hosting. Combining her experience with children and professional acting training, she has the tools to craft a unique service that is tailored to every child.