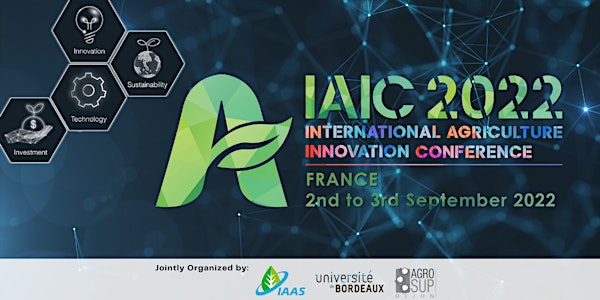 International Agriculture Innovation Conference 2022 (IAIC 2022)
Join our 7th IAIC 2022 on 2nd September to 3rd September 2022 to discuss the trends and challenges in agriculture!
About this event
As our climate continues to heat up and the impacts of that warming grow more frequent and severe, agriculture industry around the world will be increasingly challenged.
The IAIC conferences are devoted to presenting and examining various issues that are related to current problems seen in agriculture. Furthermore, we are an international platform for knowledge and techniques transformation to focus on agriculture for Innovation, Sustainability, Technology and Investment to bring together the dynamic exchange of ideas about agriculture field in the world.
The 7th IAIC 2022 will take place on 2-3 September, 2022 and specially address the 5 key themes:
(1) The Impact of Climate Change on Agriculture and Resilient Agriculture
(2) The Roles of International Agricultural Organizations in Developing Countries
(3) The Output of Intellectual Property Right of Agricultural Science and Technology
(4) Fermentation Science and the Development Trend of Food Technology in the Future
(5) Application of Artificial Intelligence in Agricultural Digital Twins
We are honoured to invite our prestigious speakers from all over the world to share sharp insights on these 5 themes. To learn more about our speakers: please click HERE.

The 7th International Agriculture Innovation Conference 2022 (IAIC 2022) will be held during on 2nd to 3rd September 2022. We are honoured to have University of Bordeaux and AgroSup Dijon to be our joint organizers this year. We hope that the conference results will constitute a significant contribution to the knowledge in these up-to-date scientific fields.
As we countdown to the IAIC 2022 Event, make sure you check out our programme agenda HERE to learn more about our global speakers who will be sharing their insights and industry challenges and growth.