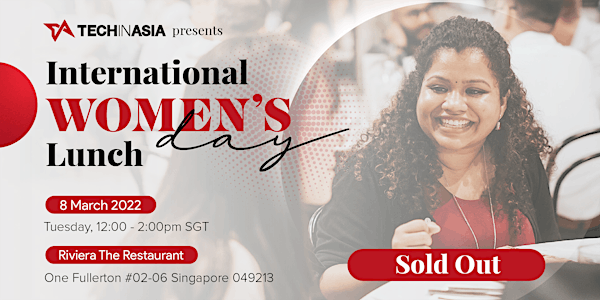 International Women's Day Luncheon 2022
Join us in our IWD Luncheon, where our speakers and attendees share their stories on how to #breakthebias.
When and where
Location
Riviera The Restaurant 1 Fullerton Road ##02-06 Singapore, 049213 Singapore
About this event
Each year, Tech in Asia puts great emphasis on IWD to promote equal representation and opportunities for women in the tech industry. This year's focus is on identifying ways to #breakthebias, and Dione Song (CEO, Love, Bonito), Juliet Zhu (Group President & CFO, Carsome Group) as well as Tech in Asia's COO Maria Li will be joining to share their experiences, stories and goals on creating greater gender diversity and female empowerment.
We are keeping this to a small group of startup leaders, who are capable of driving change, to share their ideas and experiences over a hearty 3-course meal at Riviera overlooking the Marina Bay waterfront.
You will get quality 1-1 time with other attendees - plus, we have some fun and interactive activities planned!
Seats are limited, so get your tickets as soon as possible.
In compliance with Singapore regulation, please ensure you are fully vaccinated in order to enter the venue.
Agenda
11.45 AM : Doors open for registration
12.00 PM : Conversation with Dione Song & Juliet Zhu (Hosted by Maria Li)
12.30 PM : Lunch begins
1.30 PM : Interactive activity
2.00 PM : End of luncheon
Our Speakers
Dione Song, CEO of Love, Bonito
Dione Song is a notable force in the modern consumer technology & retail industry. Before being promoted to spearhead Love, Bonito as CEO in April 2021, she held previous roles in the company as Chief Commercial Officer and Chief Operating Officer. She is responsible for the multi-million dollar brand's vision, strategy, culture and growth.
Dione started her career as an onsite manager at Zalora and was made the MD of Singapore there. During her four year stint at the online retailer, she grew the team by four folds and drove notable projects including the brand's first foray into click-and-mortar. She then made the move to Sephora Digital, where she headed the Australia & New Zealand e-commerce business and Digital Marketing for the region.
Dione is a mentor with 500 Startups and a Board Member at Ramblin' Brands. She is also actively involved in community initiatives like the National Youth Council's Action for Alliance for Lower Wage Workers and was the Co-Lead for the Somerset Belt Working Panel alongside Singapore's Senior Parliamentary Secretary Baey Yam Keng. Dione has also been listed as Linkedin's Top 30 Power Profiles in Singapore from 2016 to 2018.
Juliet Zhu, Group President & CFO, Carsome Group
Juliet is Carsome's Group President and Chief Financial Officer (CFO). She is responsible for driving corporate development initiatives, including strategic partnerships and investment opportunities, developing new market strategies, and managing Carsome's overall capital structure and synergy creation across Carsome's businesses. She also oversees financial reporting, planning and analysis, and investor relations.
She brings extensive experience in growth strategy and capital planning, having worked in the investment sector across China, India and Southeast Asia. Previously, Juliet led the SEA investment team in Fosun RZ Capital. Prior to a life in venture capital, Juliet was a hedge fund manager focusing on the technology, media, and telecom (TMT) space.