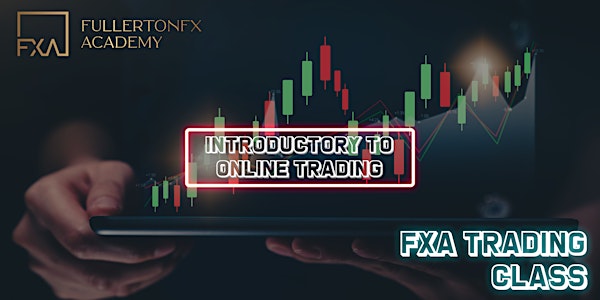 Introductory to Online Trading 2022 - Getting Started
Planning for a career change? Looking for extra side income? Come join us for an introductory lesson on online trading!
When and where
Location
Centrium Square Office Building, #15-12 320 Serangoon Road Singapore, 218108 Singapore
About this event
Head down to our office with your family and friends at our weekly introductory trading education class, happening every Friday of the Week.
WHO IS THIS FOR?
- Anyone with zero knowledge and experience on online trading
- Have interest on how the financial market works
- People who have experience in trading but not profitable.
- Willingness to learn
WHAT MAKES US DIFFERENT?
- FullertonFX Academy concentrates on grooming individuals
- We DO NOT take any investments. Strictly educational contents
- Road to building a community of traders.
- Offering our office space for our students to trade
COURSE MODULES - WHAT TO EXPECT
1) THE COURSE BENEFITS
2) PERSONAL GOALS ACHIEVEMENT
3) MINDSET OF A TRADER
4) INTRODUCTION TO ONLINE TRADING
5) HOW TO READ A CURRENCY PAIR
6) WHAT IS SPREAD IN TRADING
7) WHAT IS PIPS IN TRADING
8) UNDERSTADING PIPS CALCULATION
9) MARKET TRADING SESSIONS
10) NEWS FUNDAMENTALS
11) INSTALLATION OF TRADING PLATFORM(WINDOWS)
12) INSTALLATION OF TRADING PLATFORM (MOBILE)
13) OPENING A DEMO ACCOUNT
14) SETTING UP TRADING CHART
15) SYNC ACCOUNT TO MOBILE DEVICE
WHAT TO BRING
- WINDOWS LAPTOP ONLY
- LAPTOP MOUSE
- WRITING MATERIALS
- WILLING TO LEARN ATTITUDE
NO INVESTMENT SCHEMES. STRICTLY ONLY EDUCATIONAL CONTENTS.
P.S : This is not a full course, it's only an introductory session to online trading. It is meant to get you started and prepare you for future classes if you are keen.