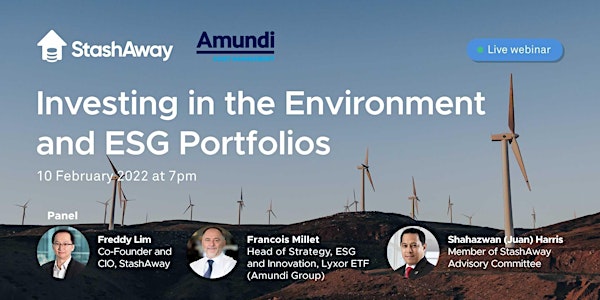 Investing in the Environment and ESG Portfolios
The link to the webinar will be sent an hour before the start so do check your email inbox.
About this event
Can profit and planet be in the same sentence? Can investing for a purpose actually give you profits in the long-term?
Join us for a webinar with one of our fund managers, Amundi, and StashAway advisor Shahazwan (Juan) Harris where we'll discuss investing in ESG and environment portfolios. We'll also dive into how portfolios like these can complement your overall investment plan and their long-term growth potential.
About the speakers:
Francois Millet, Head of Strategy, ESG and Innovation - Lyxor ETF(Amundi Group)
Francois oversees Lyxor's SRI ETF strategies. He was involved in the introduction of the first Green bond ETF worldwide, first Global Gender equality ETF, first ETFs integrating companies ESG momentum and first range of ETFs tracking labelled EU Climate benchmarks. Prior to this he was Product Line Manager-ETF & Indexing overseeing passive and smart beta product strategy on a global basis. He joined Lyxor in 2009 as Head of Index and Quantitative Fund Development. François holds specialized Master 2 degrees in Economics from Paris1-Pantheon Sorbonne and Paris 2-Assas
Shahazwan (Juan) Harris, Member of StashAway Advisory Committee
Shahazwan, aka Juan, has more than 20 years of experience in investments, asset/portfolio management, restructuring, corporate strategy and development. He is currently Head of Strategic Investments at the Employee Pension Fund (EPF), which is the largest institutional fund in Malaysia with an AUM of more approximately US$300 trillion. He was most recently the Chief International Officer at Tenaga Nasional Bhd (TNB) and was previously Senior Advisor to Bain &Co., as well as a Corporate Advisor to Temasek International (Singapore), focusing on sustainability and impact investing. He worked at Khazanah Nasional Berhad for 11 years, and for his last 4 years there, held the role of Executive Director, Investments, leading and covering a variety of sectors, including aviation, infrastructure, sustainable development, healthcare, and technology. He holds a Sloan Fellows MBA from Massachusetts Institute of Technology (MIT), MSc (Advanced Mech Eng) from Imperial College, London, and a BEng in Mechanical Engineering from University of Warwick, UK.
Freddy Lim, Co-founder and CIO of StashAway
Freddy, Ex-Managing Director and Global Head of Derivatives Strategy at Nomura, has built and spearheaded a global team that won the "Global Derivatives – Research and Strategy House of the Year" award by GlobalCapital (September 2015).
Freddy is a key industry leader and has been the keynote speaker at the prestigious "Global Derivatives USA" conference (Chicago, Nov-2014) and at the RISK's Quant Congress USA (New York, July 2015). Freddy is the architect behind StashAway's ERAA (Economic Regime-based Asset Allocation), which is a framework that identifies the right mix of asset classes for a given economic regime and makes forward-looking adjustments based on medium-term valuation gaps.
Moderator - Amanda Ong, Country Manager of StashAway, Singapore
Before joining StashAway, Amanda held various roles in the Financial Services industry, most recently handling investment advisory to Ultra High Net Worth (UHNW) clients in the Wealth Management and Family Office Team of Lighthouse Canton. Prior to that, she serviced portfolios of institutional clients in the Securities and Fund Services Team at Citibank.
Currently, Amanda is the Country Manager of StashAway in Singapore. She also heads Public Relations for StashAway regionally and is a Wealth Advisor to our High Net Worth and UHNW clients. Amanda is a Licensed Representative with the Monetary Authority of Singapore for Asia Wealth Platform, the legal entity of StashAway.
Amanda holds a Bachelor of Commerce (Distinction), with a double major in Accounting and Finance from the University of New South Wales in Sydney.
About StashAway
StashAway is a digital wealth manager that offers investment portfolios and wealth management solutions for both retail and accredited investors and operates in Singapore, Malaysia, the Middle East and North Africa, Hong Kong, and Thailand.
As of January 2021, the company surpassed $1 billion USD in assets under management. It achieved this milestone faster than it took the world's largest digital wealth managers, Betterment and Wealthfront, to reach the same milestone. In 2020, StashAway was recognised as a Technology Pioneer by The World Economic Forum and a Top 10 LinkedIn Startup.
By registering for this event, you are deemed to have understood and consented to StashAway collecting your personal data that you directly input into the registration forms and contacting you thereafter in relation to our products, services, and events. We promise to send only the good stuff. However, if you ever wish to opt-out, you can easily unsubscribe using the Unsubscribe feature included in the emails. If you wish to know more about our Privacy Policy, you can visit our Privacy Policy page where the policy will apply mutatis mutandis to the event that you have registered for.