Description


Investment Outlook 2019
2018 has been a turbulent year for many investors, with global financial markets receiving many surprises from interest rate and trade tariff hikes. Let our experts help you to stay ahead of your investment journey.
We have assembled six financial & property influencers from CIMB, SingCapital, Propnex, Societe Generale, iBillionaire and China Galaxy International Galaxy. These experts would give you a preview of 2019 trends and outlook. RSVP now to gain insights into the investment opportunities in Singapore, the United States, China and Hong Kong.
Join us for a preview of 2019 trends and outlook to EMPOWER your business in the new year!

Key Sharings to start your 2019 investment:
Emerging markets – Is it time to invest?

What you should do in risky periods – trade wars, the global growth slowdown

Rising interest rates and the possible impacts

Find out if en-bloc deals are fizzling out after the last hike on Additional

Buyer's Stamp Duty

Seek opportunities in Property investment in Singapore despite the cooling measures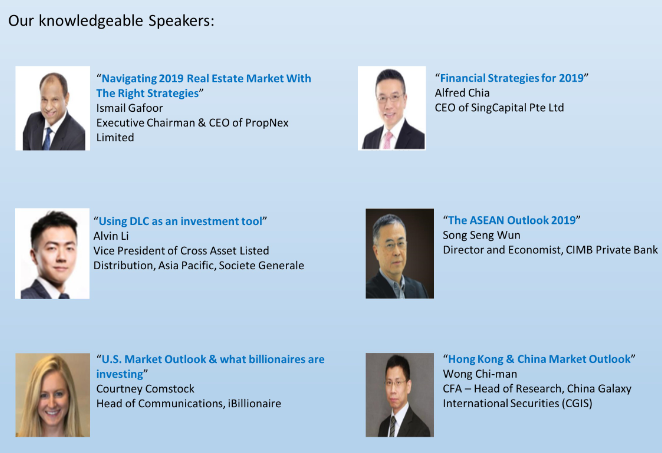 Organizers
SingCapital Pte Ltd is a Monetary Authority of Singapore (MAS)-licensed Financial Adviser Firm that provides a wide range of financial services to both individuals and business owners. For more details, visit: www.singcapital.com.sg
CGS-CIMB Securities International Pte. Ltd. ("CGS-CIMB") is one of the leading integrated financial service providers in Asia. For more details, visit: https://www.cgs-cimb.com
Seminar Details
Date: 12 January 2019
Venue: School of Arts (SOTA)
Time: 10:00 am – 2:00 pm (Registration starts at 9:45 am)
Register asap as registration closes soon.
*Disclaimer:
Kindly note that the 2019 Global Investment Outlook is a joint collaboration between SingCapital Pte Ltd and CGS-CIMB Securities.
Personal Data Protection: PLEASE CAREFULLY READ THE PROVISIONS BELOW BEFORE PROVIDING YOUR PERSONAL DATA. BY PROVIDING YOUR PERSONAL DATA BELOW, YOU ACKNOWLEDGE THAT YOU HAVE READ AND FULLY UNDERSTAND THE CONTENTS OF THE PROVISIONS AND YOU HEREBY GIVE YOUR CONSENT AS SET OUT BELOW:
By providing your personal data, you consent to CGS-CIMB Securities collecting, using, disclosing and/or processing your personal data for the purpose(s) of:

(a) Processing your registration for the 2019 Global Investment Outlook;

(b) To contact you for future events/seminars and product promotions.

If you have any questions relating to CGS-CIMB Securities' collection, use and disclosure of your personal data, you may contact dpo_securities@cgs-cimb.com.