Master 8 Secrets of Stock Trading (Retail vs Big Funds, Short Term Trading for Profits, Unique Stock Indicators, etc)
About this event
Dear Reader / Dr Tee Network,
As you know, there is no limit in the learning of trading/investing knowledge. We should be open to different schools of thoughts, eventually reshaping our own personalized investing strategy. I have known a few stock educators who are sincere in sharing their knowledge with the students. After careful review and consideration, I have decided to invite John Lu & Robert Xu (2 Professional Traders) to jointly conduct an exclusive invited Course (free, conducted in Chinese / 华语 with English keywords in presentation) on Top 8 Trading Secrets (股票交易八大秘诀). This invitation is extended to all newsletter readers. You may bring along 2 friends to learn together.
学无止境,Dr Tee 特邀两大股票交易专家:吕兆军 (John Lu) 与徐瑞鹏(Robert Xu),联合主办华语大师班:股票交易八大秘诀。免费门票有限,马上登记。
Part 1 《2022大拐点将至: 股市良机揭秘》 John Lu (吕兆军)
Part 2 《后疫情时代下的交易必胜法则》 Robert Xu (徐瑞鹏)
When the free ticket for invited webinar is sold out (first come first served), it will be updated on the registration form, please register ASAP but ensure you could 100% attend the talk. Here are the details:
Date: 11 Dec 2021 (Sat)
Time: 1pm – 6pm (Bonus stock diagnosis for early birds from 1pm, 诊股)
Webinar by Zoom at Home
(Weblink with password will be sent to registration with valid email address)
Click Link Below to Register for Exclusive Invited Course:
https://forms.gle/vLhGZjJTmcN8Arvt5
John & Robert will share Top 8 Trading Secrets that they used to create consistent streams of income from both bullish & bearish stock markets over this invited course (conducted in Chinese, Q&A can be bilingual in Chinese/English):
Learn Top 8 Trading Secrets (股票交易八大秘诀):
1) 国际股市2022的机会风险分析
2) 近期股市转折点时空预测
3) 当下新加坡股市热点个股点评
4) 提高卖空成功率的3个技巧
5) 可以提前布局的黑马暴涨股
6) 让普通散户快速变成股市赢家的秘诀
7) 经典投资理念和神奇战法
8) 哪些类型股票要抓紧脱手
This is not a sales talk, we will learn solid trading knowledge from John & Robert. Personally I will also be there in this talk to facilitate the knowledge learning by audience. You will enhance your skill in short to mid-term trading, timing of entry/exit (using John's and Robert's trading Strategies), combining with what you have learned from Dr Tee on Optimism Strategies to look for fallen Giants, this will be the best integration of trading and investing strategies.
For traders, you could learn long and shorting strategies to profit from both bullish and bearish markets. For investors, you could integrate with these advanced trading strategies to help in buying stocks at long-term low optimism, taking profit at high optimism. In addition, you will learn many other new techniques from John & Robert, including bonus stock diagnosis to analyze your stocks with an advanced trading software (Homily) for early birds.
The free seats are very limited, strictly first come first served. I may not be able to host another exclusive course easily as John and Robert schedule are very tight. Grab on this rare opportunity to learn from them!
Regards,
Dr Tee
P/S: If you could not make it for this invited course by John Lu & Robert Xu, you may learn from other free investment courses by Dr Tee, Join Dr Tee investment forum + Download free eBooks by Dr Tee (Register Here: www.ein55.com)
Organizer: Dr Tee

The path to financial freedom can be difficult, especially if you're supporting a family or are planning on starting one. It's important to stay motivated and positive as you work to become financially independent and debt-free, and one of best ways to do that is to find inspiration from others who have shared your struggles and can provide financial expertise.
股海无涯,虚心学习,修成正果。
Invited Speakers Profile (特邀大师简介)
大师 Speaker 1: John Lu (吕兆军)
新加坡弘历首席分析师,拥有10年以上关于股市投资和培训的经验。2009年以来研判东南亚股市走势精准,多次受邀到马来西亚,香港,印尼等地授课。在新加坡多次受邀到很多公司和组织进行授课,其中有股市资讯,技术分析协会和各大证券公司等。创建了独特的股票分析与交易模型,尤其擅长从中线角度挖掘短线黑马。其授课思路幽默风趣,简单易懂,被广大弘历会员亲切地成为"股海导航灯"
大师 Speaker 2: Robert Xu (徐瑞鹏)
弘历东南亚地区高级讲师,精通各种技术分析经典理论,尤其擅长趋势理论和筹码交换本质剖析。针对广大普遍投资大众交易心理,独创了散户交易戒律集。其讲课风格沉稳大气,思路严谨缜密,颇有学者风范!
Bonus #1 for Reader:  Dr Tee Investment Forum with over 11,000 members (Private Group)
(Please click "JOIN" with link above and wait for Admin approval of membership)
* Market Outlook (stocks, properties, bonds, forex, commodities, macroeconomy, etc)
* Optimism/ Fundamental / Technical / Personal Analyses
* Investment risks & opportunities
* Dr Tee graduates events and activities updates
Click Link Below to Join Dr Tee Forum: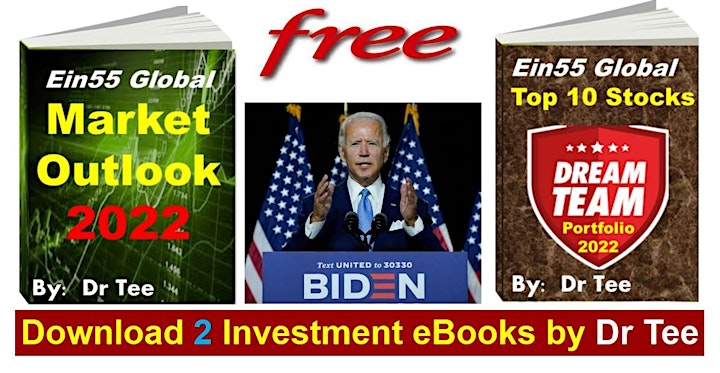 Bonus #2 for Reader:  2 Investment eBooks by Dr Tee
eBook #1 (Global Market Outlook)
1. Mass Market Sentiment Survey
2. Review of Global Stock Markets
3. US Market Outlook (Stock / Property...)
4. China / HK / Europe Market Outlook
5. Singapore Stock & Property Outlook
6. Conclusions and Recommendations
eBook #2 (Top 10 Stocks: Dream Team Portfolio)
1. Personalized Stock Investment Portfolio
2. Ein55 Global Top 10 Stocks
3. Summary of Actions
Click Link Below to Download 2 Bonus eBooks by Dr Tee:
Organiser of Invited Chinese Webinar (特邀大师班) on Top 8 Stock Trading Secrets (股票交易八大秘诀)
Dr Tee has 20 years of trading/investing experience with in-depth knowledge in stocks and various major investment markets. He has achieved financial freedom, spending most of his free time in life mission to educate the public towards the right path of investing.
He is the founder of www.ein55.com investing blog with applications of Ein55 Styles of investing, sharing his experience extensively with over 800 investment articles, conducting over 200 trading/investing seminars using FA, TA and PA methods with unique Ein55 Optimism Strategy.  He is a well sought after speaker in major trading firms and various investing seminars.