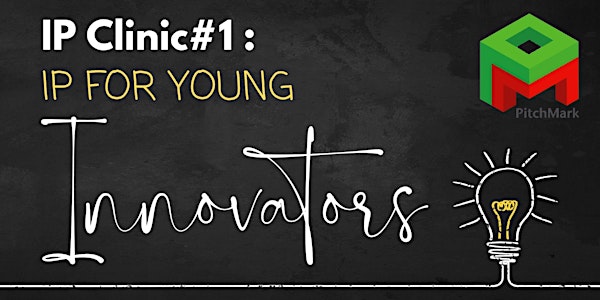 IP Clinic #1: IP for Young Innovators
Have a question about the intellectual property you have as an innovator? Join our webinar to find out more and also how you can protect it.
About this event
Understanding what intangible assets or intellectual property (IP) you have as an innovator is key to developing strategies with tools to protect and enforce those assets or IP. Taking place on World IP Day this year, the webinar will provide practical advice for anyone with original IP wanting to do business in the rest of Asia and the world. Participants will get an overview of different kinds of IP, as well as their protection and enforcement in the region and elsewhere, as well as how to safeguard their original IP. Here's a chance to ask our legal partners and advisors your questions.
PitchMark is a Singapore-based service helps innovators deter idea theft. On the innovator side, a PitchMark registration signals to whomever you share your material with that you are its creator, and that you wish to be respected as such. No fees involved! Lawyers are also part of the PitchMark ecosystem, and will step in when the innovator flags a case of copyright infringement.
Frank Rittman is one of the founding directors of The Centre for Content Promotion and has an extensive background in the copyright, media and entertainment industries. Currently based in Bangkok as the Regional President for the Motion Picture Licensing Company, Frank previously served as the Senior Vice-President, Deputy Managing Director, and Regional Policy Officer for the Motion Picture Association's Asia Pacific Office in Singapore. Before joining the MPA in 2001, Frank was the Vice-President for International Affairs at the National Music Publishers' Association and The Harry Fox Agency. He began his career as the director of contracts and copyrights for the Macmillan Publishing Company in New York. He is Legal Advisor to PitchMark.
Cyril Chua has been practising in the area of intellectual property and technology for more than 20 years, in particular, contentious matters. During this period, Cyril was advising major clients in relation to intellectual property enforcement and anti-counterfeiting in the Asia Pacific. He coordinates a team of multi-jurisdictional anti-counterfeiting lawyers and practitioners in the region. He works closely with counsels and business units of large multinational companies in the enforcement of their intellectual property rights. Furthermore, he also regularly assists clients in supply chain issues, software and technology licences, copyright, trademarks and trade secrets. Cyril graduated from the National University of Singapore with a degree of LLB (Hons) in 1995. He was admitted as an Advocate and Solicitor of the Supreme Court of Singapore in 1996. He is currently practicing in Robinson LLC. Cyril enjoys charity work - he was previously the vice-president of the National Council of Social Services and is currently a director of the AMKFSC Community Services Ltd and the Special Needs Trust Company. Cyril also chairs the Law Society Pro Bono Services' Community Legal Clinics.
Alban Kang is a partner in the Intellectual Property (IP) and Tech & Comms groups at Bird & Bird ATMD in Singapore with over 35 years of experience in a wide range of IP litigation matters. He also leads the firm's ASEAN and Japan practices. Alban is regularly engaged in complex patent litigation and other contentious IP-related cases, and handles multi-jurisdictional IP litigation. He has been involved in a number of high-profile and precedent-setting IP cases before the Singapore Court of Appeal and the Patent Office. He frequently represents major pharmaceutical companies, software companies, computer and medical device manufacturers, well-known trade mark owners, book publishers, international airlines, established hotel chains, as well as collection and advertising agencies. Alban has also written and presented many articles and papers across the spectrum of IP law, including 'Enforcing Injunctions', 'Essays on Computer Law', and 'A Guide to Singapore Patent Law'. He has also authored the Patent section of 'The Halsbury Law of Singapore' and the Singapore chapter on Patent Claim Interpretation. Alban is a panel member of the WIPO Arbitration and Mediation Centre, Asian Domain Name Dispute Resolution Centre, and is a Certified Patent Valuation Analyst (CPVA). Alban is a highly regarded lawyer in the IP arena, having been consistently ranked in the top tier by several reputed publications including the Chambers Asia Pacific, Legal 500 Asia Pacific, IAM Patent 1000, World Trademark Review 1000 and Asia IP.