Many Singaporeans today believe that Cash is still King.
About this event
These Singaporeans keep large amounts of cash in their CPF and bank fixed deposits. However, with the recent fall in interest rate to near zero in most developed countries, it is highly possible that Singapore fixed deposits will yield 0% interest. Inflation will definitely be a huge concern for this group of Singaporeans as well.
Are you one of them? Do you also believe that Cash is still King? Should you believe otherwise?
Join us in this 1.5 Hour Complimentary Webinar, where Jonathan will share his insights as a financial services director on whether is Cash ultimately still King.
In this complimentary webinar, Jonathan will share with you
Is it a Good or Bad idea to keep a lot of Cash
What are the impacts of Runaway Inflation?
What are the ways you can make your cash KING again
There will be no recording provided for this webinar so be sure not to miss it!
All of our Zoom Webinars are password protected, which will only be provided upon registration on Zoom.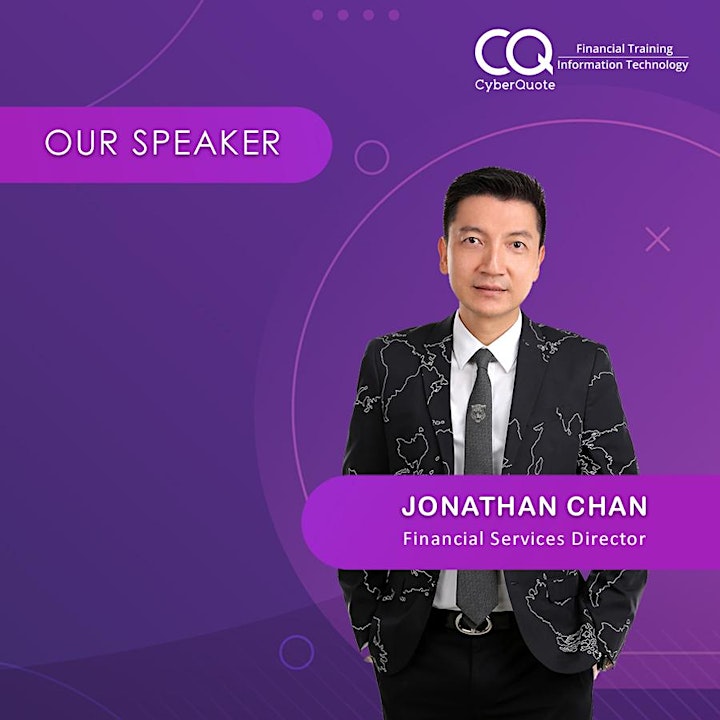 About Jonathan Chan
Jonathan Chan has 25 years of experience in the Financial Industry. He has a passion for investment and takes pride in helping his clients to grow their wealth in a proactive manner, with a focus on creating multiple streams of Perpetual Passive Income. Jonathan has been actively conducting monthly Retirement Planning Seminars since 2014 and has extensive experience in Retirement Planning and he works closely with clients to Create Incomes, Protect Assets and Establish a Legacy using Asset Allocation for risk minimization.
Jonathan believes that only when his clients can sleep well during their retirement, will he be able to sleep well. Through his 25 years of practice, he has developed a Retirement Strategy which enables his clients to feel more at ease in every market downturn.
Jonathan has also created a Retirement Planning Software which helps to analyze client's financial situation and establish their Retirement Needs. He believes that every client's retirement needs are different and will always seek innovative solutions to help clients achieve the retirement Life-Style they deserve.
IMPORTANT NOTES FOR SEMINARS
Please note that under the Singapore Personal Data Protection Act (PDPA) 2012, CyberQuote Pte Ltd respect the privacy of all our customers and visitors, and are committed to safeguarding the personal information you provided to us.
For the event registrations, you will be requested to provide your personal particulars, which include but are not limited to the following:
a) Full Name
b) Contact details, including telephone number/s and/ or email addresses
Please note that CyberQuote Pte Ltd will send out "Email Confirmation", Short Message Service (SMS), events / seminars and marketing via email to all registrants for all CyberQuote Pte Ltd events.
Should you wish to withdraw your consent from receiving events information, please contact us at support@cyberquote.com.sg. All personal data held by CyberQuote Pte Ltd will be kept confidential, will not use and disclose to third parties.
Disclaimer
The contents of this document, including the terms and conditions, are subject to change and may be modified, deleted or replaced from time to time and at any time at the sole and absolute discretion of CyberQuote Pte Ltd ("CQ"). CQ accepts no responsibility for the results of any actions taken by students after attending our courses, nor for the accuracy or completeness of any material contained herein. Information on courses or any other arrangement for courses, including fees, staffing and class sizes are an expression of CQ's intentions only and do not constitute a firm offer or undertaking to you. CQ reserves the right to discontinue or vary courses without notice and to impose limitations on enrolment in any course. Opinions and projections reflect our opinion as of the date of the analysis and are subject to change without notice. Investors should make their own investment and trading decision based on their own final analysis. All forms of investments carry risks, including the risk of losing all of the invested amount. Such activities may not be suitable for everyone. Past performance is not indicative of future results.
Copyright © CyberQuote Pte Ltd. All rights reserved. No part of this publication may be reproduced, stored, transmitted in any form of by any means without CyberQuote Pte Ltd's prior written consent.