Description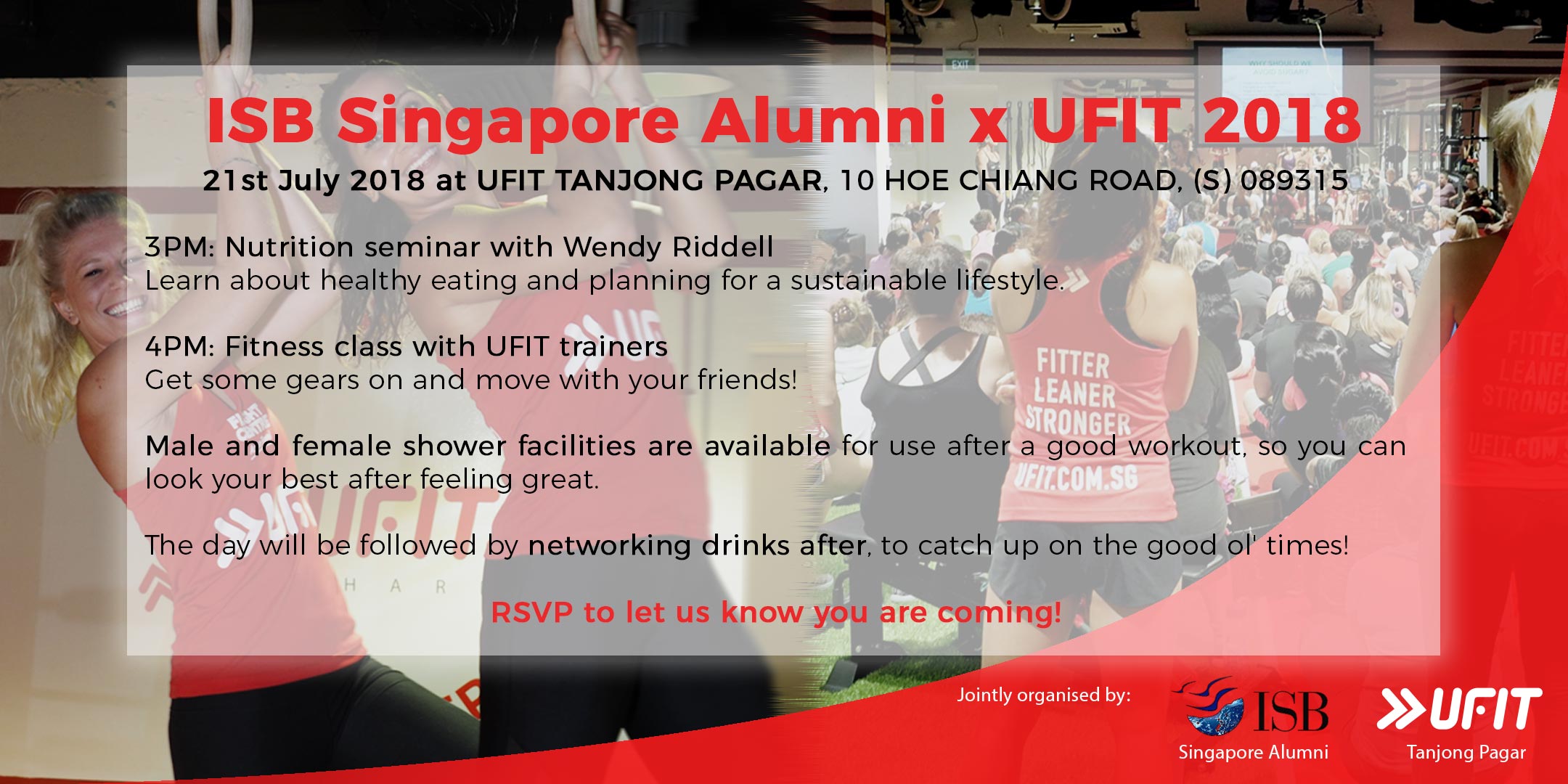 Wonder how your friends are doing after graduation? Rekindle with them over the topic of nutrition and fitness in this alumni gathering over at UFIT Tanjong Pagar!
We have invited our degree-qualified nutritionist Wendy who has almost 20 years of experience. She successfully helped thousands of people lose weight and develop healthy eating habits through her highly popular UFIT Clean & Lean Challenge.
UFIT Tanjong Pagar is Singapore's leading Personal training and CrossFit box located in the heart of the CBD. We are proud to boast the largest training facility of its kind, with air-conditioning, top certified (and competitive) trainers and a positive environment that helps create a diverse and successful community.
3PM: Nutrition seminar with Wendy Riddell
Wendy's wellness philosophy is to stay healthy instead of fighting disease, with nutrition and exercise playing a key part. After seeing many people around her struggle with bad health, Wendy decided to pursue a career in disease prevention, with the goal of keeping it simple and sustainable for people with busy lives.
4PM: Fitness class with UFIT trainers
UFIT Tanjong Pagar was formed solely to provide the best training, coaching, community, and results tailored for every health levels. Our coaches design and implement functional training programs to strengthen your body, heart, mind, and soul.

Male and female shower facilities are available for use after a good workout, so you can look your best after feeling great.
6PM: Networking drinks
The day will be followed by networking drinks at Jekyll & Hyde after, to catch up on the good ol' times! It is recommended to be in smart causal and let your hair down to have a memorable night.
FAQs
Do I have to bring my printed ticket to the event?
No, simply show us your confirmation email and we can admit you in for the talks!
What do I wear?
Turn up in comfortable workout gear and covered shoes/ trainers for your workout. Towels will be provided and there are water points available (drinks are available for sale too if you need a protein pick-me-up!). The changing rooms provides hair and body wash as well.
Do have a fresh change of smart causal attire for an off-site networking drinks in the evening too.
Can I bring-a-friend?
As the seats are limited, the event is currently capped. It is also in view of maintaining the healthy coach to athelete ratio, ensuring everyone gets quality workout. If you are on the waiting list, be assured we are working to expand our capacity and you would have priority to them.
What if I like the sessions?
Our nutrition seminar will be open to questions and Wendy will be able to share the next installment of our challenge. Speak to our friendly coaches to arrange next steps (ask for our free trial)!
My company would be interested to hold similar programme, can you organise?
Definitely! UFIT has helped multiple organisations get their wellness day and fitness benefits ongoing and we can sure do the same for you - just reach out to us and we can sort out the programme tailored to your objectives.