Islamic Personal Financial Planning Course (19 Jan' 2019 & 26 Jan' 2019)
Description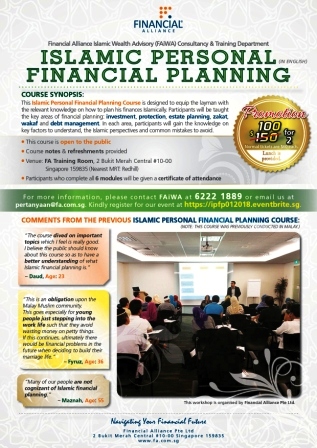 Islamic Personal Financial Planning course is a 2 days program designed to equip the layman with the relevant knowledge on how to plan and calculate his finances.
Participants will be taught the key areas of financial planning:
Income protection (Compare and know your rights when it comes to your personal money.)
Investment (Shariah Compliant Investments in Singapore, what you are missing?)
Zakat (Calculate with confidence the 3rd Pillars of Islam.)
Wakaf (Perpetual Endowment for your Hereafter shares.)
Debt management (How to avoid or solve the burden of debts if you are in the trap.)
Estate planning (Faraid and Islamic Will, as a muslim can you plan your distribution?)
In each area, participants will gain the knowledge on key factors to understand from the Islamic perspectives and common mistakes to avoid. There is no more good deeds than seeking knowledge and how to apply it properly.
As Prophet repeatedly emphasized: " Whoever leaves his house to seek knowledge, he is on the righteous path of Allah until he returns." (Al-Tarmizi)
This workshop is organised by Financial Alliance Pte Ltd. For more information, please contact FAiWA at 6222-1889 or email us at pertanyaan@fa.sg