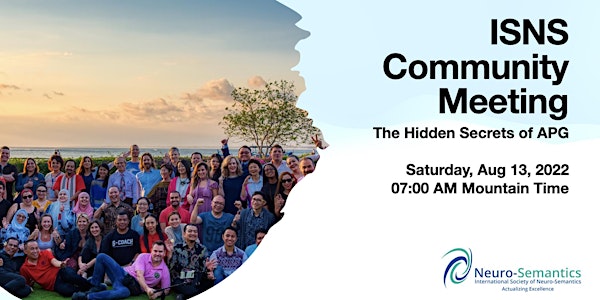 ISNS Community Meeting
RECHARGE our NS knowledge, REFRESH and be INSPIRED from new learning, and RECONNECT with each other from all over the world in ISNS.
About this event
THEME FOR THE MEETING
At the ISNS Neuro-Semantics Wisdoms in July, Michael presented on the subject The Hidden Secrets of APG. In it, he talked about the four themes in APG. These are:
Empowerment via Replication of developmental psychology.
Healing for mistakes relating to emotions, ideas and states.
Programming for a single-minded focus.
Ecology of the system --- wisdom, harmony, and congruency.
In this Community Meeting, we will be exploring the subject further using the following questions:
Which one of the 4 themes in APG surprised you or delighted you? Which theme fascinates you so you want to revisit that aspect of APG?
There were 4 core empowerment patterns (Power Zone, Self, Belief Change, and Pleasure). Each develops an aspect of self: doing, being, meaning-making, valuing. What have you learned, what questions do you have?
There are 3 healing patterns: healing emotions, ideas (concepts), and states (dragons). Have you ever used any of these patterns for your own personal healing? If so, what?
There are 4 programming patterns, programming by meta-stating from the top–down some of your executive functions: principles, creative imagination, intentions, and executive decisions. What have you learned from this? How will this make a difference in your life?
There are 3 ecology patterns for dealing with excuses (false reasoning), inner conflict, and in-congruency. Are any of these getting in your way from living your genius state?
DATE AND TIME
Bengaluru, India Sat, 13 Aug 2022 at 17:30 IST
Bangkok, Thailand Sat, 13 Aug 2022 at 19:00 ICT
Kuala Lumpur, Malaysia Sat, 13 Aug 2022 at 20:00 MYT
Singapore, Singapore Sat, 13 Aug 2022 at 20:00 SGT
Manila, Philippines Sat, 13 Aug 2022 at 20:00 PHST