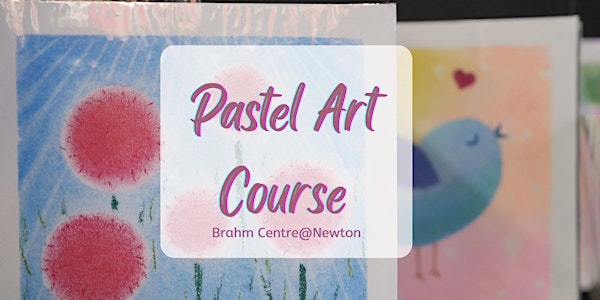 (Japanese Nagomi) Pastel Art Course by Pearl Tang - NT20220916PAC
Reduce stress with gentle, soft, heart-warming Japanese Nagomi Pastel Art creations
When and where
Location
Brahm Centre @ Newton 47 Scotts Road Goldbell Towers #04-02A Singapore, 228233 Singapore
About this event
WHAT?
This art of which pastel pigment powers are applied with the fingers to create a gentle soft, heart-warming, and inspiring through simple yet unique ways of painting.
The process of painting will calm one's feelings, relax the mind and awaken hope in the heart. At the same time, it brings joy, relaxation and enhanced self-esteem. The process of producing various artwork also helps one to be more positive.
What are some expected outcomes of the course?
In this course, you will learn the Japanese Nagomi Pastel Art and its inspired painting techniques, a healing art founded in Japan, It uses pastel sticks and fingers to create a gentle, transparent, warm, and heart-touching art through simple, yet unique painting techniques.
The results are always magical, where it is able to soothe emotions, calm down and relax the mind, reduce stress.
Course Outline (Topics Covered)
Session 1: To understand and learn the basic techniques of soft pastel art, including the use of hand drawn stencils
Session 2: To learn the use of contrasting colours
Session 3: To add free hand drawings onto the pastel colours, plus the use of different types of erasers.
Session 4: To learn the use of stencils, erasers and colours.
Session 5: To further explore with more design ideas and to put together the learned techniques.
Session 6: To learn to combine all the techniques to design a very own picture.
Session 7: Participants are encouraged to combine all the techniques and further design their own pictures.
Session 8:Participants are encouraged to combine all the techniques and further design their own pictures.
Learning Outcome
1. Using the various techniques of pastel art to create artwork and find joy and self-satisfaction
2. Calm the mind and relieve stress from the painting process
WHEN?
Friday, 7 October - 10am-12noon
Friday, 14 October - 10am-12noon
Friday, 21 October - 10am-12noon
Friday, 28 October - 10am-12noon
Friday, 4 November - 10am-12noon
Friday, 11 November - 10am-12noon
Friday, 18 November - 10am-12noon
Friday, 25 November - 10am-12noon
(Total: 8 sessions)
WHERE?
Brahm Centre, Newton
**Minimum 12 students to start class
Materials provided:
One full set of Faber-Castell starter kit - with all essential items.
WHAT TO BRING FROM HOME (Not included)
1. 1 x Craft Scissors
2. 1 x Ruler
3. 1 x Normal eraser
4. 1 x Black colour Ink pen
5. Wet tissue
6. Dry tissue
_________________________________________________________________________________
Course Fee: $280 |$56 for seniors eligible for National Silver Academy (NSA) subsidy*
*NSA subsidy is for Singaporeans and Permanent Residents aged 50 and above.
1. In addition to NSA subsidy, course fee may be offset by SkillsFuture Credit (SFC).
2. First, course participants are to make payment for the course through Brahm Centre Eventbrite page.
3. They should claim with SFC before the course start date through the SkillsFuture portal.
4. Brahm Centre will reimburse the amount that is successfully claimed upon receipt of the funds from SFC.
Notes:
· Please note that payments for courses are non-refundable.
· There are no make-up lessons if you miss any session.
· If you miss the first session, you are allowed to proceed with the course. However, the trainer is not obligated to do a recap during the second session.
Trainer Profile:
Pearl Tang has a great passion for art and craft creations and activities. Her interests include crochets, knitting, decoupage, air-dry clay sculpture, jewellery-making, crepe paper flowers, soft-pastel painting, Zentangle® etc.
Pearl is a Certified Facilitator and Trainer by Workforce Development Agency (WDA) – Advanced Certificate in Training and Assessment (ACTA).
She received relevant training on:-
(1) WSQ - Organise and implement group activities and recreation programmes
(2) WSQ - Design and Develop an Effective Volunteer Work Programme
(3) Certified trainer – Zentangle®
(4) Certified trainer – Japanese Nagomi Pastel Art
(5) PA certified trainer.
Pearl has over 15 years of experience in training and education institutions and is a freelance Teacher in Business Studies, English, and basic computer.