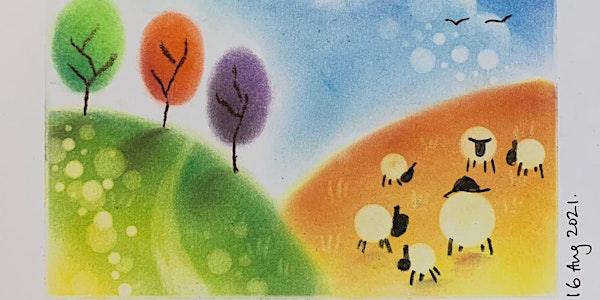 (Japanese Nagomi) Pastel Art Course - MP20220221PAC
Pastel Nagomi Art is therapeutic in nature, calms the mind, and improves your wellbeing.
When and where
Location
Brahm Centre @ MacPherson 55 Pipit Road #01-01 Singapore, 370055 Singapore
About this event
WHAT?
Pastel Nagomi Art is an art form which originated in Japan and which involves the use of pastels and fingers. It is suitable for beginner artists of all ages, and has a therapeutic effect—it can sooth emotions, calm participants down, and bring happiness.
In this course, Trainer Ruyan will teach you the various skills, techniques and concepts which will result in you creating beautiful designs with your own style.
WHEN?
MONDAYS
February 21st, 28th
March 7th, 21st, 28th
April 4th, 11th, 18th
* No Class on 14 March 
TIME:
10am - 12pm
No. of sessions: 8
**Minimum 10 students to start class
WHERE:
Brahm Centre, MacPherson
**Minimum 10 students to start class
Materials provided: 
All Art Materials Provided : include Faber Castell Soft Pastel - 24 colours and other items
WHAT TO BRING FROM HOME (Not included)
1. Wet tissue
2. Dry tissue
3. Black pen x 1
4. 2B pencil x 1
5. Ruler x 1
6. A pair of scissors
______________________________________________________________________________________________
Course Fee: $280 |$56 for seniors eligible for National Silver Academy (NSA) subsidy*
*NSA subsidy is for Singaporeans and Permanent Residents aged 50 and above.
1. In addition to NSA subsidy, course fee may be offset by SkillsFuture Credit (SFC).
2. First, course participants are to make payment for the course through Brahm Centre Eventbrite page.
3. They should claim with SFC before the course start date through the SkillsFuture portal.
4. Brahm Centre will reimburse the amount that is successfully claimed upon receipt of the funds from SFC.
Notes:
· Please note that payments for courses are non-refundable.
· There are no make-up lessons if you miss any session.
· If you miss the first session, you are allowed to proceed with the course. However, the trainer is not obligated to do a recap during the second session.
· If you miss both the first and second sessions, you will not be allowed to proceed with the course
Trainer Bio:
Ruyan discovered the calming effects of Pastel Nagomi Art in 2019. Since then, she has not stopped painting, and has taken a keen interest in capturing animal portraits with soft pastel. She hopes to inspire more people through art.
She is a certified advanced instructor in Pastel Nagomi Art, having obtained her diploma from the Japan Pastel Hope Art Association (JPHAA).
Furthermore, the skills and experience she acquired as an ex-MOE teacher for 10 years have allowed her to deliver her lessons clearly and effectively.