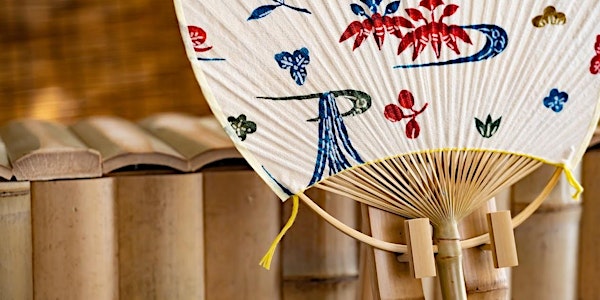 Japanese Traditional Uchiwa(Fan)|伝統工芸品房州うちわ竹星1日限りの展示即売会
日本テレビ「ヒルナンデス」にも登場した「伝統工芸品工房」の竹星が1日限りで世界貿易センタービル17階にて本物の「うちわ」の展示・即売会を開催します
When and where
Location
The Executive Centre (TEC) Level 17 South Tower World Trade Centre 2-4-1 Hamamatsucho Minatoku Tokyo, Tokyo 1055117 Japan
About this event
経済産業大臣指定 伝統的工芸品「房州うちわ」。
忙しい毎日の中で風情をあじわう一瞬心地良くやさしい風を体感いただけます。
木更津 竹工房竹星 石山好美さんのつくる房州うちわ。竹で作られるうちわは軽くしなやかなため、仰いでも疲れにくく、優しい風が生まれます。千葉に自生する竹の伐採から仕上げまで全て石山好美さんによる「手作業のmade in Japan」装飾品としての楽しみもあわせ持つ「房州うちわ」をどうぞご高覧ください。
「一本の竹から作られている」為、竹の丸みをそのまま生かすことができ、握った時にやさしく手に馴染みます。竹の魅力が伝わるものづくりを常に目指し、竹の特徴を最大限に生かしていきます。竹のしなりから作り出されるふんわりと心地よい風は人と一緒で一つとして同じ物はなく竹の太さも固さも、作る大きさ、割る本数、貼る素材により変わってきます。自分だけの風に出会った瞬間に心まで清々しい風が吹くことでしょう。
使い捨てではなく、品質に満足して愛着を持って使いたくなる実用品を求めている、​"本物志向"の方々に是非見ていただきたい「房州うちわ」。
「伝統的工芸品」竹星では『使う人を想う』というこだわりを持って、ものづくりをしています。商品の細かい部分にまで、こうしたらあの人にはどうかな?こうは?と、使い手の立場になって考えることで商品に想いが宿ります。商品を作ることと共に、それぞれの師匠から受け継がれてきた技術、知恵、想い…技術継承、手作業のこだわり、作り手の想いが詰まった情、風情、志、薄れつつある、大切なものを共に受け継ぎ、伝えていきたいと日々精進し続けているとの事。
【竹星 石山好美 プロフィール】
竹工芸を学ぶため京都伝統工芸専門学校に入学。卒業後、腕を磨きたく京都の竹屋 長岡銘竹にて7年勤務。竹工芸技能士 取得地元千葉へ帰郷後は国より伝統的工芸品認定を受ける。房州うちわの技術を習得すための伝統工芸士であり、房州うちわ職人の第一人者 故・宇山正男へ師事。現在木更津で 竹工房 竹星として活動している。
Classified as a traditional craft by the Minister of Economy, Trade and Industry,
'Boshu Uchiwa Fans' are in important cultural staple in Japanese traditional craftsmanship.
Made by Yoshimi Ishiyama at Bamboo Studio Takeboshi in Kisarazu, 'Boshu Uchiwa fans' will help you to enjoy a gentle breeze in your busy daily life. They are "made from a single piece of bamboo," which fits gently in your hand as you hold it. These fans are light and flexible, so you do not tire easily during usage. From the felling of the bamboos native to Chiba to the finishing touches, everything is "made in Japan by hand" by Yoshimi Ishiyama.
Such items of "Traditional craftsmanship" will be appreciated by those who are looking for practical products that are not disposable, but instead are high-quality and should be used with love and affection.
Visit us and check it out on Aug 24