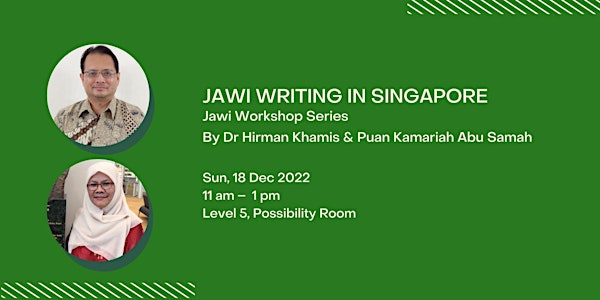 Jawi Workshop Series: Jawi Writing in Singapore
Jawi Writing in Singapore by Dr Hirman Khamis & Puan Kamariah Abu Samah
When and where
Location
National Library - Possibility Room 100 Victoria Street Singapore, 188064 Singapore
About this event
How can we encourage the use of Jawi? This session will be facilitated by Dr Hirman Khamis to explore new ideas and possibilities.
Madam Kamariah Abu Samah, former Head of Dewan Bahasa dan Pustaka's Malay Documentation Centre, will share her experience promoting Jawi to the community.
___________________________
Apakah langkah yang boleh diambil untuk menyemarakkan tulisan Jawi di Singapura? Sesi ini akan diterajui oleh Dr Hirman Khamis untuk menimba idea-idea baru.
Puan Kamariah Abu Samah, bekas Ketua Pusat Dokumentasi Melayu di Dewan Bahasa dan Pustaka akan berkongsi pengalaman beliau menggalakkan penggunaan dan pembacaan Jawi.
About the facilitator, speaker
Dr. Hirman Mohamed Khamis has been a Malay Language teacher for 23 years. He is involved in the planning, writing and publication of teaching and learning materials including for textbooks and multimedia resources.
Dr. Hirman has published two Malay children's story books in 2020 and 2021. He is active in community works and conducted many story telling sessions and workshops, including Jawi writing. 
 Mdm Kamariah Abu Samah is a George Lyndon Hicks Fellow of the National Library. She served Dewan Bahasa dan Pustaka for 37 years including as the Head of the Malay Documentation Centre.
_______________________________________
Dr. Hirman Mohamed Khamis telah menjadi guru Bahasa Melayu selama 23 tahun. Beliau telah terlibat dalam perancangan, penulisan dan penerbitan bahan-bahan pengajaran dan pembelajaran termasuk buku teks dan bahan-bahan multimedia.
Cikgu Hirman juga telah  menerbitkan buku cerita kanak-kanak, iaitu 'Gergasi dalam Almari' (2011) dan siri buku 'Fantasi Alam Cahaya' (2020). Beliau yang merupakan aktivis akar umbi masyarakat, sering menjalankan bengkel untuk kanak-kanak seperti sesi bercerita, aktiviti bahasa, persiapan menghadapi peperiksaan Bahasa Melayu dan juga bengkel tulisan Jawi.
Puan Kamariah Abu Samah merupakan Felo George Lyndon Hicks di Perpustakaan Negara Singapura. Beliau berkhidmat dengan Dewan Bahasa dan Pustaka selama 37 tahun termasuk sebagai Ketua Pusat Dokumentasi.