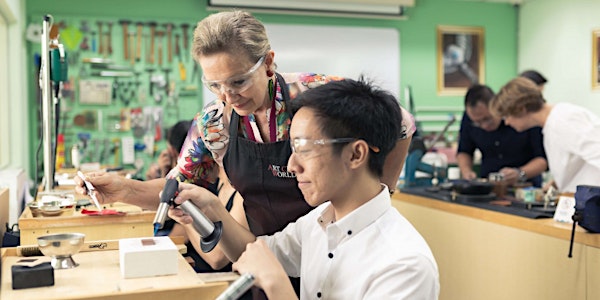 JDMIS Campus Tour: Explore Jewellery Design & Manufacturing (Any Day)
Location
MDIS campus
501 Stirling Road, MDIS Unicampus Franklin Block, F-1075
Singapore, 148951
Singapore
Visit JDMIS any days Mon-Sat, the only specialized Jewellery School in Singapore to view our amazing and unique facilities and curriculum.
About this event
This is a 30-minute tour. The timing is actually flexible , you can come any day except Friday and Public Holiday, 11 am-6pm. Please do wait for us to confirm the time before you come so we can ensure our staff is available.
Are you happy at work? Are your creative cravings being met? Do you want to do something which will pass the test of time? So many in Singapore are asking these questions and turning to a unique and exciting, surprising alternative – the JDMIS.
Hidden away, nestled inside the large campus of the MDIS in Queenstown is an amazing, almost top-secret location where second careers are quietly being forged on a daily basis. In the 5200 sq foot premises there are dedicated workshops and ateliers for jewellery lovers to discover their passion, release their creativity and explore their potential in what has always been a mysterious and closed field – the jewellery industry. This field has always seen family members take over with the precious information secretly being passed on from generation to generation but now with 7 specialised workshop areas dedicated to both traditional and modern, hi-tech jewellery techniques, practically every area of the industry is uncovered and made accessible to everyone. JDMIS is the bridge to the age-long gap. Each program caters to only a maximum of 10 to 12 participants so as to provide the maximum guidance in imparting hands-on skills and there are waiting lists of participants. Topics include Gem and Jewellery Trade Secrets, the art of Metalsmithing, New technologies of CAD and Cam, Traditional Jewellery Design and rendering, Fashion Jewellery, Epic and Contemporary trends and New Metals, the latest in powder metallurgy.
Attached to this adult playground is an in-house incubator which is the perfect place to show and sell unique and exciting Graduate works of art. A place for entrepreneurs to experiment with new styles and hone their skills with friends, family and savvy collectors before making the big leap into the real world. Whether you are just curious to see what graduates can achieve in a relatively short time or want a change for the better in your life, a visit to JDMIS would be an eye-opening and scintillating experience.