Experience stillness, develop wisdom and insights into your inner world - the mind - that creates all of your world experience.
About this event
Ajahn Brahm will be conducting an onsite retreat with live retreatants at Jhana Grove. As we are unable to travel, we can attend it via Zoom. This is the first time Ajahn Brahm is going to conduct a hybrid retreat.
We may have the option to stay at Changi Village Hotel - the confirmation is pending if the hotel will be used for SHN in Nov. The room with breakfast for 2 persons will be $200 nett and the onsite retreat in the hotel function room option will be offered.
In the meantime, let's plan to attend it via Zoom!
Program
Day 1 - Talk at 7pm
Day 2-8 To be advised
Day 9 - ends at 12:15pm
Fee: SGD150
Super Early Bird till 30 Sept: $90
The nett fees after deducting Bodhinyana Singapore's operational expenses, will be split between BSWA and Buddhist Fellowship to suport their operations.
If you need a partial fee waiver, please write to Bodhiynana@outlook.com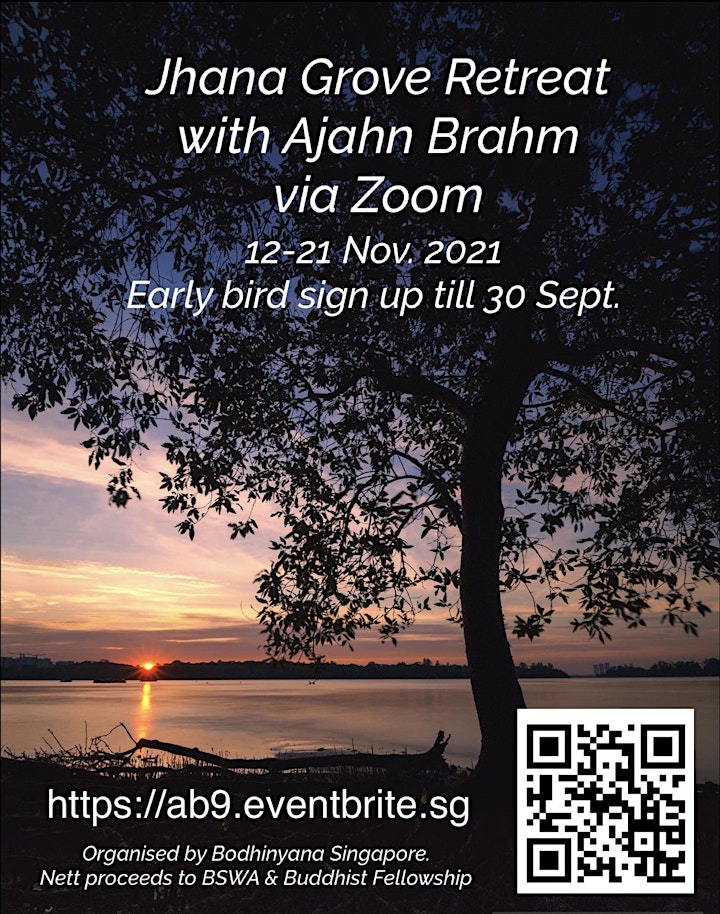 Organiser of Jhana Grove 9-Day Retreat with Ajahn Brahm via Zoom