About this Event
Join us at the Faculty of Medicine Siriraj Hospital, Mahidol University scientific networking event with academia and industry peers as we discuss new developments in cell imaging techniques and applications.
PerkinElmer is delighted to be hosting an exciting day of scientific seminars, aimed at bringing together local scientists from a variety of fields, exposing outstanding research and enabling scientific networking. .
Day 1: Seminar & Poster Session during coffee break
Thursday , 21st Nov 2019
8.30am – 5.15pm
Level 1, Room 101 SIMR Building, Faculty of Medicine Siriraj Hospital, Mahidol University 2 Wanglang Road Bangkoknoi, Bangkok 10700, Thailand
|| REGISTRATION CLOSED FOR DAY 2 WORKSHOP
Day 2: HCS /QPS/AlphaLISA (No wash ELISA assay) Workshop
Friday, 22nd Nov 2019
10.00am – 3.00pm
Room 1114, Department of Pharmacology, Faculty of Medicine Siriraj Hospital, Srisavarindhira Building 11th Floor
AGENDA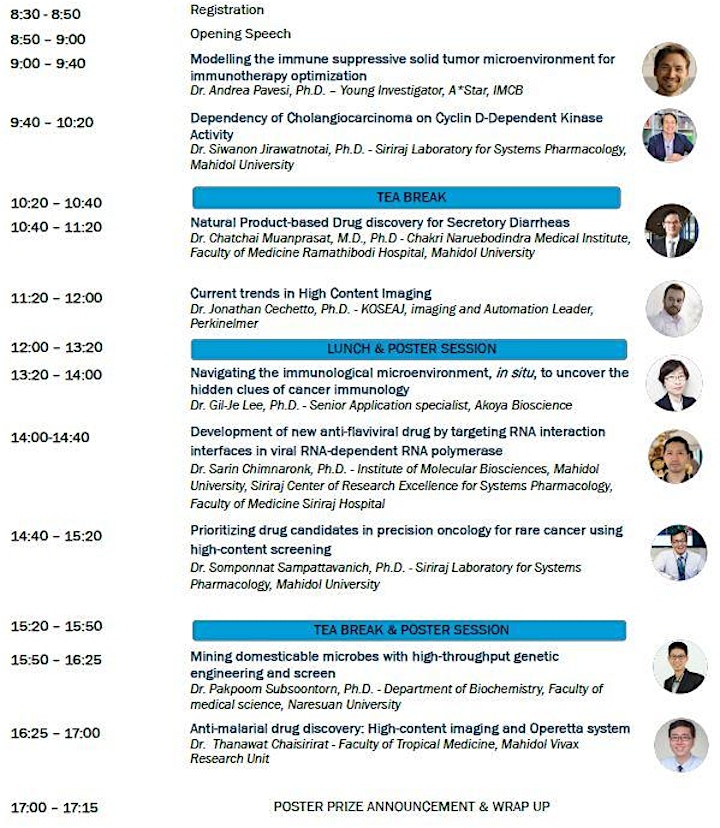 POSTER CALL FOR SUBMISSION
We welcome researchers, scientist and students to share their work via poster presentations. Prizes will be awarded for participation.
Deadline of poster abstract submission: 4 Nov 2019.
Please fill up the registration form and you will be contacted on the guidelines on poster/abstract submission for the poster session.
Poster size requirements for poster session: 62.5 x 95.5 (margin 1.5 cm)
EVENT REGISTRATION CLOSING DATE: 15 NOV 2019, 5PM