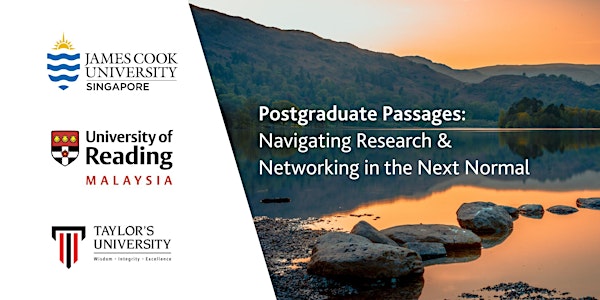 Joint Higher Degree Research Conference 2022
All postgraduate by research candidates from JCUS, URM and TU are invited to submit research abstracts for presentations and discussions.
When and where
Location
James Cook University 149 Sims Drive Singapore, 387380 Singapore
About this event
Postgraduate Passages: Navigating Research & Networking in the Next Normal
• When: 3 December 2022, 9am -- 4 December 2022, 6pm
• Location: Blended | JCU Singapore campus & Online via Zoom
The 2nd Joint Higher Degree by Research Conference is co-hosted in 2022 by James Cook University, Singapore (JCUS), the University of Reading Malaysia (URM), and Taylors University (TU). This year we've opted for a blended mode to facilitate networking between and amongst candidates from each of our partner institutions. Saturday 3 December will be devoted to a full day of research presentations. Sunday 4 December offers a half-day of networking.
Presenters will be awarded a certificate for participation and can count their presentation into Professional Research Development hours as relevant for their respective institution.
Up to 1000 SGD of prizes will be awarded. Criteria will be determined by the committee and announced via this conference site.
Key Dates
• Submission of Abstract: 31 August 2022
• Notification of acceptance: 30 September 2022
• Registration opens: 1 October 2022
Conference: 3rd-4th December 2022
Click here to view more details about the Keynote Session
*Notice: All presenters and participants (both online and offline) are compulsory to register and pay the ticket to attend the conference.
We look forward to having you be part of the event! 😊