Journey with Imam Al-Ghazzali

Wednesday, 7 February 2018 at 19:45

-

Wednesday, 28 November 2018 at 22:00 (Singapore Standard Time Singapore Time)
Event Details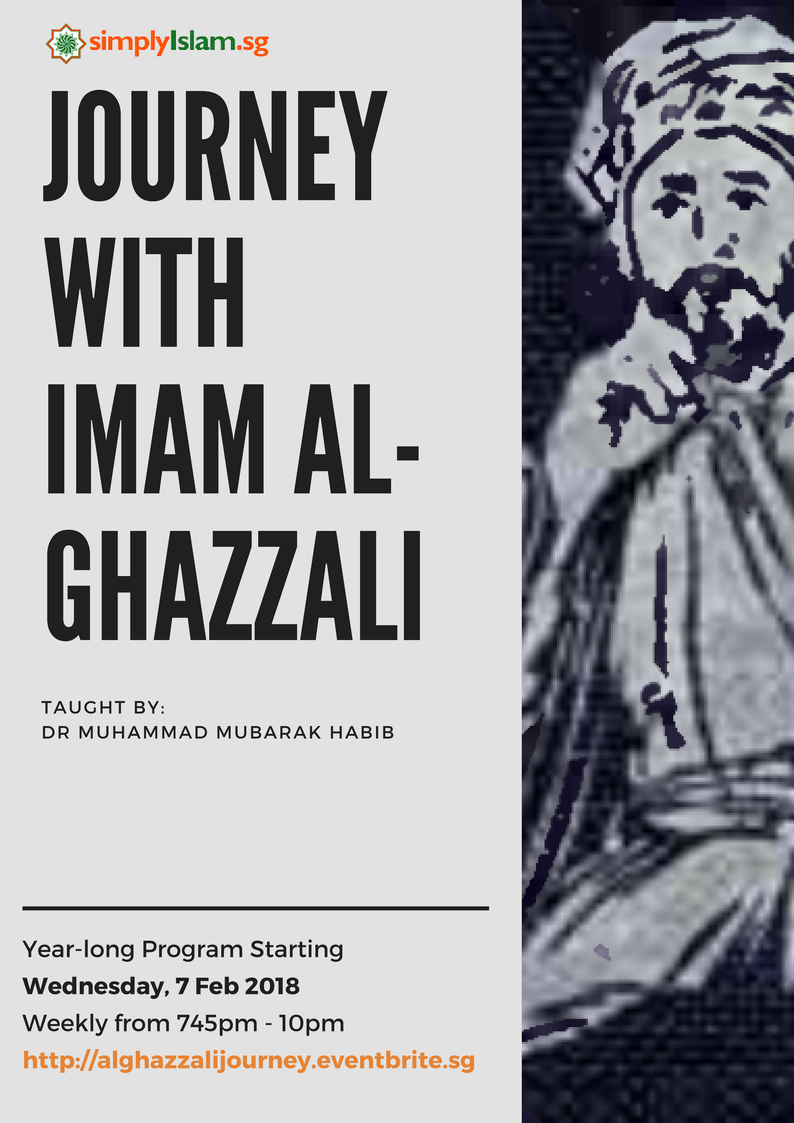 Following the positive feedback for the workshop SimplyIslam conducted in September and October 2017 titled "The Life & Thoughts of Imam Ghazali" taught by Dr Muhammad Mubarak Habib Mohamed, we found that there is a great demand for Imam Ghazzali's books to be taught in the English language. After much discussion and planning, we are excited to present a year-long program covering several books of Imam Ghazzali's magnum opus, the Ihya Ulumuddin.
Journey with Imam Ghazzali
Imam Al-Ghazzālī, like other majority classical Islamic thinkers, regarded the sciences of religion ('ulūm al-dīn) as a practical pursuit. For him, this science anchored simply to the obligations given upon seekers to establish a direct, personal relationship with Allāh and at the very least with the aid of the cognitive faculties with which a human being was endowed.
His entire thinking is driven by a deeper layer of philosophical understanding of the soul of the human self where the heart is the centre of this story and it is the cornerstone of ethics and morality. More importantly, the heart for al-Ghazzālī and other Sūfī masters is the single most important medium to understand and connect with the Divine. He painstakingly developed the science of the hereafter where obtaining felicity in the afterlife is the ultimate purpose of human terrestrial life. He did not deny the importance of this life worldly life but demonstrated how this life is a bridge to the next.
The Ihya Ulumuddin
The Iḥyā' aims at a totalizing vision of a Muslim life oriented towards the attainment of otherworldly felicity. Its massive content, 40 books where each book requires sustained and unfettered dedication to complete reading, contains a unique synthesis of Sufism, theology, philosophy and law.  The Iḥyā 'Ulūm al-Dīn is the book that has been dedicated to lead seekers towards felicity in the hereafter. The Iḥyā' does show a clear debt to Sufism but it also contains many philosophical elements that provide the telos of felicity in the hereafter.
This magnum opus of al-Ghazzālī shows the path on how God-consciousness can be developed through watching over the heart to detect the residues of 'I' and cleanse one's heart of such impurities. The book is relevant to all seekers because it brings forth in plain terms the possibilities of the ego or ill intentions in seeking any kind of knowledge or position even when it apparently complies with the Islamic Law. The Sufi approach of practice alone was capable in theory of leading seekers towards felicity but without the theoretical science to access the insights achieved by practice, it is much more likely to lead to delusion than true knowledge. So, the Iḥyā' contains both theoretical and practical discussions that are needed for seekers of felicity in the hereafter. 
Objectives
At the end of this one-year program, it is hoped that participants will be able to
plan their own course of action towards becoming a moral-ethical human being

carry out some of the recommendations of al-Ghazzālī in seeking felicity in the hereafter.

understand the philosophical bases of the path that al-Ghazzālī advocates.
Structure & Content of the Course
No

Book Name

Focus

1

Munqidh min al-Ḍalālah

Understand the intellectual and spiritual development of al-Ghazzālī and his recommendations.

2

The Book of Knowledge (Book 1)

Purpose of religious knowledge in the life of a Muslim

3

The Book of Intention (Book 37)

The relationships between intention, sincerity and truthfulness.

4

The Book of Tawbah (Book 31)

The different pillars of tawbah and the ways on how to implement them.

5

Secrets of the Outer Worships

The relationship between the external actions with the cultivation of interior virtues.

6

On Disciplining the Soul (Book 22)

The ways on how a seeker can start his journey in refining his characters.

7

Breaking the two desires (Book 23)

The ways on how to control the desire for food and sex in a seeker's journey.

8

'Ujb, Riyā' and Kibr

(Books 28 and 29)

Differentiate between these three vices which are the roots of other vices.

9

Patience and Thankfulness (Book 32)

The basis of all other praiseworthy characters.

10

Vigilance and Self-Examination (Book 38)

The ways on how to be constantly vigilance and how to recover oneself after a fall in the path.

11

Remembering Death (Book 40)

The relationship between fear and hope.
ABOUT THE COURSE
Commencement Date: 

Wednesday, 7 February 2018

Frequency: Once a week: Wednesday, 745 pm to 10pm


Teacher: 

Dr Muhammad Mubarak Habib Mohamed (bio below)

Medium of Instruction: 

English

No. of Lessons: 

40

Course Fee : 

$600 

 (inclusive of registration fee & notes)
Venue: SimplyIslam.sg (152 Still Road) [map]
_____________________________________________________________________
FEEDBACK FOR "THE LIFE & THOUGHTS OF IMAM GHAZALI"
organised by SimplyIslam in September 2017 together with Dr Muhammad Mubarak Habib Mohamed
"I thought it was brilliant! It was entirely unique in terms of both approach and content. So few among us know abt Imam Al-Ghazali and his relevance to our time, much less anything else abt the rest of the Islamic intellectual tradition. I think the speaker did excellently in presenting the information in a refreshing, contemporary way." - left anonymously on course feedback form

"I would like to congratulate SimplyIslam for organising this workshop. It has been refreshing to hear abt our scholars. Dr Mubarak is an expert in this subject. May Allah allow us to hear frm him again." - Suraya Ali
"Very interesting and enlightening. At times, the concepts and ideas taught, as well as the readings, were quite challenging. But that spurred me on to learn even more on the subject." - left anonymously on course feedback form
"I would like to learn more on the works of Imam Ghazali but often have issues finding teachers. Would love to see more of Imam Ghazali's works being taught. Book interested to read: Jewels of The Quran." - Siti Nurzakiah Zar'an
________________________________________________________________________
ABOUT THE LECTURER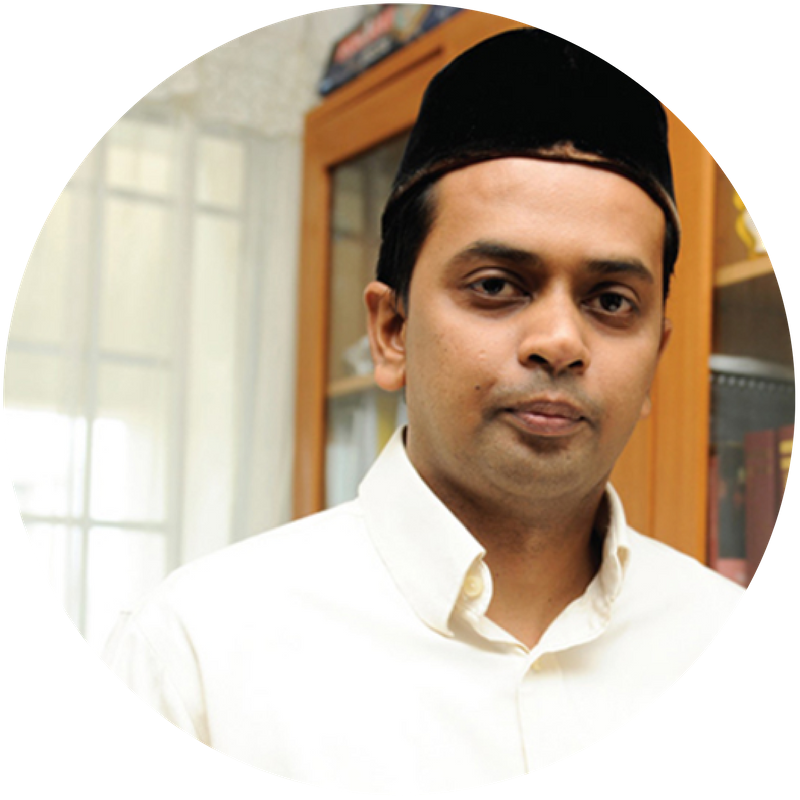 Dr Muhammad Mubarak Habib Mohamed received his PhD in Islamic Civilisation and Contemporary Issues at Sultan Omar 'Ali Saifuddien Centre for Islamic Studies, Universiti Brunei Darussalam. He has a Master of Arts, Islamic Spiritual Culture & Contemporary Society from the International Institute of Islamic Thought and Civilisation (ISTAC), International Islamic University of Malaysia.
He has previously taught and won awards at Temasek Secondary School and was also a lecturer at Jamiyah Education Centre in their Diploma in Shar'iyyah Law. He is a Religious Rehabilitation Group (RRG) Secretariat member since 2009. He has also been teaching voluntarily at Muslim Converts' Association of Singapore since 1998.
________________________________________________________________________
CANCELLATION & REFUND POLICY
Course registrations will not be confirmed until registration is complete and payment is received either in full ($600) or $300 (1st instalment payment) by 31 January 2018. The 2nd instalment payment needs to be paid by

27 June 2018

.
In order to cancel your order, please submit an email request to enquiries@simplyislam.sg.

Please submit all cancellation requests within 60 calendar days of registration and no later than 30 days prior to the scheduled course date in order to receive a full refund of paid registration fees.

No shows and cancellations not made within the specified cancellation period will incur the full cost of registration.

SimplyIslam.sg reserves the right to cancel any course due to insufficient enrollment at least 30 calendar days in advance of the scheduled course date. Notice will be provided with the option to reschedule for a future course date or to receive a full refund of course fees.

SimplyIslam.sg is not responsible for any expenses incurred by the customer if a course is cancelled.
For any enquiries, please call 65474407 or email enquiries@simplyislam.sg

When & Where

SimplyIslam.sg
152 Still Rd
Singapore 423991
Singapore

Wednesday, 7 February 2018 at 19:45

-

Wednesday, 28 November 2018 at 22:00 (Singapore Standard Time Singapore Time)
Add to my calendar
Organiser
Traditional. Progressive. Dynamic. Experience the Beauty. SimplyIslam.
The As-Siddiq Centre for Islamic Studies Pte Ltd, commonly called SimplyIslam, is a private organisation dedicated towards education, social & community development, literary services and humanitarian services to facilitate progression of society. SimplyIslam is committed to the retention of tradition, culture & esteemed values whilst integrating contemporary challenges facing humanity today.  SimplyIslam's mission reflects its fresh and innovative approaches to communicate the beauty of Islam, whilst being deeply rooted in Islamic Sunni traditions, with a progressive & dynamic approach to modern life.