Description
Download Sapio now to get your ticket at $15 by using promo code UPYOURGAME: http://bit.ly/downloadsapioRIGHTNOW
Working from home without the shackles of a 9-to-5 job seems like the dream - but is it possible to achieve the best of both worlds without feeling even more stressed? How do you build up your customer base from scratch without spending $20,000 on a fancy website?
Whether you're an aspiring entrepreneur, stay-at-home mum, or a corporate professional looking for change, listen to Sha-En's exclusive insights and obtain the keys to flexi-work success.
---
Learning Outcomes

- Managing expectations: balancing the trade-offs of working from home and not getting a steady income

- Deciding which problem you want to solve, your business model and your action plan to work towards it

- Customising your Productivity Planner - how to structure your time efficiently by setting bite-sized targets frequently

- How to build social proof and credibility through referrals and strategic gigs without compromising your professionalism

---
Sapio Session hosted by:
Sha-En Yeo
Best-selling Author & Founder, Positive Education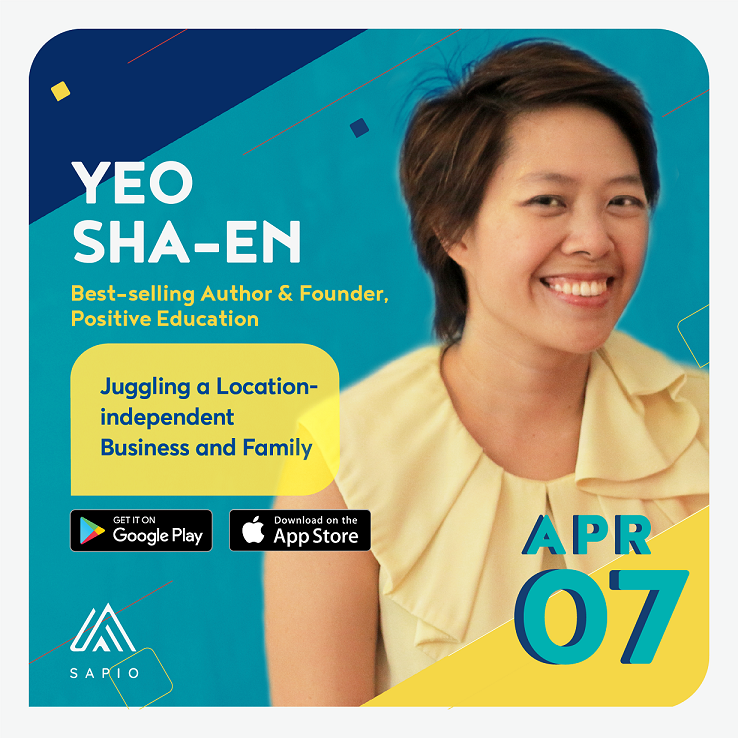 As an educator, Sha-En has more than 10 years of experience from a guidance officer (Ministry of Education), to Wellness Director (Yale-NUS) and adjunct lecturer (SUSS). As the first Singaporean to complete UPenn's Masters of Applied Positive Psychology (MAPP), she founded Positive Education. Passionate about raising thriving children, she has offered her coaching services to over 50 schools and over 5000 teachers and parents.

Download Sapio now to get your ticket at $15 by using promo code UPYOURGAME: http://bit.ly/downloadsapioRIGHTNOW