Sales Have Ended
Ticket sales have ended
Sorry, the ticket sales for this camp has ended. Check our website for other camp dates.
Sales Have Ended
Ticket sales have ended
Sorry, the ticket sales for this camp has ended. Check our website for other camp dates.
Description
Overathird is back again with the highly anticipated school holidays netball camps! Following feedback from campers and parents last year, we have newly revised our format to a 2-day camp, and parents will be able to get involved.
Our camp aims to help budding netballers acquire new skills and improve their game. Campers can also look forward to acquiring valuable life skills such as teamwork and goal setting through a series of fun activities and challenges. Girls will have the opportunity to meet and interact with some current/past Singapore national players and coaches at our camps.
At Overathird, we believe that learning through a fun and engaging environment helps promote lifelong love for the sport, which is why our camps promise to pack loads of laughter. Our camp will be headed by Kwok Shuyi and will be supported by Micky Lin, co-founder of Overathird and former national netball player, and Nurul Baizura, national netball player.
"It is the school holidays after all, we want the girls to enjoy themselves while learning new skills." Micky Lin, co-founder of Overathird and former national netball player.
Sample Timetable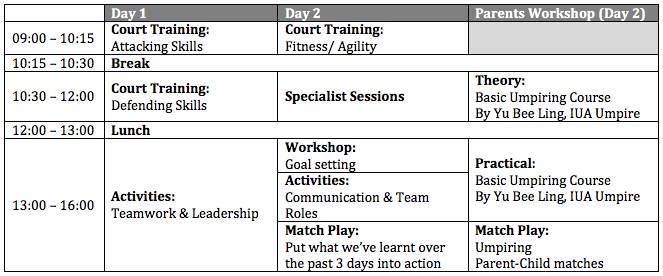 FAQs
Is this an overnight camp?
We know our campers will miss their family and bed, so we've designed this as a non-residential camp. Campers are to report at 9am, and will be dismissed at 4pm every day.
Is there any age restriction for the camp?
This program is designed for girls in Primary 4 - 6 in year 2018. We are also running other session for Secondary school students. Check our full event listing for more information on available sessions.
I've attended your previous netball camp, will this be the same?
Absolutely not. We refresh our camp program to make sure that there is always something new for our campers to look forward to every season. The things you learn and the activities you do at each camp will be different.
I can't make it for the full 2 days. Can I join for part of the camp?
Yes, we can make arrangements for that. Drop us a note at netball@overathird.com and we will assist you with it.
Will meals be provided during the camp?
Yes, lunch and snacks will be provided for all days of the camp. If you have any dietary requirements (halal, vegetarian, no beef etc.), just let us know in the registration form and we will take care of it.
What do I wear and bring to the camp?
Campers are required to wear our Overathird Camp tee-shirt, with their own training bottom and sport shoes. New campers will receive their camp tee-shirts on the first day of the camp. Please bring along your water bottle, towel and change of clothes for the end of the day. Refrain from bringing any valuables to the camp.
What are the payment modes accepted?
You can choose to pay with PayPal, credit cards, debit cards, or cheques.
If you prefer to pay via internet/online banking, just select the 'Pay by Cheque' option at checkout and make payment using the details below.
What is your internet/online banking details?
Account Name: Overathird Private Limited
Account Number: 712-061233-001
Bank: Oversea-Chinese Banking Corporation (OCBC Bank)
Account Type: Current Account
What is your cheque payment details?
Payable To: Overathird Private Limited
Mail To: 213 Guillemard Road, #02-06, Singapore 399733
Note: Write the camper's name and NRIC/FIN number on the reverse of the cheque. Payment must reach us within one week of registration.
How can I contact the organizer for other questions?
Email your questions to us at netball@overathird.com and we will get back to you as soon as we can. Alternatively, you can drop us a message at our Facebook page.
What's the refund policy?
Full refund will be provided for cancellation up to 30 days before the start of the camp. Campers who are unable to attend the camp due to medical reasons, certified by a doctor, can join us at the next available session. Contact us at netball@overathird.com and we will help with the arrangement.