About this event
Mindfulness Holiday Camp
Theme: Self - Regulation and Emotional Intelligence
Our camp consists of a variety of activities to learn values and build character
Mindfulness
Aerial Yoga
Kids Yoga
Mindful Scrapbook & Journaling
Emotional Intelligence with Creative Arts
Age 5 - 10
3 days x 4 hours each day
31 May - 2 June, 1 - 5pm
21 - 23 June, 1 - 5pm
$320 per pax for three days
$304 for buddy sign up
min. 5 to commence (confirm one week before camp)
Max class size: 10
Age 7 - 12
3 days x 4 hours each day
7 - 9 June, 1 - 5pm
5 - 7 July, 1 - 5pm
$320 per pax for three days
$304 for buddy sign up
min. 5 to commence (confirm one week before camp)
Max class size: 10
Age 10 - 15
5 days x 4 hours each day
14 - 18 June, 1 - 5pm
28 - 2 July, 1 - 5pm
$520 per pax for five days
$494 for buddy sign up
min. 5 to commence (confirm one week before camp)
Max class size: 10
New camp dates
We can start new dates with min 5 to commence.
Aerial Yoga
An Inversion is a great tool for self-regulation to the central nervous system
Fun and therapeutic environment to flip, rock and swing to improve body and spatial awareness
Upside down with the help of gravity aligns and decompress the spine, promotes blood circulation and a calming sensory to the brain
Movements in different orientations and directions help develop a strong sense of balance; train the brain's focus, motor planning and working memory
Up in the air enhanced self-confidence, responsibility and require good observation and listening skills to move in and out of different poses
Values we instill with aerial yoga
✅ Stability before mobility: ground ourselves with mindful breath, listening and observation before moving to the next task
✅ Growth Mindset: accept that everyone is at a different pace, yet there is always room for improvement
✅ Slow and Steady: enhance on controlled movement, not speed
✅ Resilience: embrace dedication and effort, the ability to keep moving forward one step at a time. Keep trying!
Mindfulness & Yoga Themes
✅ Get to know MY BODY - Mindful of our body
Learn about different body parts and our superpower breath.
Understand our body is all different and very smart. When we do something new, we are introducing changes to both the body and mind. What happens when there is a change, we might like it, we might not and the most important thing is we don't judge. We allow time for the body and mind to experience the changes. We allow time for the body to thrive and adapt.
How can we help? Rest & stretch.
✅ Get to know MY MIND - Silent Yoga & promote creativity
Understanding our brain is super smart, alert us when there is a danger to protect us or inform us something is super fun and let's do it quickly. Who is even smarter than our brain? You - the combination of your brain, breath and heart.
How to overcome fear? Deep breath in and out. Understand the steps needed to do the challenge, try and ask for help.
How to calm the excited mind? Sometimes when asked to do something, we think it is so easy and we are excited, we laugh, we talk and we lose the breath and the attention. We can be excited yet mindful. Being mindful keeps us aware. When we are aware, we are safe because we can pay attention
✅ Get to know MY LIFE - Mindful Living
Understand we all have superpowers to help achieve what we want if we get to know ourselves and the people around us better. The first step is to slow down and take our superpower breath.
Mindful Body - Recap of the 10 steps of sun salutation A and variations of the poses
Mindful Connection - Partner yoga
Mindful Mind - Rest, Rejuvenate & Refocus (they can bring their favorite toy)
Mindful Walking - If weather permits in the garden, if not in the room crossing the bridge (using blocks)
Mindful Living - Children get to pick one thing they want to be mindful of for 2021 in their life.
✅ Deepen yoga & meditation practice
Understand how to deepen our practice. More time to discuss the connection in our body, thoughts that are arising from our meditation practice and more importantly how will we overcome it.
Mindful Body - Opportunity to lead and teach a pose or even short sequence
Mindful Connection - Understand the body parts and connection of their body parts. Learn how simple yoga poses develop into more advanced arm balances and inversions
Mindful Mind - Rest, Rejuvenate & Refocus. Learn simple meditation and relaxation techniques
Mindful Scrapbook Journaling
✅ Engage creativity
The freely flowing ideas that typically fill a journal are accompanied by the structure, layout, and planning that usually goes into making a scrapbook. By combining these two concepts, a child is free to be more creative and imaginative both in expressing his or her artistic qualities and in relaying thoughts and feelings to the journal. This helps in bringing out any hidden talent in a child which may otherwise remain unexplored.
✅ Foster better communication
Scrapbooking provides a platform for parents to spend time and communicate with their children. Be it for problem-solving, expressing thoughts or getting ideas and inspiration, it serves to connect parents with their children in a break from the hectic routines of life.
✅ Improve organisation skill
Scrapbooking involves a lot of paperwork, cutting, pasting and sketching. The aim is to organise and arrange the pages/images/photos into the album that tells a story in an artistic way. Children will learn the need to decide how images are used (cut, pasted, drawn, painted etc) and brought together to tell their story.
✅ Reflections and recollections of memories
The scrapbook is a medium that enables a child to creatively record and explore what they are seeing, thinking and experiencing during a particular time and moment. At difficult times it can be hard to identify and accept certain feelings (both positive and negative), yet reflecting on emotions around an event and then expressing them on paper, can create a sense of relief and validation of these emotions.
✅ Improve concentration
Scrapbooking encourages a child to stop thinking about what is going on in the outside world, and forces them to work on what is in front of them. Scrapbooking helps shed off the anxieties of daily routines by creating an escape for a child to simply create and focus on a single objective, and improve their concentration.
To-Do List
✅ Bring your own water bottle
✅ Wear top with sleeves and long pants to prevent skipping or friction with hammock
✅ Meals two hours before class. Heavy stomach during inversion might cause dizziness or nauseousness.
✅ Remove all jewelries and groom nail shorts to avoid damaging hammock
✅ Wash your hands at toilet before entry
By signing up for this event, you agree to be contacted for future events.
Mindful Space
97837313
https://www.mindfulspace.com.sg/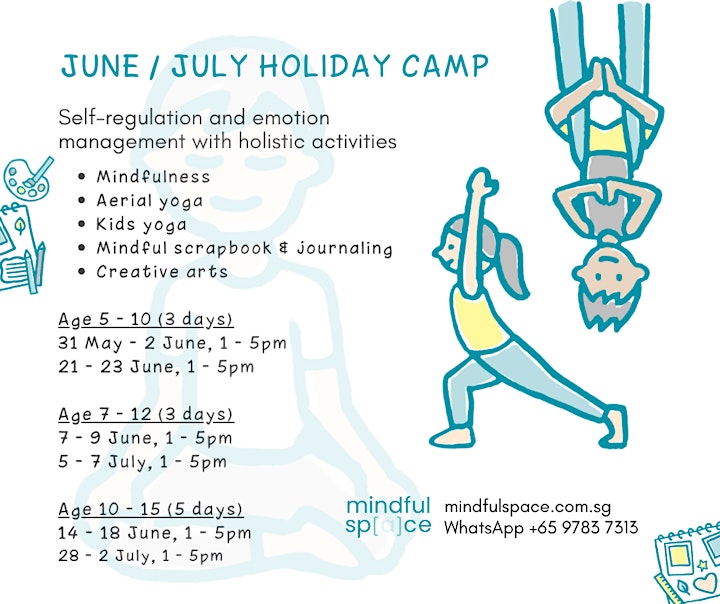 Organiser of June & July Holiday Camp
Holistic and inclusive space to empower parent & child with life skills - develop & balance the mind (IQ), body (PQ), emotions and behaviour(EQ).
We believe in order to support the child, we must first support the parent.
1. Parent's Well Being
2. Parenting Knowledge & Skills
3. Parent's bonding & learning with their child
OUR SERVICES:
Parent & Child Classes
Kids Enrichment
Yoga & Fitness
Life Coach
Business Coach
Family Consultation 
Parenting Workshops 
Teacher Trainings
Corporate Events
Holiday Programmes