Explore the journey of a gemstone during this school holiday! 1.5 hour workshop specially catered for children 7-12 years old!
About this event
"Mine to Market" Gem adventure
The Junior Rockstars program is a 1.5h holiday program, designed for children from 7 to 12 years old.
In this program, we will show them how art and science can come together through gemstones. We use multi-sensory learning aspects of seeing, touching, feeling such as mining and using of equipment like the loupe. By learning and exploring different types of gems, rocks and minerals from all over the world, it will be an eye-opener experience for them in such a fun and interactive learning way.
Consists of Three(3) Topics:
Topic A: Earth, Rocks, and Mining
Topic B: Gemstones of the World
Topic C: Gem and Gemology
Key learning:
How are gems formed? What are rocks and minerals?
Where can we find gemstones like diamonds, rubies and sapphires? Which country produces the most diamonds in the world?
How to identify gemstones? What can we see in a gem through the microscope?
Your child would also get a chance to bring home a gemstone from the "Gem mine" at The Gem Museum!
We believe that your child will have effective hands-on learning experience through appreciating the creation of nature. This session can be an unforgettable experience for your child during this school holiday!
In view of the Health and Safety measures,
Your health safety is our priority.
* Please wear masks at all times.
* We would require visitors to check-in @TraceTogether upon arrival for ALL individuals.
* Please bring your own drinking water as we have stopped providing water to visitors. (Apologies, we do not have free prepacked water bottles.)
* Vaccination-differentiated safe management measures (VDS) have been implemented for entry to museums.
*Individuals can be allowed entry in group sizes of up to 2 persons if all are vaccinated. *Children aged 12 years and below, recovered individuals, and unvaccinated individuals with a negative Pre-Event Test (PET) result, can be included in the group of 2. If there is more than one child aged 12 years and below in the group of 2 persons, both children must be from the same household.
-------------------------------------------------------------------------------------------
Please present your TraceTogether app or token, or any of the following documents (that may be relevant) for entry:
* Vaccination status and test result on the HealthHub App
* Physical vaccination certificates/reports/cards under the National Vaccination Programme
* Physical ART or PCR result slips from MOH-approved COVID-19 test providers
* Pre-Event Testing (PET) exemption notice
We look forward to seeing you!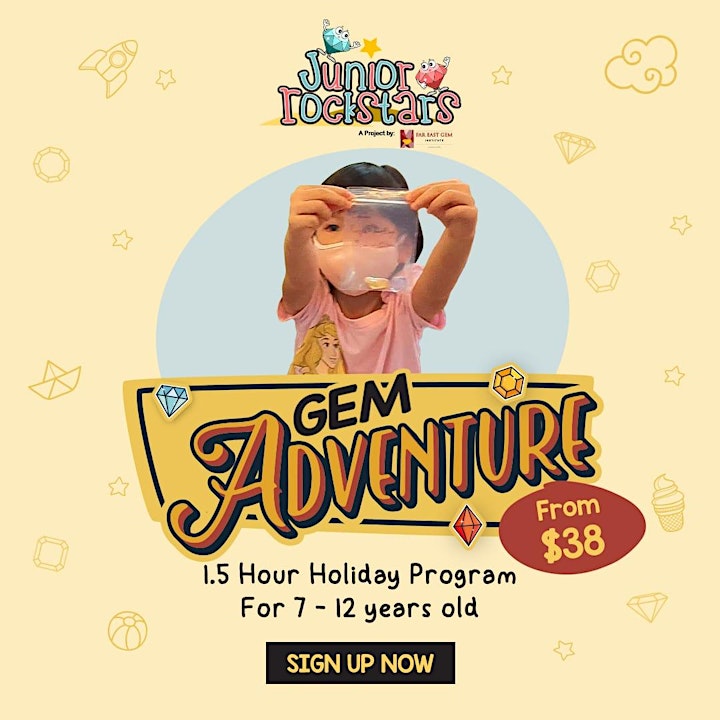 Organiser of Junior Rockstar Gem Adventure (2021)

The Gem Museum is the first gems and minerals museum in Singapore, open to the public since 2015. It is founded by husband and wife, Mr. Tay Kunming and Ms. Loke Huiying who are trained gemmologists (learn gemology at https://fareastgem.institute). It features a wide variety of gemstones and minerals from all corners of the world. Its purpose is to educate visitors on the Mine to Market pipeline with regards to Value, Quality and Authenticity. A bespoke jewellery boutique called The King's Bespoke is housed on the 3rd level of the museum, here you can experience selecting gemstones and working with a gemologist and jewellery designer to create a beautiful piece of jewellery!
 The Gem Museum is a place where learning is highly favoured and relationship building within the industry is encouraged. It envisions to be the international platform that bridges the gems and jewellery industry with the rest of the world.