Keep Going: Staying True to the Creative Process | Read! Fest
A songwriter, visual artist, flute collector and children's book writer share their creative journeys with us.
About this event
You can also watch this event online as it will be livestreamed at https://www.facebook.com/readingnationsg. The event video will continue to be available after the event.
About the Programme/Event
How does one stay true to the creative process?  What are the difficulties of staying focused in good times and bad? Four creatives will share their creative journeys with us, discussing the challenges they have faced and how they have stayed the course. Join ethnic flute collector Calvin Chong, songwriter Crystal Goh, children's book writer Emily Lim-Leh, and visual artist Favian Ee in this panel moderated by Aaron Lee. 
About the Speakers
Dr Calvin Chong is a collector of traditional ethnic flutes who busks in his bathroom daily. He also plays midi wind instruments and loves exploring the enchanting soundscapes that music technologies have introduced him to.
Musician, storyteller and community lover. For Crystal Goh, music, stories and communal connections flow together in a waterfall of wellbeing. After losing her voice because of a rare neurological condition in 2011, Crystal wrote a song about hope, which she shared with others. Through this experience, she learned that the arts could open up pathways of connection and conversation, and that everyone has a powerful story to share.
Emily Lim-Leh has authored over 35 children's books and has published essays in several publications. She is a 3-time IPPY Award winner and 1st Southeast Asian recipient of the Moonbeam Children's Book Award. Her bestselling four-book Toy Series has been published in 5 countries. Emily went through a writing pause in 2020 and found herself encountering a creative reboot in unexpected ways.
Favian Ee is an illustrator, comic artist, educator and freelancer. He used to worked in movies creating visual effects for Hollywood blockbusters. He is an active member of Urban Sketchers Singapore and enjoys traveling and telling stories, sometimes using one of his comic personas.
Aaron Lee is a pilgrim poet, regulatory and ethics lawyer and community organiser. He authored three collections of poetry and co-edited several more, including the poetry anthologies "No Other City" and "Lines Spark Code", both of which are studied in universities and schools. He is co-founder of the Laniakea Culture Collective, an interdisciplinary and intercultural art practice.  
Title Tie-up
This programme is inspired by Keep Going: 10 Ways to Stay Creative in Good Times and Bad, a featured title of Read! Fest 2021. Borrow the title here. 
For other programmes related to this title, visit go.gov.sg/goingcreative.
For the full listing of Read! Fest programmes, visit go.gov.sg/readfest21.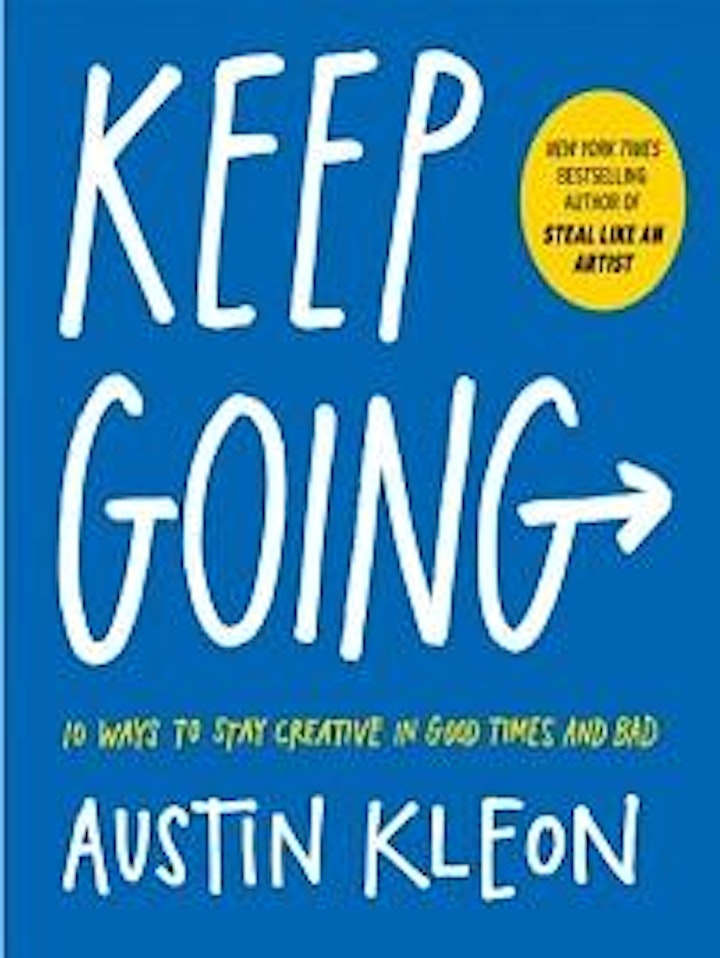 About Read! Fest 2021
Read! Fest 2021 invites you on a forward-looking journey of self-discovery. With the theme of Reboot, take a moment to re-examine and refresh your lenses on day-to-day aspects that shape our lives.
Anchored by 12 key books and topics, Read! Fest will host over 60 programmes – from talks by world-renowned authors to workshops and experiences – each curated to immerse you in a world of thoughtful ideas for our time.
From myths and minimalism to work and womanhood, stretch out to explore new worlds and perspectives. Where will you find yourself?
For more info, visit go.gov.sg/nrm-readfest21.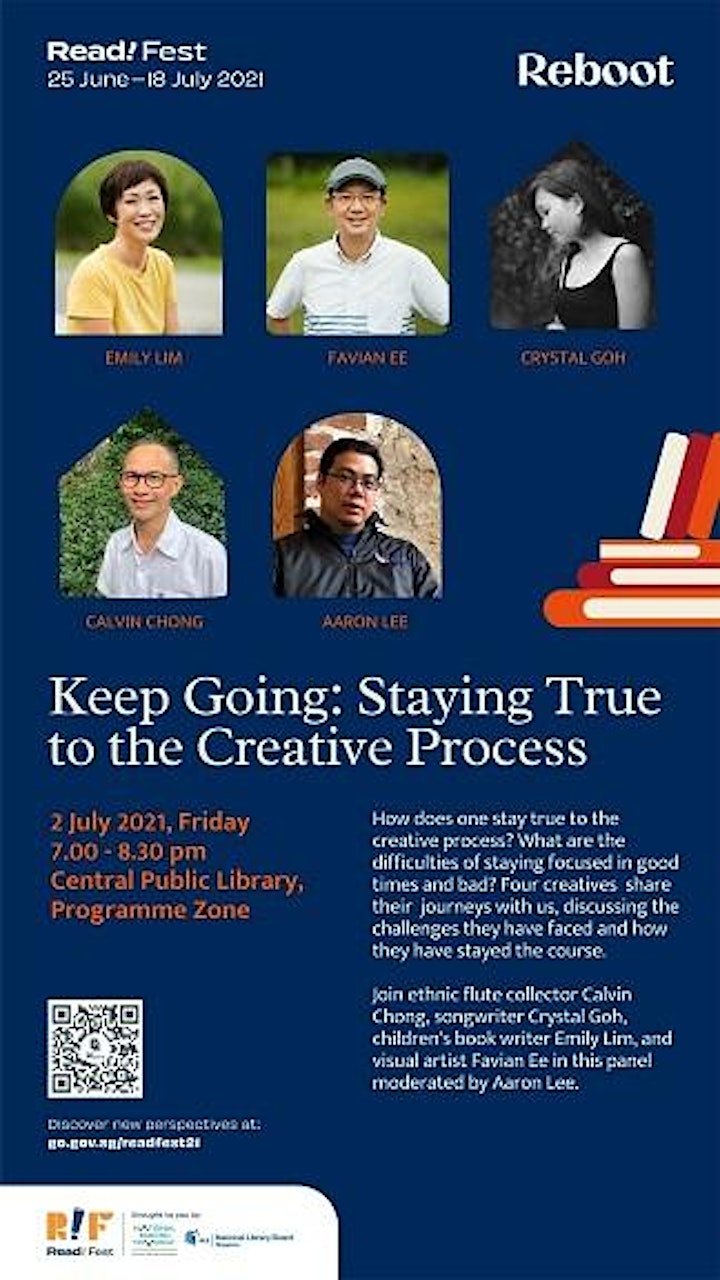 Onsite Programme/Event Administrative Information
This programme is conducted onsite.
Please ensure that you provide a valid email so that we can contact you in case of any changes to this event.
Limited seats are allocated, and Safety Management Measures rules are to be observed.
Participants must arrive 5 minutes before the session commences. Seats of late attendees will be given to others.
The National Library Board, Singapore (NLB) reserves the right to deny entry to participants who do not abide by the Safety Management Measures rules.
Organiser of Keep Going: Staying True to the Creative Process | Read! Fest
The National Library Board (NLB) manages a network of 27 public libraries, the National Library and the National Archives of Singapore. NLB promotes reading, learning and information literacy by providing a trusted, accessible and globally-connected library and information service through the National Library and a comprehensive network of Public Libraries.