Description
We are staging
Startup Masterclass
every 2 months for both MEN and WOMEN who are in startups or planning to start startups. We have an evening Keynote the night before the full day
Startup Masterclass on the 29th
. The evening KEYNOTE anticipates an audience of 200 whilst the masterclass caters to a smaller audience with hourly sessions with founders and gurus who have been there and done that PLUS one-on-one coaches for those who sign up for full day masterclass.
Whether you are at startup or not, or you are working at corporate looking to enrich your knowledge of startups, join us at our Keynote session in TED TALK style.
AGENDA
1800 REGISTRATION AND NETWORKING
1845 KEYNOTE 1
1930 KEYNOTE 2
1950 KEYNOTE 3
2040 DIALOGUE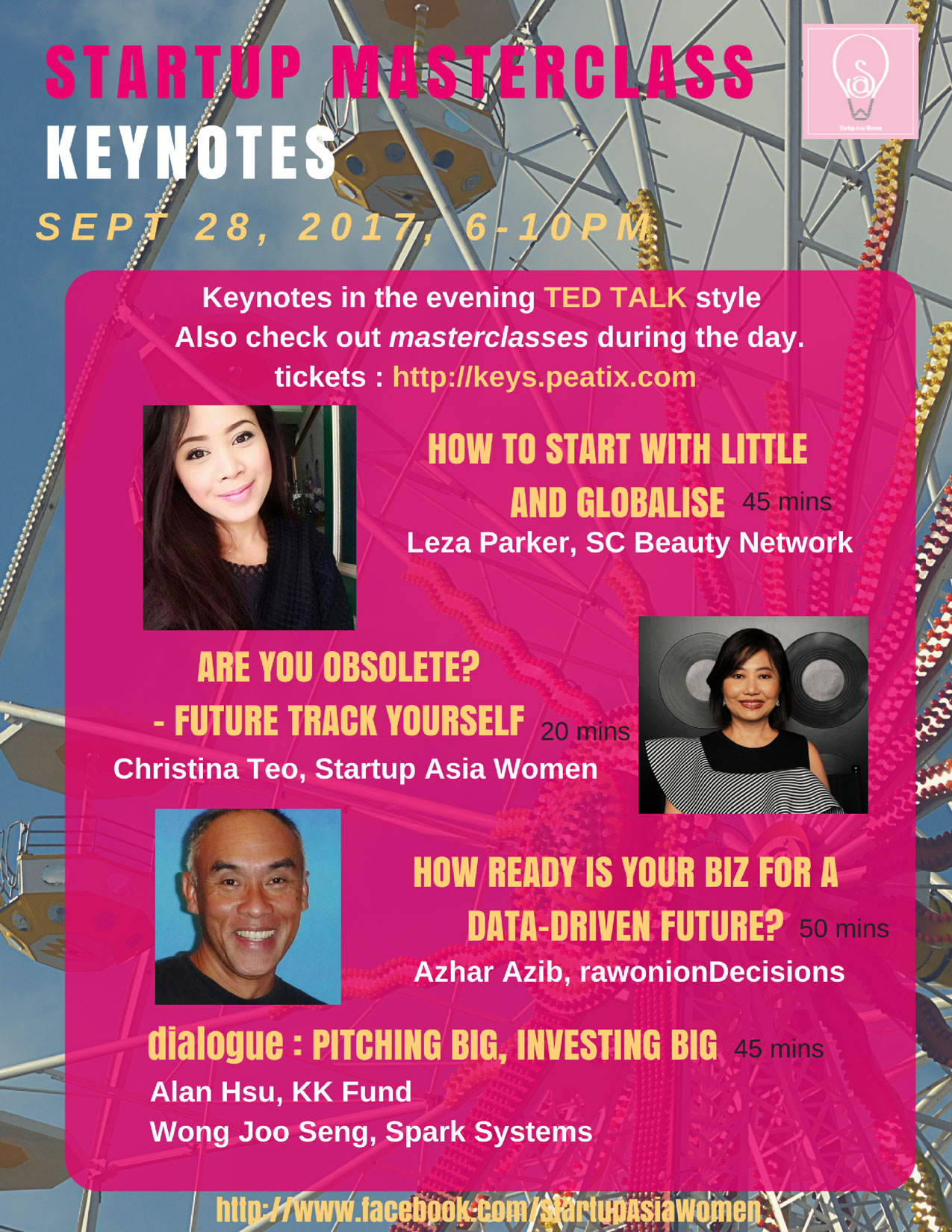 #startups #masterclass #workshops #networking #business #growth #digital #social #entrepreneur #funding #investment #pitch #leadership #career #personaldevelopment
About the speakers:
Leza Parker
Leza Parker is the CEO of Spendless Cosmetics Beauty Network Pte Ltd, a business registered in Singapore but operating in six countries including Philippines, Malaysia, Australia, Indonesia, Singapore and India. The idea came about as a tech platform that connect cosmetics and beauty suppliers, with affliates and resellers using the power of internet marketing to bring monetary benefits to both the suppliers and resellers.
Leza has invested in many companies throughout the last five years from various industries including baking, fashion, consultancy, education, beauty and more. Leza has appeared in multiple features in media. She has also contributed articles to business magazines and portals. She has lectured at several universities, spokesperson for several institutions, mentor over 40 start ups in Singapore, wrote and published books and educated hundreds of entrepreneurs through her seminars. Here are some of her achievements.
https://www.linkedin.com/in/leza-parker/
Christina Teo
Christina is the founder of Startup Asia Women. Returning to Singapore last year, she transitioned from a high profile corporate career to working with startups, building a community. She had held many pioneering roles in large corporates, almost like a startup in an enterprise with the same challenges of any self-starter. Every role she held at Acer, IBM, DEC, 3Com, O2, CSL are roles she had no prior experience for. Always a self starter, she prides having rode on multiple technology breakthroughs from PC to broadband to dotcom to mobile data. She has worked and lived in Europe, Asia, New York and is global market and cultural savvy.
https://www.linkedin.com/in/christinateo/
Azhar Azib
Azhar Azib specialises in helping companies transform into smart, data driven organisations. A Data Architect by training and a seasoned database marketer and change leader by practice, his 25 year corporate career with Microsoft, IBM and Global Source has put him in many roles driving innovation, change and operation excellence in the way large corps manage and use data to drive better engagement with customers and partners.
Azhar is a Certified Information Privacy Manager Technologist (CIPM, CIPT) accredited by the international Association of Privacy Professionals and a certified Governance, Risk Management and Compliance (GRC) professional. Some of his recent projects include a) working with NUS Business School in data analytics for supporting future capabilities of their information architecture, ensuring the governance framework is sustainable and b) driving transformation in regional marketing org of Berjaya Corp.
Outside of work, Azhar is an endurance running and adventure junkie, having completed 90+ full and ultra-marathons around the world.
https://www.linkedin.com/in/azhar-azib-cipm-cipt-grcp-a1212a4/
Alan Hsu
Alan Hsu, general partner at KK Fund (which he co-launched) will lead a conversation with 2 startups who have raised a hefty sum of money. Alan is one of the judges of Startup-UP, a competition hosted on Channel News Asia for 4 seasons. Before his days as a VC at GREE Ventures, Alan started out as a management consultant at McKinsey & Co. in United States and also was at Goldman Sachs New York as investment banker driving tech, media and telco merger and acquisitions. Moving to Singapore, he worked at private equity for Temasek Holdings.
https://venturebeat.com/2015/12/16/meet-one-of-southeast-asias-venture-capital-superstars/
Wong Joo Seng is the founder and CEO of Spark Systems. A company he jointly conceptualised with his co-founders and started up in April 2016. Spark is focused on building the next generation of FX trading platforms that are ultra-fast, resilient, low latency and cost efficient.
In addition to being a recipient of an MAS grant, Spark System also raised USD5 million in a Series A round (with venture capital as well as strategic investors) that was completed in November 2016.
Joo Seng is a Venture Partner with Vickers Venture Partners and also an Investment Partner with True Global Ventures. He co-founded M-Daq and saw it to completion of series C funding at a valuation of $250 million in November 2015. Prior to M-Daq, Joo Seng was the Managing Director and CEO of G K Goh Financial Services, listed as SGX-DT, a wholly owned securities and derivative brokerage and foreign exchange trading susbisiart of G K Goh Holdings Ltd. He grew GKGFA into one of the largest institutional FOREX trading houses in Asia.
Joo Seng started his career in 1987 at UOB Singapore in precious metals trading. He then joined Republic National Bank of New York (now part of HSBC) as VP, Forex & Previous Mteals Options. He subsequently joined Bank of New Zealand in Wellington. Returning to Singapore, he assumed the position of Head of Treasury at TLB Bullion and Futures, the wholly owned derivative brokerage arm of Tat Lee Bank before joining GK Goh.
Follow us at facebook.com/StartupAsiaWomen to get the latest updates.