Kickstarting Your Machine Learning Journey

Monday, July 29, 2019 at 9:00 AM

-

Thursday, August 1, 2019 at 5:00 PM (Singapore Standard Time Singapore Time)
Event Details
Overview
Together with the National University of Singapore – Institute of Systems Science, SGInnovate is proud to bring to you an accelerated 4-day Machine Learning Workshop designed to kickstart your journey in this field. 
This workshop is designed for attendees with some technical skills e.g., software programmers, data analysts, developers who are comfortable with writing codes. Hit the ground running with hands-on machine learning experience through this workshop! 
Machine Learning (ML) is a field of research that can take years to attain mastery of it. Through this workshop, you will experiment with the areas that are most relevant today.  The goal is to help you construct a learning map to help you continuously improve after each course. 
ML practitioners spend a lot of time experimenting. This workshop will, therefore, focus less on the theoretical aspects, and more on the practical aspects of getting started on experimentation. 
By the end of the course, you will be designing and implementing your own project to apply what you have learnt. 
To benefit most from this course, you are expected to have a basic programming background in Python, and /or able to quickly self-learn Python along the way.
This workshop is eligible for funding support. For more details, please refer to the "Pricing" tab above.
Recommended Prerequisites
Comfortable writing codes
Familiarity with basic Python, NumPy and Pandas
Attendees MUST bring their own laptops
In this course, participants will learn: 
How to describe the well-known ML techniques and applications
To apply well-known ML models using Python libraries for classification, regression, and clustering
To apply the ML workflow (data preparation, feature engineering, training and validation) for supervised and unsupervised learning problems
To apply ML to a domain-specific problem of their choice, evaluate its effectiveness, and suggest further improvements
For enquiries, please send an email to learning@sginnovate.com.
Agenda
DAY 1
Introduction to Machine Learning (ML)
Application of NumPy in representing and manipulating data
Application of Pandas in transforming and querying data
Application of Matplotlib in Data Visualization
Training your first machine learning model
DAY 2
Basics of training a ML model
Application of ML algorithms for data classification
Application of ML algorithms for data clustering
Going green: trees and forests for supervised learning
DAY 3
Coping with dimensionality
Individual project and checkpoint reviews
DAY 4
Individual project and checkpoint reviews
Individual project presentations
This is an intensive and compressed version of this 25-day course: https://www.iss.nus.edu.sg/executive-education/course/detail/machine-learning-driven-data-science/stackup---startup-tech-talent-development
Pricing
Funding Support
This workshop is eligible for CITREP+ funding.
CITREP+ is a programme under the TechSkills Accelerator (TeSA) – an initiative of SkillsFuture, driven by Infocomm Media Development Authority (IMDA).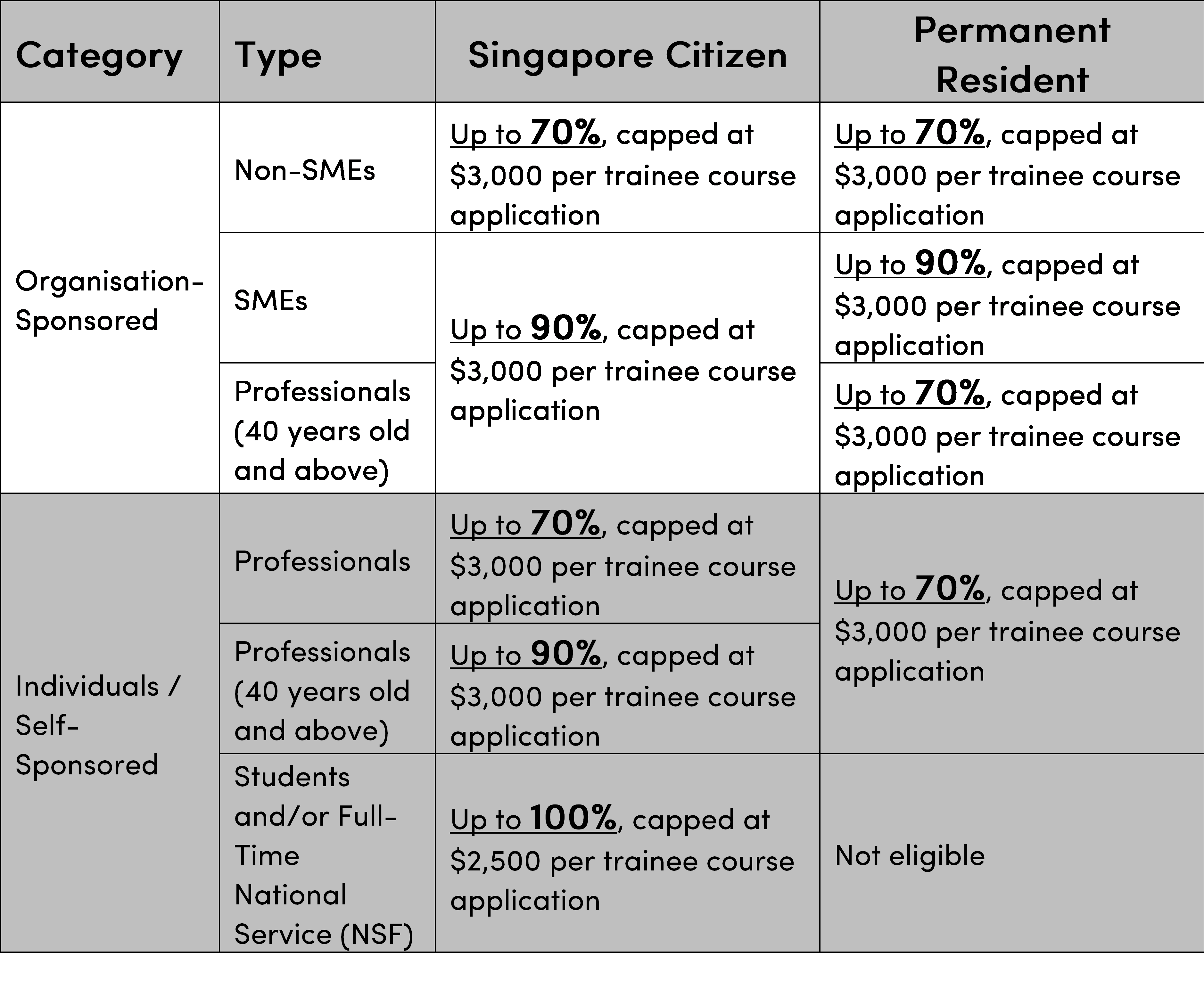 *Please see the section below on 'Guide for CITREP+ funding eligibility and self-application process'
Funding Amount: 
CITREP+ covers up to 90% of your nett payable course fee depending on eligibility for professionals
Please note: funding is capped at $3,000 per course application
CITREP+ covers up to 100% funding of your nett payable course fee for eligible students / Full-Time National Service (NSF)
Please note: funding is capped at $2,500 per course application
Funding Eligibility: 
Singaporean / PR
Meets course admission criteria
Sponsoring organisation must be registered or incorporated in Singapore (only for individuals sponsored by organisations)
Please note: 
Employees of local government agencies and Institutes of Higher Learning (IHLs) will qualify for CITREP+ under the self-sponsored category
Sponsoring SMEs organisation who wish to apply for up to 90% funding support for course must meet SME status as defined here
Claim Conditions: 
Meet the minimum attendance (75%)
Complete and pass all assessments and / or projects
Guide for CITREP+ funding eligibility and self-application process:
For more information on CITREP+ eligibility criteria and application procedure, please click here. 
In partnership with:Driven by:


For enquiries, please send an email to learning@sginnovate.com
When & Where

BASH, Level 3,
79 Ayer Rajah Crescent,
139955
Singapore

Monday, July 29, 2019 at 9:00 AM

-

Thursday, August 1, 2019 at 5:00 PM (Singapore Standard Time Singapore Time)
Add to my calendar