KKMC Devotional Worship Service (ENGLISH)
About this event
Under recent government's guidelines, we have made certain adjustments for the safety of everyone and are now conducting our Devotional Worship Services every Sunday for up to 100 persons only at any one time from 9 May 2021 till 30 May 2021.
At our Services, we will continue to worship God with hymns and praise songs, personal, pastoral and unison prayers, giving of our offerings, and hearing of God's Word. However, congregational singing however is not permitted at this time.
The Sacrament of Holy Communion will be conducted on the first two Sundays of each month for the English Congregation.
Worshippers will be seated in two zones of 50 persons as follows:
(a) 50 seated at the Front (Usual) Section – right side facing the pulpit – "FS-1" (entry by church main door),
(b) 50 seated at the Front (Usual) Section – left side facing the pulpit – "FS-2" (entry by church main door),
See diagrams below for easy reference on (1) entry and (2) exit, for each of these two zones and seating arrangement.
You may request for up to 5 tickets at a time (including the one making the booking). Ticket(s) will be sent to your email address. Admission to the Service will only by tickets, so please remember to bring along your tickets. Do remember to cancel the ticket(s) in advance if you are not able to attend so that the places can be made available to others.
For more effective contact tracing, as required by MCCY, from 17 May 2021, use of the TraceTogether App on your handphone or the TraceTogether Token will be mandatory for SafeEntry purposes at Church.
Please note that photographs and videos may be taken during our worship services (and other events) for use in publicity and promotional material by KKMC.
Thank you for your kind co-operation. God Bless and stay safe.
Entry Plan of FS-1 and FS-2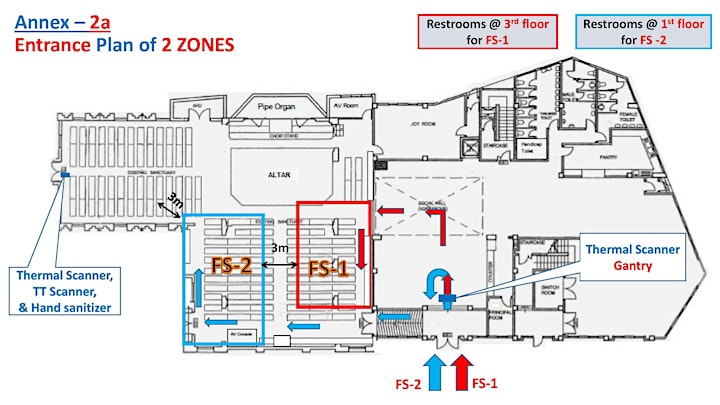 Exit Plan of FS-1 and FS-2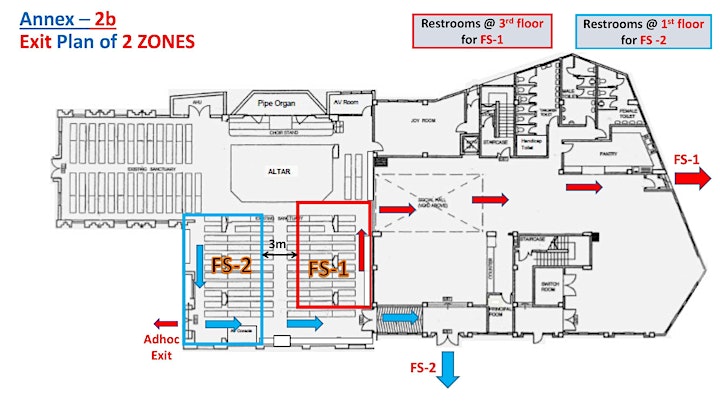 Front Section Seating Plan - FS 1 and FS 2