| | |
| --- | --- |
| Know Your Numbers, Know Yourself Free Seminar! More then a million people have benefited, Don't hesitate and be the last! Lets Dr Bernard coach you on how to UNLOCK your hidden potential! | |
Event Details
Would you like to experience a smooth sailing
life, career and relationship while being able to have
predict and avoid potential downfall?
Introducing the 21st Century Human Profiling methology that can help you to predict and prevent these obstacles in life.
 The Universal Characteristic Method of Human Profiling (UCMHP) founded by Dr. Bernard has been used by thousands of people from around the region to improve their Wealth, Career, Health, Relationship & Family.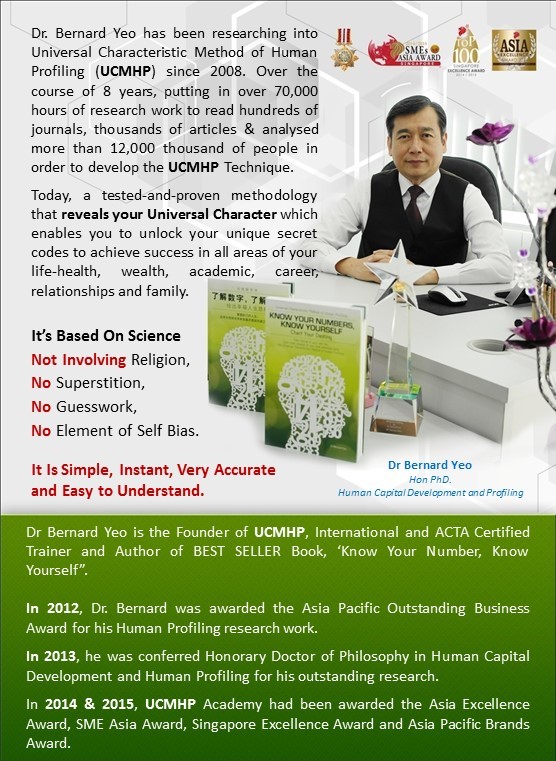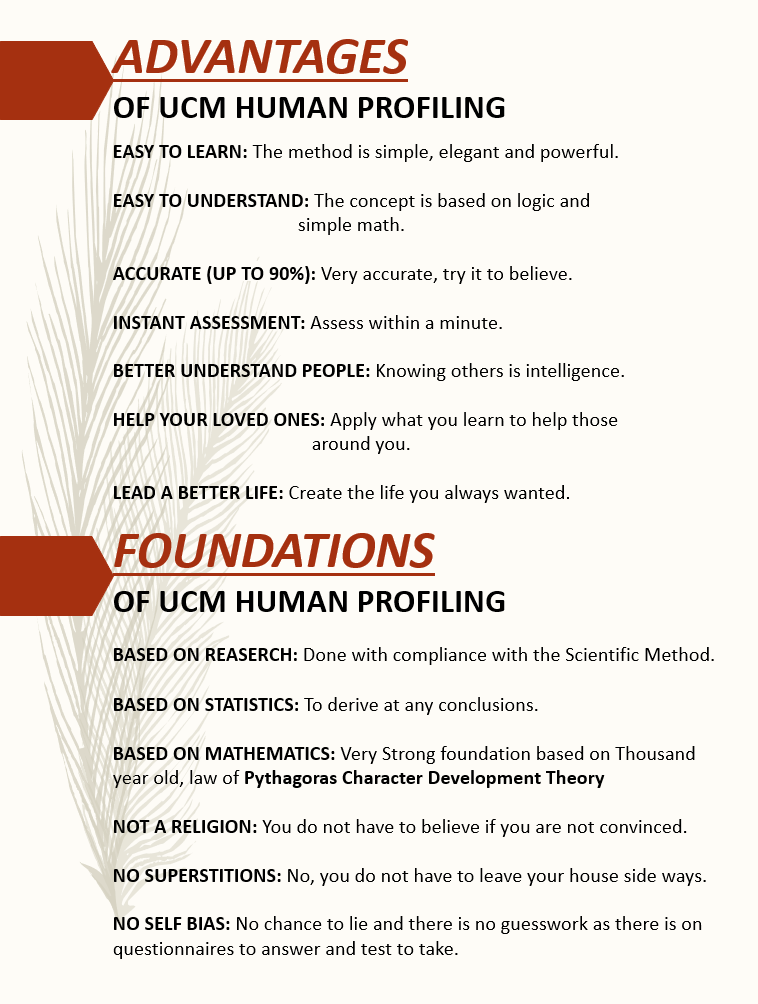 UCMHP Incorporated 7 Scientifically proven Profiling Methodologies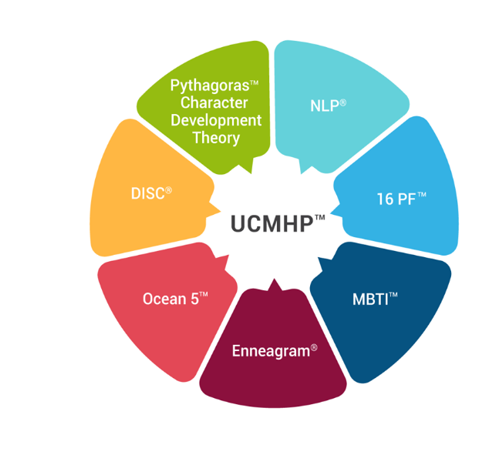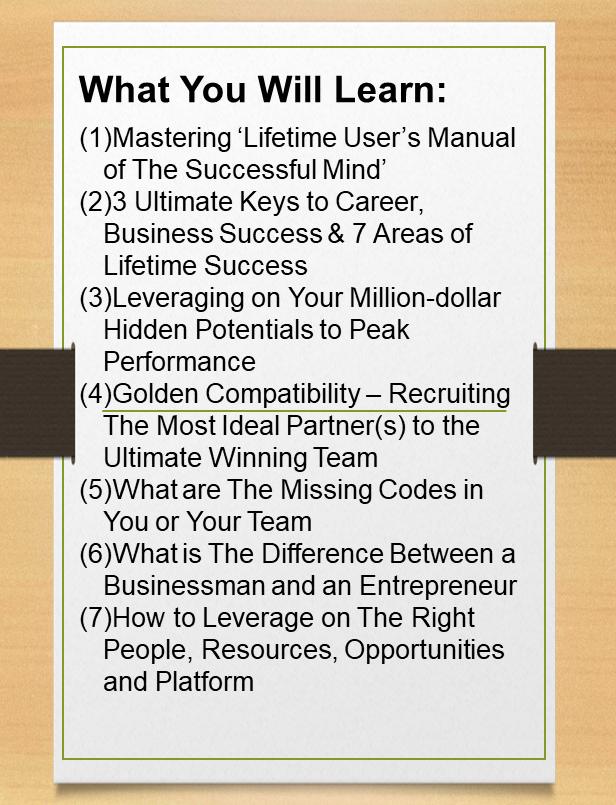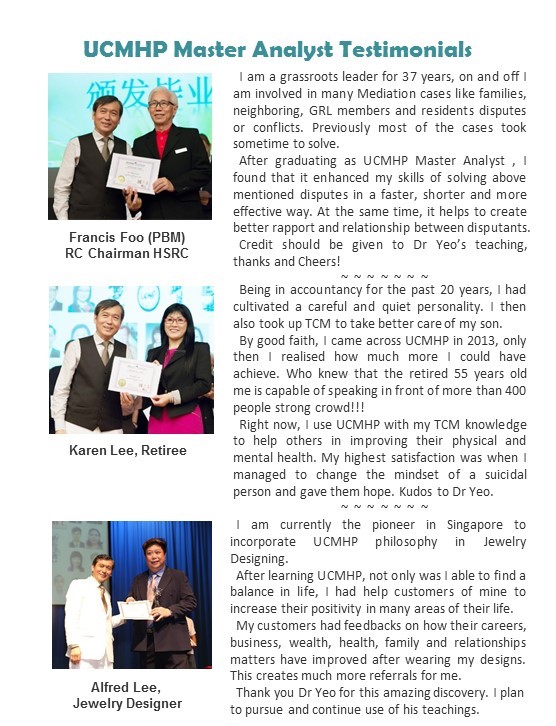 More then a million people have benefited 
Don't hesitate and be the last!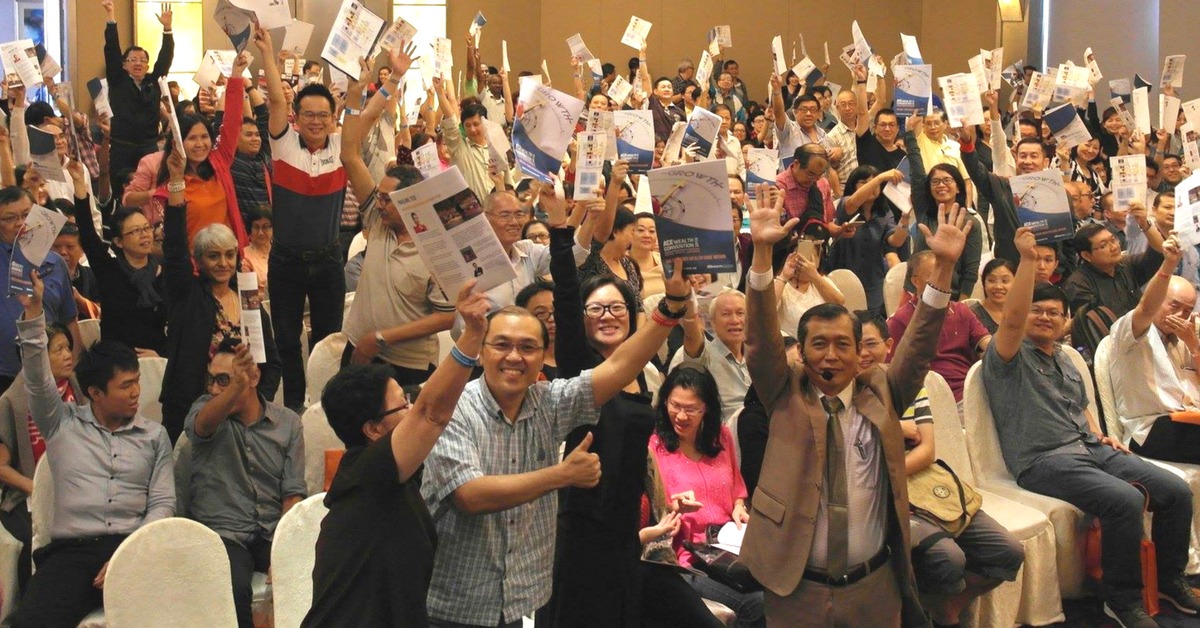 Do you have questions about Know Your Numbers, Know Yourself Free Seminar! More then a million people have benefited, Don't hesitate and be the last! Lets Dr Bernard coach you on how to UNLOCK your hidden potential!?
Contact UCMHP Academy Pte Ltd
When & Where

UCMHP Academy Pte Ltd
16 Arumugam Road
LTC Building Blk D #05-02
Singapore, Singapore 409961
Singapore

Organiser
Breakthrough In Human Character Profiling.
Knowing what makes you tick can translate into success in both your professional and personal life.
Universal Characteristic Method of Human Profiling (UCMHP) is a proven methodology that reveals your universal character.
About Speaker
Developed by Dr Bernard Yeo, Hon PhD of Philosophy in Human Capital Development and Human Profiling, the innovative human profiling system integrates Pythagoras' Theorem and other scientifically proven research conducted by experts in human profiling and psychology such as NLP, DISC, Enneagram, MBTI, 16PF and Ocean Five Personality.
The breakthrough methodology is unique to Singapore, with up to 90-percent accuracy in result. UCMHP is a profiling method that is based on scientific analysis to establish predictive behaviour of an individual that affects three domains of their life: personal, interpersonal, and social or institutional.
Discovering the universal character
In 2008, he chanced upon a newspaper article on Pythagoras Numerology and its application through behavioural science, taught by a professor overseas.
Out of curiosity on the subject matter, he registered for the course. Within only four days of the program, he developed a keen interest in the subject but felt that the knowledge was not sufficiently in depth.
 He began researching on the subject further, eventually stumbling on the work of a professor on human behavioural science. In it, she mentioned the concept of "Universal Character" and shared that in the near future, the concept will be better explored, understood and managed better.
Developing the methodology
Intrigued by the human psyche and traits that allow an individual to attain success easily than others, Dr Yeo embarked on a research on various profiling methodologies.
He found that these personality tests often contain an element of self-biasness or guesswork as require the participant to answer a set of questionnaires or to go for a test.
He then came across Pythagoras Character Development Theory and manage to integrate it with some of the World's renowned Personality Profiling Methodologies, he then named it Universal Characteristic Method of Human Profiling (UCMHP).
His independent, extensive and in-depth research began to yield results in the identification of nine fundamental unique character types.
The archetypes and universal truths in Human Behaviour can influence and shape a person's life path and outcome in three domains, Personal, Interpersonal and Social or Institutional.
His research methods integrate mathematic with other scientifically proven findings by leading experts in the fields of psychology and human profiling. He was inspired to continue his research and share the knowledge with the world.
Sharing the knowledge
Equipped with a deeper understanding of human profiling, Dr Yeo set out to share what he had learned with the public.
In the beginning, he started modestly, sharing his knowledge to a couple of students in a coffee shop. Over the years, through success stories and positive word-of-mouth, his class grew steadily into an academy.
The process of opening his academy and teaching has also helped Dr Yeo to grow as an educator. He said: "This whole journey has not been an easy feat for me. I started off as someone who is a very nervous speaker who had to hide in the toilet halfway through his first seminar. As the time goes, I have been able to give speeches in front of thousands."
Today, he is an international trainer with students all over the world. His research eventually caught the attention of a University, which acknowledged his research work and conferred him an Honorary Doctorate of Philosophy in human capital development and human profiling.
Dr Yeo is also an international and WSQ Advanced Certificate in Training and Assessment certified trainer.
He wrote a book on the methodology, Know Your Numbers. Know Yourself, which launched on Jan 4 2014 in conjunction with the World 1st Human Profiling Convention in Singapore. The convention was attended by more than 800 people at Kreta Ayer People's Theatre.
Along the way, he has earned several awards and accolades in recognition of his work. These include the Asia Pacific Outstanding Business Award for his Human Profiling research work in 2012, and being conferred an Honorary Doctor of Philosophy in Human Capital Development and Human Profiling in 2013.
His UCMHP Academy has garnered multiple awards in 2014 and 2015 from the Asia Excellence Award, SME Asia Award, Singapore Excellence Award and Asia Pacific Brands Award.