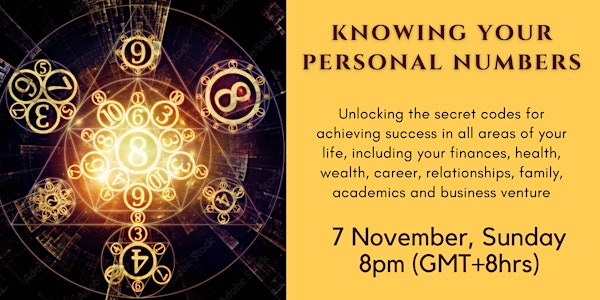 Know Your Personal Numbers ~ Unlocking the secret codes for success in life
Dᴏ ʏᴏᴜ ᴛʜɪɴᴋ ᴛʜᴀᴛ ʏᴏᴜ ᴀʀᴇ ɢᴏɪɴɢ ᴄɪʀᴄʟᴇ ɪɴ ʏᴏᴜʀ ʟɪꜰᴇ?
When and where
Location
51 Cuppage Road 51 Cuppage Road Singapore, 229469 Singapore
About this event
This event will be held on zoom due to covid restriction.
Join us and learn from Ms Jeannie Yap, Master Analyst of Human Profiling.
UCMHP stands for Universal Characteristic Method Human Profiling.
Your UC, which is your personal key to unlocking the secret codes for achieving success in all areas of your life, including your finances, health, wealth, career, relationships, family, academics and business venture
HEALTH IS WEALTH
~KNOW YOUR NUMBERS; KNOW YOUR HEALTH
🌟Did you know that every one of us has at least one organ that is weak or has suffered from inherited diseases since birth?
🌟The saying goes, "Health is Wealth." If we are not healthy, wealth means nothing to us. We all know that prevention is better than cure, but if we don't know what measures to take to prevent sickness, how can we stay healthy?
🌟The great thing is, you can take charge of your health. With your Date of Birth, you can decode any health issues you might have and can help you understand how to stay healthy in the long run.