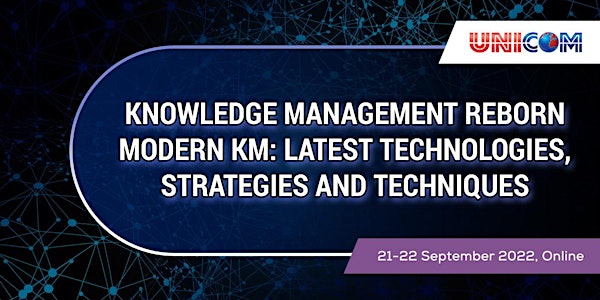 Knowledge Management Reborn Modern KM: Latest Technologies & Strategies
knowledge Management Reborn Modern KM: Latest Technologies, Strategies and Techniques
About this event
As practised today, Knowledge management (KM) is the collection of methods relating to creating, sharing, using and managing the knowledge and information of an organization. It refers to a multidisciplinary approach to achieve organisational objectives by making the best use of knowledge. [Wikipedia]. Since early 1990s KM has become recognized as a discipline. The experts, practitioners and solution providers view KM as an approach to store and retrieve knowledge to improve understanding, collaboration, and process alignment.
Now in the present post pandemic, VUCA world [Volatility, Uncertainty, Complexity and Ambiguity], modern technologies have changed the emphasis dramatically. As a consequence , many opportunities have opened up and this has brought about the renaissance of Knowledge Management.
These two days are a mixture of thought- leading presentations and a few in-depth workshop presentations of two hours each. At these sessions, topics are delved into in detail with hands- on opportunity. The conference, therefore, is the perfect platform to find out what is happening in the KM marketplace and also learn how to do it.