Knowledge management Society, Singapore 18th Annual Knowledge Management Conference
About this event
This half day session will give us a peek into the future of work, with elements of Story Telling, Design Thinking, Sensemaking of Data and bring you on a colourful journey of Managing knowledge.
Curated for middle and senior managers, the session will be interactive and engaging.
Knowledge Management Society, Singapore is a registered non-profit organisation, and this free session will have practitioners and experts share their knowledge in the spirit of knowledge co-creation and knowledge sharing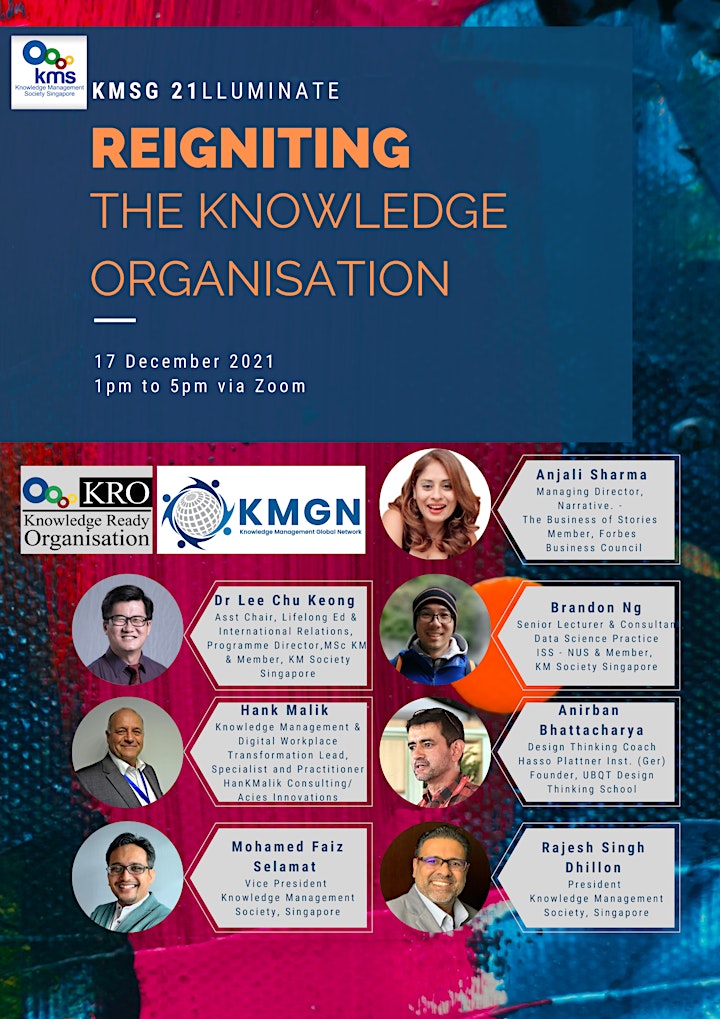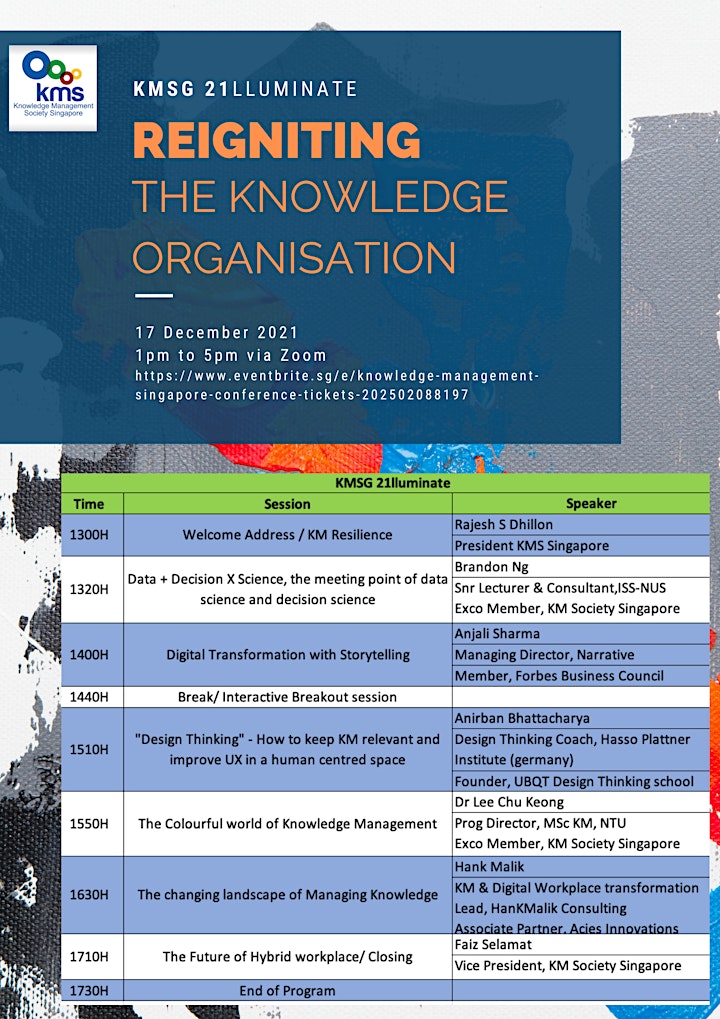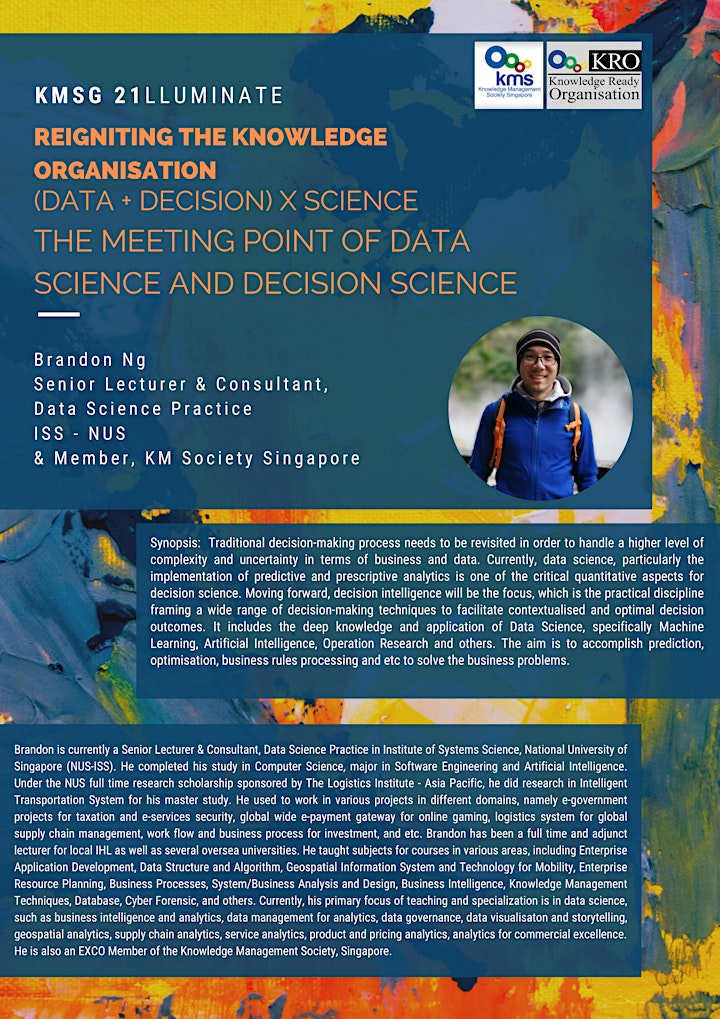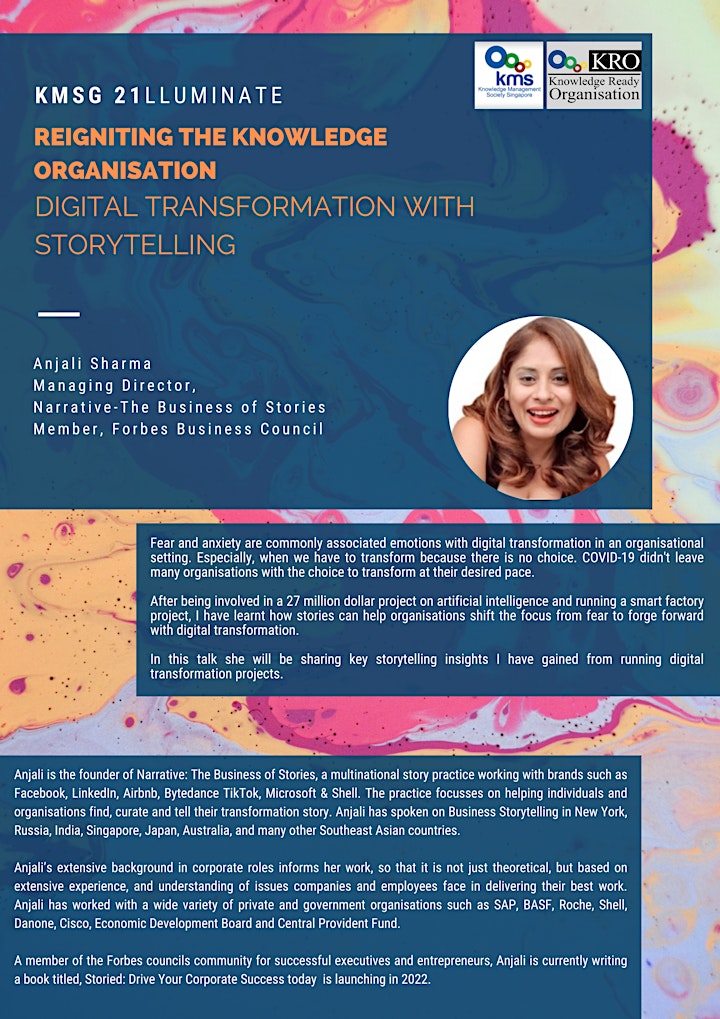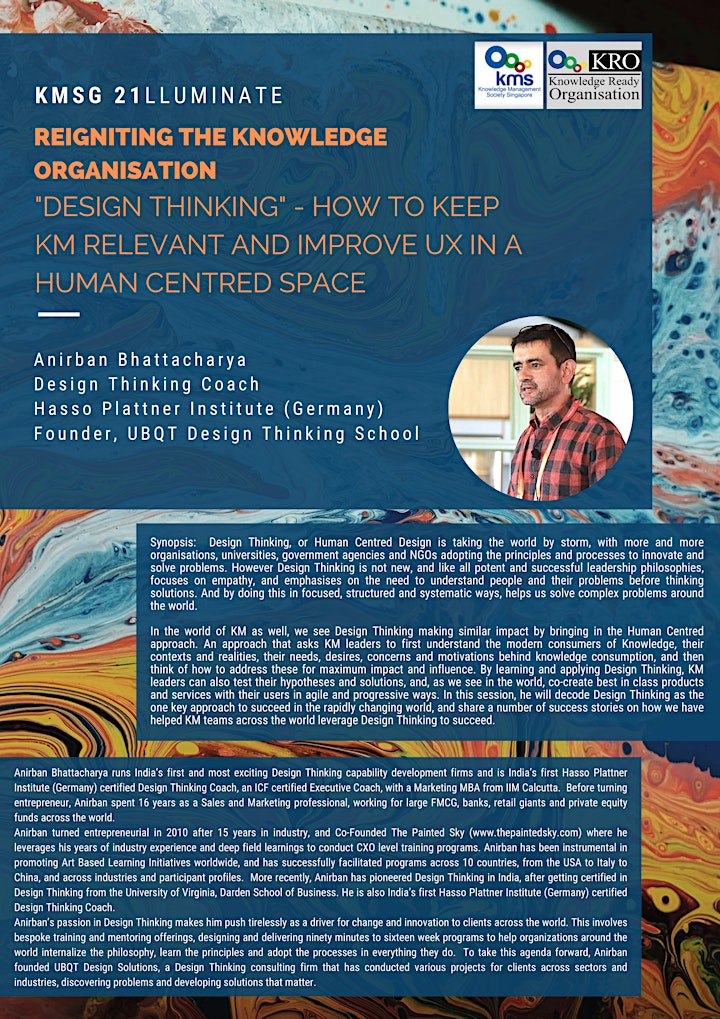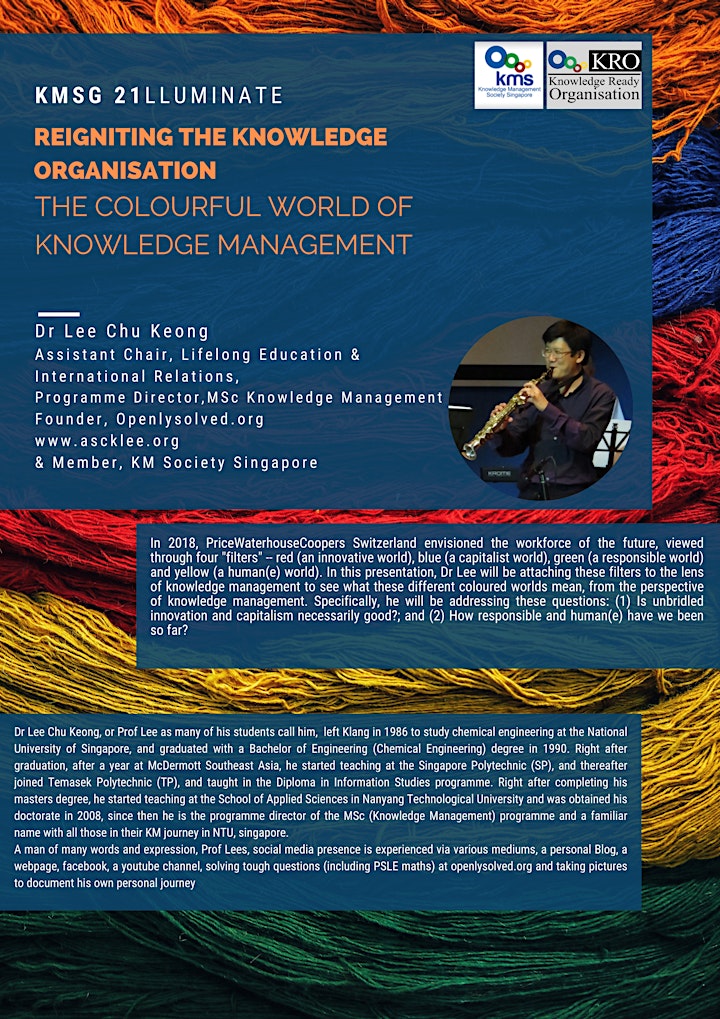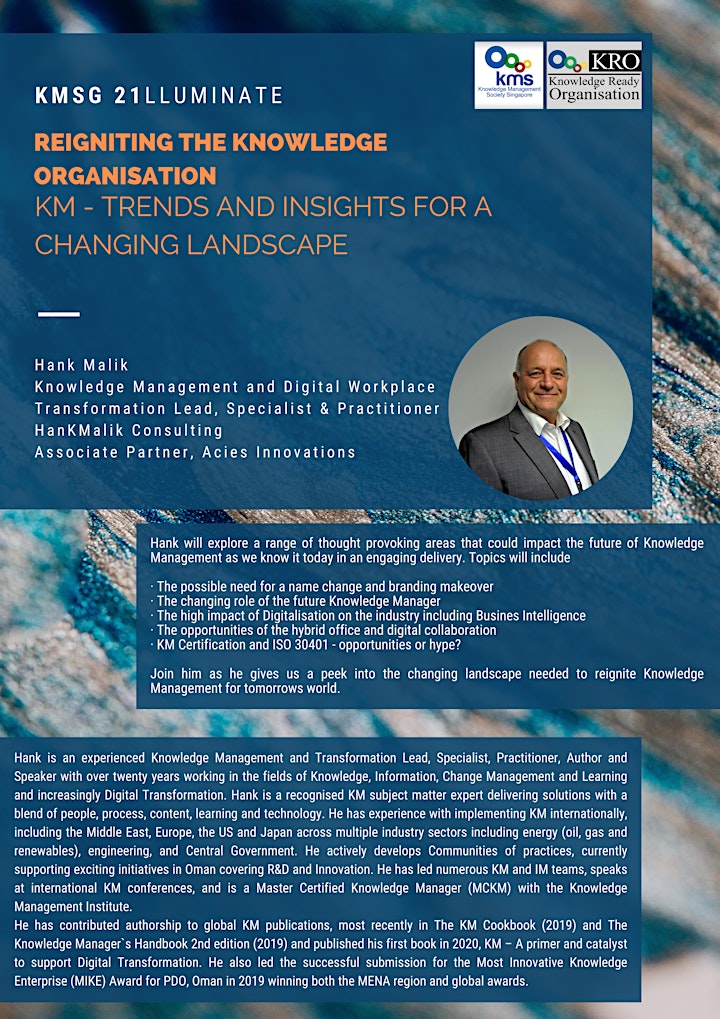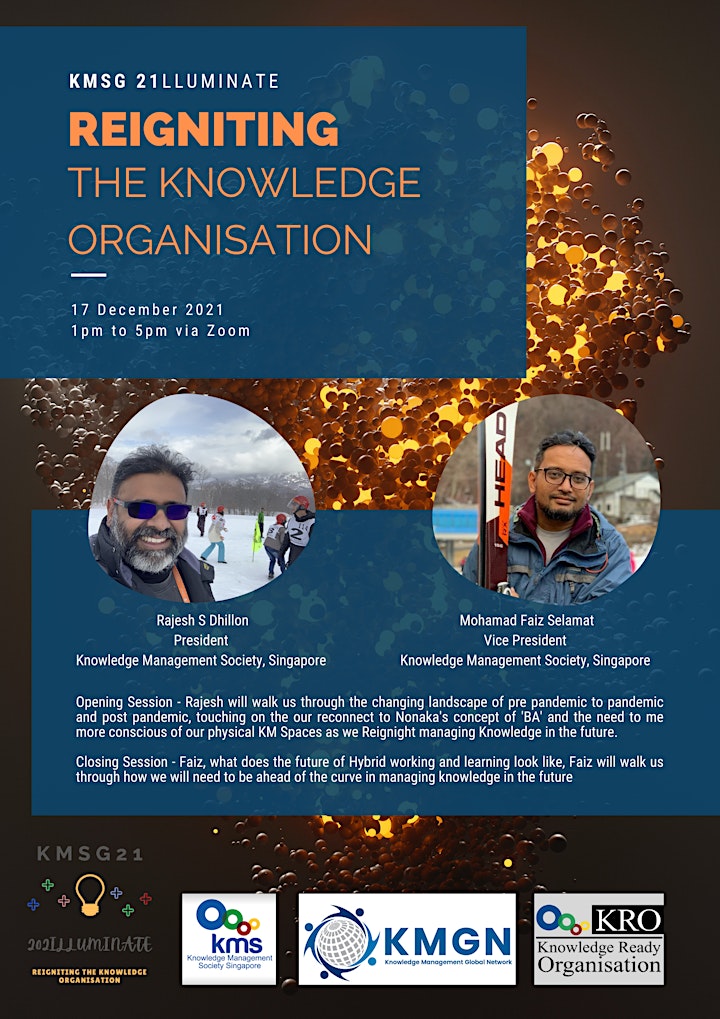 Organiser of Knowledge Management Singapore Conference
About Knowledge Management Society (KMS)
 KMS is a non-profit society that is made up of volunteers from the KM, OD and LO fields setup to lead and serve organisations, through the provision of access to KM resources. These include academic and practitioner expertise, via face-to-face and online discussions, seminars, workshops and conferences. 
Since its formalisation in 1999, we continue to pursue inclusive, practitioner-focused perspectives, grounded in research and practitioner experiences. We bring together practitioners, researchers and commercial providers through publications, workshops, conferences, and online platforms such as webinars and global network online meetings.
We have since expanded our reach and have since led the formalisation of a Knowledge Management Global Network (KMGN).  In 2015, this had led to the inaugural Global Learning Week (2016) in Nanyang Technological University. Our partners are AuSKM (Australia), HKKMS (Hong Kong), iKlub (Thailand), CGC (France), LASSIB society (India) KMSJ (Japan), I2KI (Japan) and KM Russia(Russian Federation)
We are also the only non-profit organisation that helps organisations gain an insightful platform to analyse KM efforts based on their unique challenges, environment and context. To becoming a Knowledge Ready Organisation (KRO). We started an award program where HR, training and KM teams can track their Knowledge efforts and translate these into tangible results for CEOs, EXCOs and Management teams.